How to Factory Reset iPhone 12
If you're preparing to sell your iPhone 12 mini, iPhone 12, iPhone 12 Pro, and iPhone 12 Pro Max or you simply want to wipe everything and start from scratch, here's how to factory reset your iPhone 12.
Factory resetting your iPhone 12 will wipe the data stored on the device and it will revert the device to its original settings. This is useful if you're planning to trade-in your phone, sell or donate it it to a third-party, or if you're having issues and think starting over might help.
Before you factory reset your iPhone 12, iPhone 12 mini, iPhone 12 Pro, or iPhone 12 Pro Max, there are some steps you'll want to take in order to prepare yourself and your device for the upcoming process.
The first thing you'll want to do is update your Mac with the latest version of macOS (or Windows if you're using a PC). This is an optional step, but it could help.
If you're currently running macOS Mojave or older, and you don't want to upgrade, you'll want to download the latest version of iTunes.
Once you've done that, you'll want to backup the information stored on your iPhone. If you don't want to keep the data saved on your phone, you can skip this step.
And finally, you'll want to turn off Find My iPhone. Here's how to do that:
Head into the Settings app.
Tap your name/account at the top.
Tap Find My.
Tap Find My iPhone.
Toggle Find My iPhone to off.
Now you're ready to factory reset your iPhone 12.
How to Factory Reset iPhone 12
If you are using a Mac that's running macOS Catalina or macOS Big Sur, you'll now want to open up Finder. If you're running older software, open up iTunes. From there, follow these steps.
Connect your iPhone to your computer.
If you receive a message asking for your device passcode or to Trust This Computer, follow the steps on your screen. You'll need to complete this before you can initiate the reset process.
Select your iPhone from the sidebar in Finder or iTunes.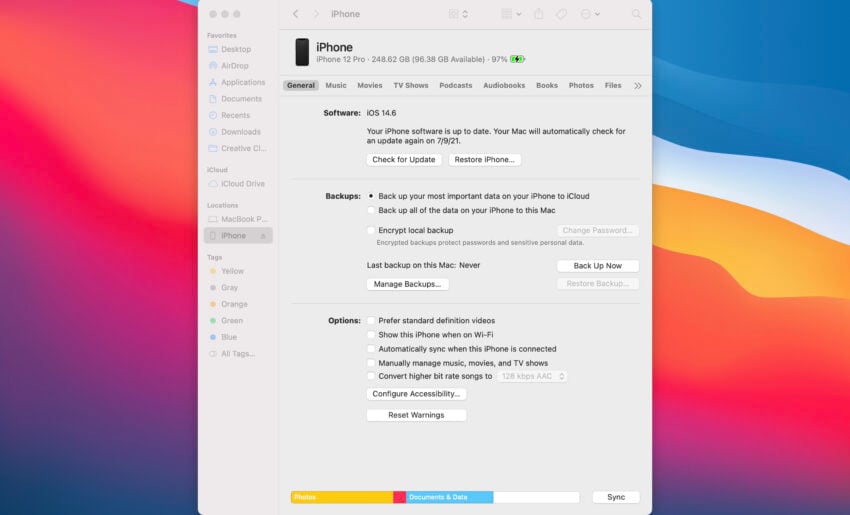 Click Restore iPhone.
Click Restore again to confirm that you want to proceed. From here, your computer will erase the data on your iPhone and install the latest version of iOS.
Wait for your iPhone to restart.
Once your iPhone restarts, it will have reverted back to its factory settings.
4 Reasons Not to Install iOS 15.1 & 11 Reasons You Should
Install iOS 15.1.1/iOS 15.1 for Better Security
If security is important to you, think about installing Apple's iOS 15.1 update right away.
iOS 15.1 has important security patches on board and they'll help protect your phone. You can read more about them on Apple's website.
Apple's iOS 15.1.1 update for iPhone 12 and iPhone 13 doesn't come with any known security upgrades on board. That said, if you missed iOS 15.1, you'll get its security patches when you move your iPhone 12 or iPhone 13 to iOS 15.1.1.
If you missed iOS 15.0.2 you'll also get its security patch with your upgrade. You can learn more about it right here.
iOS 15.0 also brought numerous security patches to your iPhone. If you'll be moving up from iOS 14 and you're interested in the exact nature of these improvements, you can read about them over on Apple's security website.
If you skipped iOS 14.8 or any older versions of iOS, you'll get the security patches from those updates with your iOS 15.1.1/iOS 15.1 update as well.
In addition to those patches, iOS 15 comes with some security and privacy upgrades including improvements to Siri. Requests made to Siri are now processed on the device itself using Neural Engine. This makes it more secure.
If you're an Apple Card user, you'll now get a security code that changes regularly to use when you make online transactions.
Apple's also included a built-in authenticator that's similar to Google Authenticator. This will let you generate verification codes for enhanced sign-in security under your Passwords.
There's also a Mail feature that hides your IP address. The company will add a new App Privacy report feature in the next version of iOS 15 that will tell you when an app has accessed sensitive information.

As an Amazon Associate I earn from qualifying purchases.