How to File a 2016 Tax Extension (IRS Form 4868) on iPhone, iPad or Computer
This guide will show you how to file a 2016 tax extension using IRS Form 4868 right from your iPhone, iPad, Android or Computer.
You can use this guide to get an automatic six-month extension to file your 2016 taxes with a free IRS Form. If you need to file at the last minute you can e-file or use a 99 cent app to simplify e-filing a tax extension.
We will also help you learn how to better set yourself up for your estimated taxes and tracking deductions.
If you aren't ready to file your taxes you should consider filing for a 2017 tax extension so you can avoid an expensive failure to file penalty.
You don't need to buy an app or pay for a service to file a tax extension. If you can type in your information, you can file a tax extension for your 2016 taxes. The process takes 10 minutes or less and it is something that anyone can do without providing a specific reason to the IRS.
Common reasons to ask for a free tax extension is that you are waiting for tax documents, corrected tax documents or maybe a healthcare document — but it can be as simple as not having enough time to file your 2016 taxes by April 18, 2017 due date.
2017 Tax Due Dates
Federal taxes are due on April 18, 2017 in the U.S., but you can ask the IRS for a free six-month extension. There is a nice three day extension thanks to Emancipation Day, which Washington D.C. celebrates on April 15th this year.
Most state Tax dues dates are also on April 18th this year. You should check with your city, but in our quick search, we found most local tax due dates are also on April 18th, even though some websites included conflicting information.
What is a Tax Extension
If you ask for a 2017 tax extension the IRS will give you one. You need to file for a tax extension using IRS Form 4868 by April 18th. You do not need to do your taxes by this date if you file an extension, but you cannot use it as an excuse to not pay. The IRS offers a free six-month tax extension but you still need to pay any taxes owed by the 18th. If you owe the IRS you can make a good estimated payment. You'll need to send payment to the IRS with the Form 4868 or you will face penalties.
When you file for a free six-month extension your new tax due date is October 17th 2017, giving you more than enough time to get your taxes together and filed correctly. This guide to filing a tax extension will cover what you need to know about a federal tax extension if you are an individual, married couple or a single entity LLC. Businesses may need to file a different form.
This only shows you how to file a federal tax extension for 2015 taxes. You will need to check with your state and city to see if there are any options to get a tax extension. Filing a federal tax extension does not automatically include options for city or state taxes.
If you are in doubt about how to fill out this form, how much you need to pay or have other questions you should ask your tax professional, but the IRS Form 4868 is easy enough for the average user to understand, fill out and file on their own.
In most states and in most cities you can also find forms to file for a state tax extension and a local tax extension that adds six months to your due date, but not your payment. Most of these are an automatic approval as well.
How to Get an Automatic 6 Month Tax Extension
If you are a U.S. Citizen who owes taxes you can file the IRS Form 4868 to ask for a six-month tax extension. This is an automatic approval process. You will need to download the IRS Form 4868 from the government, but you don't need to use any paid services. We'll show you how to file a tax extension from your computer, iPhone, iPad or Android device.
If you want to skip the manual process of downloading and filling out the IRS Form 4868 you can use an app to e-File your tax extension. You'll need to pay for this option when it is available. At this stage, the app isn't updated for 2017.
You may want to e-file IRS Form 4868 if you miss the deadline to mail your taxes to the IRS. The app allows users to e-File a tax extension up until midnight on April 18, 2016.
If you are comfortable filling out the form and mailing it to the IRS, you can save yourself a dollar and get started with the directions below. Make sure you fill out the IRS Form 4868 for 2016 taxes and include the estimated amount to pay if you own taxes. Jump down below to figure out how much you need to pay.
1. Download the IRS Form 4868 for 2016 taxes (This is a 2017 Tax Extension if you look at the due date)
2. Fill it out on a computer and print it out.
3. To file an IRS Tax Form 4868 on iPad, iPhone or Android you need the Adobe Reader App.
Download the IRS Tax Form 4868 and then choose Open in Adobe Reader using the menu option in the upper left.
Tap on the screen to fill in the fields on the form. If you can't type with a tap, you will need to use the text box to enter the information.
4. Print the IRS Form 4868 and mail it to the IRS. Make sure it is postmarked by April 18, 2017.
https://www.youtube.com/watch?v=TYYeWcS5OI4
If you miss the deadline to drop it in the mail and it is still April 18th you can try to e-File using the IRS Free File options. If that proves difficult the 99 cent app at the top is a sure-fire option.
5 Things to Know About 2017 Tax Extensions
A lot of people worry about filing a tax extension, but it is an easy process and the IRS will work with you more if you talk to them before there is a problem. Here are the facts you need to know about filing an IRS tax extension and the myths that you don't need to worry about when you mail off the form for a tax extension.
IRS Failure to File Penalty
The IRS failure to file penalty is typically more than the failure to pay penalty. Don't avoid the filing because you cannot pay. There are options if you can't afford to pay your taxes right now. The IRS lists two important details about the penalty;
The penalty for filing late is usually 5 percent of the unpaid taxes for each month or part of a month that a return is late. This penalty will not exceed 25 percent of your unpaid taxes.
If you file your return more than 60 days after the due date or extended due date, the minimum penalty is the smaller of $135 or 100 percent of the unpaid tax.
If you request an extension and pay at least 90% of the estimated amount due by April 18th there is no penalty if you pay the rest by October 17th.
How Much to Pay
You can figure out how much you need to pay in estimated taxes without actually doing your taxes. You can look at the amount you paid last year to figure this out. You can also use the TurboTax Tax Caster app or TaxAct online tax calculator to get an estimated amount to pay.
Can I File IRS Form 4868 On My Own?
Filing out a tax form can be a daunting process, but this is one form that almost anyone can fill out on their own.
Eric Bisignano, CPA and owner of Charitax tells Gotta Be Mobile,
"I'm all about outsourcing to save you time or money but the federal extension form is so easy to fill out, I recommend just filling it out yourself. The only information you need to have to fill out the Form 4868 are your personal info, the amount of tax you actually paid in the year, how much you can send in before April 15th, and and estimate of what you will owe."
Does Filing a Tax Extension Increase My Audit Risk?
Anytime someone deviates from the normal tax behavior there is a question of raising the audit risk, but simply filing for a tax extension shouldn't bring the wrath of an audit down on you. Bisignano also weighs in on this situation.
"The algorithm that the IRS uses to determine if you'll be audited is not published that I'm aware of. But I suspect that filing an extension would have no impact on your risk of being audited. As a former federal auditor who lived in the world of data mining tactics and red flags, the IRS is more concerned about the details of your specific tax situation than whether you extend the time to file."
Top 5 Reasons to File a Tax Extension
Money Nation outlines four reasons you should file a tax extension, and it's not just about delaying the inevitable. Check out more details on each reason at Money Nation and the deadlines that come with them.
Reduce Penalties
Prevent Mistakes
Get the Right Tax Documents
Contribute to Your IRA
Get a Second Opinion On Your Taxes
Depending on the type of IRA or retirement account you have, adding money to it could reduce what you owe — even if you add money in 2017.
Tips to Do Better on 2017 Taxes
If you have trouble filing because preparing your taxes or even your deductions is a problem, you should check out Xero TaxTouch.
https://youtu.be/W60FOFHciMQ
This app can connect to your bank accounts and make it easy to choose your deductions as you go. It will help you know what to pay for estimated taxes and generate the data you need to put together your schedule C. Learn more about Xero Tax Touch and sign up for a free trial.
The Best Budget Apps for 2020
Mint Budgeting App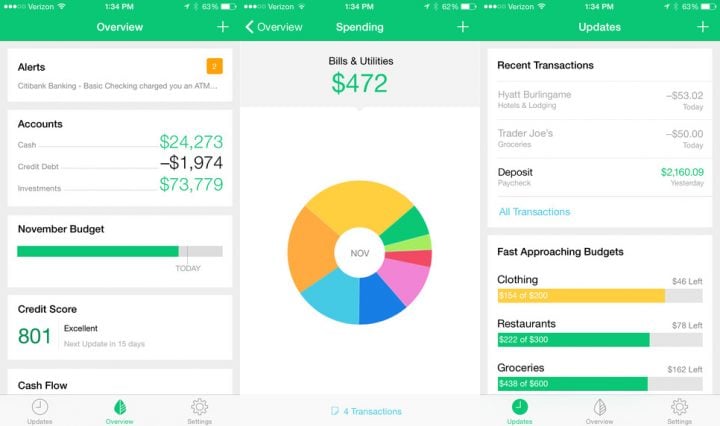 Mint is one of the best budget apps because it takes the hassle out of making a budget. You connect the Mint app to your bank and the app can use your details to help create a personalized budget. We love this budget app because it can help you quickly identify where you are spending your money, so you can see where to trim your current expenses as you make a budget.
It's a very easy app to get started with, so you can take the hassles out of starting a budget for 2020.
The Mint app uses the same security as banks and the team behind this service also makes TurboTax and Quicken, so you can trust that they take all possible steps to secure your accounts and your data.
Mint will send you alerts to unusual charges and helps identify tips customized to your spending that can help you reduce the money you spend on fees and on other bills. Mint also includes your credit score, so you can see a big-picture view of your budget and your personal finances. The base subscription is free, but there is an optional in-app purchase of Mint Live for $24.99.
With the Mint apps for iPhone, iPad and Android you can see your budget anywhere and there is also an online component to look at from your computer and a bill pay component to help you manage and pay your bills in one place.

As an Amazon Associate I earn from qualifying purchases.