How To Fix No Sound in iPad Apps
Does your iPad not make sound in apps? Sometimes the iPad will make sound while in some apps or with headphones plugged in, but it won't play sound through all apps over the iPad speakers.
The iPad has an interesting mute quirk, which can result in no sound coming from certain apps over your iPad speaker, even though volume is turned up and you can hear the sound with headphones.
This Soft Mute "feature" mutes app music and sounds, but not the audio from Hulu or Netflix, which makes it difficult to diagnose, especially since your headphones still work, but thankfully it is easy to fix.
How to Fix No Sound in iPad Apps
One of the first things you can try is restarting the iPad. This can solve a lot of problems in under a minute. If that doesn't help you should also try plugging headphones in and removing them. Sometimes this will fix sound issues, as will blowing canned air into the headphone jack port.
If that doesn't fix the issue, you will need to unmute the iPad using the directions below. Even with the iPad muted, some apps may make noise. It's odd, but that's what happens.
Swipe up quickly from the bottom edge of the iPad. You need to do this from the very edge of the screen.
This opens the Control Center.
Look for the mute icon. It may show up as a bel, or a bell with a slash through it.
Tap on the bell to unmute your iPad.
You can also check the volume on this screen and turn it up to make sure you can hear the audio.
Another thing to check on older iPads is to see if you have the mute switch on the side turned on. This is a small switch button, that you need to flip to unmute the iPad.
Check Sound in iPad Apps
Another thing that you should try to fix no sound coming from apps on your iPad is to see if there are volume options inside the app.
Sometimes you can mute an app's music or background noises using the settings of an app. This is very common in many mobile games, which allow you to turn off some or all in-game sound.
Open the app, go to the main menu and then tap on the settings and look for anything related to sound.
While you are doing this, you should also use the side volume buttons to try turning the volume up in the app. Sometimes the volume may simply be down, and this can solve it.
What to Do If You Still Don't Have Sound on Your iPad
The next step is to backup your iPad to iTunes, and then do a factory reset to see if that solves the issues. From there you can restore a backup and get back to using your iPad with sound.
You can also schedule an appointment for help from Apple. If your iPad is less than a year old it should have a warranty on it, but even if it is older, Apple support can likely help you fix simple problems for free in store or possibly over the phone. Get in touch with Apple here.
iOS 12 vs iOS 11: What's New in iOS 12.4.1
iOS 12.4.1 Features and Fixes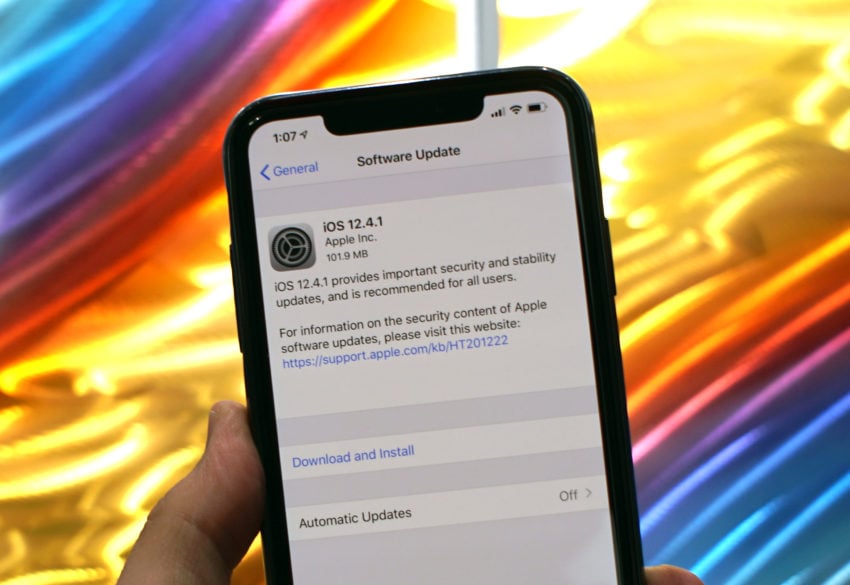 The iOS 12.4.1 update focuses on security fixes for a major bug that Apple fixed once before, but that is back in iOS 12.4. This security issue would allow an app to essentially gain full control over your phone.

Available for: iPhone 5s and later, iPad Air and later, and iPod touch 6th generation
Impact: A malicious application may be able to execute arbitrary code with system privileges
Description: A use after free issue was addressed with improved memory management
This is what allows people to jailbreak iOS 12.4, which is a plus for some users, but most users will want the security that comes from iOS 12.4.1.

As an Amazon Associate I earn from qualifying purchases.