How to Install iOS 17 Now
Here is a quick guide on how to find iOS 17 and install it now if you don't want to wait for Apple to send you a push notification that it's ready. Apple's iOS 17 launched Monday, but the company didn't send out push notifications to users.
Before you start installing iOS 17, you should make sure your iPhone is backed up and charged.
1. Go to Settings
Launch the Settings app from the home screen and select "General."
2.  Software Update
At the top of the next screen, select "Software Update."
3. Select Upgrade to iOS 17
If your software is up to date you will see a notice stating exactly that. If it's been a while since you updated you'll see and option to update to the latest version of iOS 16. Skip that and select "Upgrade to iOS 17 from the bottom of the screen.
4. Download and Install iOS 17
The next screen gives a short description of iOS 17's new features and a link to more details about the update. Most users can just skip this. Go to the bottom of this screen and tap on "Download and Install."
At this point, you will need to enter your passcode and agree to Apple's legal terms and conditions. After that, the download and install processes will begin. How long that takes will of course depend on your internet connection. You can read our guide to how long it takes to install iOS 17 here.
4 Reasons Not to Install iOS 17.0.2 & 11 Reasons You Should
Install iOS 17.0.2 for Better Security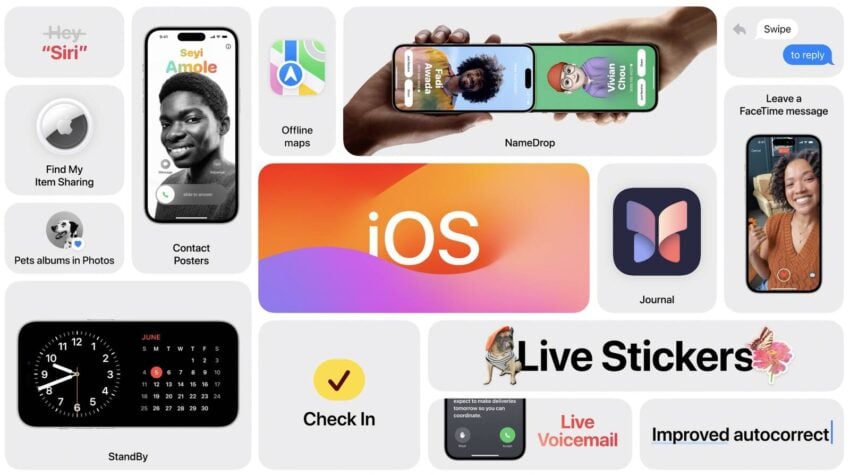 If security is important to you, think about installing Apple's iOS 17.0.2 update right away.
iOS 17.0.2 itself doesn't have any security patches on board. However, if you missed older versions of iOS, it will bring the patches from the updates you missed to your iPhone.
iOS 17.0.1 delivered three important patches to iPhone. If you're interested in the exact nature of these improvements, you can read about them over on Apple's security website.
As for iOS 17 itself, it brought 40+ new security patches with it. A staggering number to say the least. If you want to learn more about them, head over to Apple.
If you skipped older versions of iOS, like iOS 16.6.1, you'll get the security patches from those updates with your iOS 17.0.2 update as well.
In addition to those patches, iOS 17 brings some additional enhancements to privacy and security including improvements to Communication Safety beyond Messages.
It now includes content sent by AirDrop, Contact Posters in the Phone app, FaceTime, and the systemwide photo picker. You now have an option to blur out sensitive photos and videos before you choose to view them.
There's also an expanded Lockdown Mode which will help protect you against cyber attacks.
Apple's also improved sharing permissions and you now have more control over what you share with the apps on your device.
The company also notes that starting in iOS 17, Voice Memos encrypts the titles of recordings stored in iCloud, in addition to the recordings themselves.

As an Amazon Associate I earn from qualifying purchases.