How to Lower Your Internet Bill: Save Up to $1,000 a Year
"Why is my Internet bill so high?" This is a question I ask myself every few months and that I hear constantly. It's incredible to realize how much even the cheapest Internet plan costs when you unbundle it from a cable package.
I'll show you how you can save $120 on your Internet bill in about 15 minutes and other ways to lower your Internet bill. Many of these will work without the hassles of switching to another company, and one way to lower your Internet bill comes without the need to even talk to someone there yourself.
I need a fast Internet connection to work from home, play games online, stream movies and music and manage my smart home gadgets. Even my garage door, Ring floodlight and video doorbell need an Internet connection.
Why Are Internet Bills Going Up?
My Internet bill is $69.99 a month without cable and phone and that's pretty common. The cost of getting online is increasing as much as 12% in 2017 and with more people looking at cord cutting cable companies may feel the pressure to raise Internet prices even more.
One of the biggest reasons bills are going up is because people are cutting the cord which means less money for Spectrum, Cox, Comcast, Verizon and other providers who typically cash in with TV services and home phone services. According to Morgan Stanley if you have cable with your Internet you pay on average $17 less a month for your Internet, that's over $200 less a year. Of course then you're paying for cable and maybe a home phone.
Don't expect to see your Internet company lower your bill, but you can take some steps to lower your Internet bill on your own.
How to Lower Your Internet Bill $120 a Year
Most Internet providers charge you $8 to $10 a month to rent a modem, and they may charge even more to rent you a router for WiFi. Almost all cable Internet providers will allow you to buy your own modem to use on their network instead of renting one.
My friend and coworker bought his own Verizon FIOS Gateway for $171 (it's $149.99 now), which saves him $10 a month. Over the course of the next two years he will still save almost $100.
I bought my own cable modem from Best Buy for about $70 and avoided paying Time Warner Cable, now Spectrum, $9 a month for rentals. This helped me save a lot over the last several years.
Before you run out and buy a modem, check with your cable company or ISP. Spectrum now offers a free modem and you need their equipment for the highest speeds. Getting a free modem may be as simple as asking them for one. If you're still using your old modem, you might be paying for it, so check into it and save without buying anything on Spectrum.
One word of caution is that if you have any problems with your network or speed, your ISP may want to blame your modem instead of taking responsibility. This happens on almost every call I make to Spectrum, so if you have lots of problems it may be worth getting them fixed before you get your own modem.
How to Lower Your Internet Bill By Bundling
You're paying more for your Internet because you don't have a bundle. That's not a guess, it's the truth. I pay $69.99 for Internet only, and I can add cable and a home phone for $99.99 a month. In theory I could drop DirecTV and switch everything back to Spectrum, and save $1,200 or more a year. In practice that would also mean dealing with way more problems, bad cable boxes and paying too much for a home phone.
For you, it may make sense to bundle your bills if the providers are right. many cable companies are looking hard to add subscribers and will offer major deals to get you to switch back to them for all three services. Take a few minutes to explore offers and remember that you can qualify for new member discounts.
It's also worth checking to see if you can save on satellite service based on your cell phone company. AT&T offers a $25 discount with Unlimited plans and free HBO, which is $42.99 a month in savings or $500 a year.
Call and ask for a better deal. Remember you don't have to take it when they offer it, you can always call back.
Lower Your Internet Bill By Asking
One of the easiest ways to lower your Internet bill is to ask. This will depend on your ISP, but sometimes calling up and asking for a better deal can get you a promotion or limited time discount. Just be careful if you end up with a new contract by accepting a better deal.
You may be able to switch to a different speed or you might be able to get on a new plan. I switched from a $89.99 a month Time Warner Cable plan to a $69.99 a month Spectrum plan just by calling and saved $20 a month. That's $240 a year in savings for a 10 minute phone call!
Let Trim Help You Lower Your Internet Bill
Another option you can use if you don't want to make the calls on your own is to use Trim to negotiate a lower rate. You upload a copy of your bill to the service and it will analyze it to figure out what savings you qualify for. A representative then calls the company to lower your Internet bill.
I used this service to lower my DirecTV bill and it worked very well. The catch is that they charge you 25% of the savings from the first year. So if they save you $200 over the first year, Trim charges your credit card $50 as soon as the new plan is in place.
Look For a Better Internet Plan
Ideally you may be able to switch to a cheaper Internet plan or look for a competitor to switch to. In reality this isn't always possible in many locations. Whether your building has you locked into a provider or you are simply stuck with only being able to choose one provider for actual high speed Internet this isn't something everyone can do.
That said, it's a good idea to look for an Internet plan that offers the speeds you need and the data you actually use. The latest trend in 2018 is to limit how much data you use and then charge you more when you go over — just like cell phone companies used to do. If you end up paying overages, you should look and see if there is a better solution out there.
Use one of these services to see what providers are in your area. From there, check out their websites to find the best plans and to look for any promos for new customers.
Keep in mind that some of these services require contracts and you may not be able to get the speeds shown if it is not matching at the street level. One street over my neighbors can get superfast AT&T Internet service, but my block can only get super slow offerings from AT&T even though AT&T has fiber optic in my yard.
The Best Budget Apps for 2020
Mint Budgeting App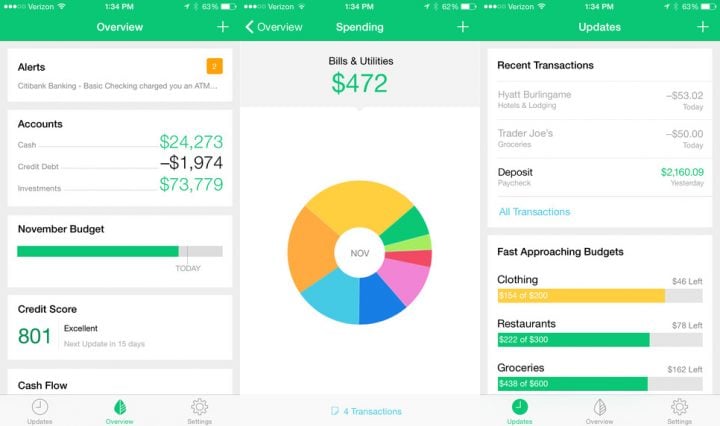 Mint is one of the best budget apps because it takes the hassle out of making a budget. You connect the Mint app to your bank and the app can use your details to help create a personalized budget. We love this budget app because it can help you quickly identify where you are spending your money, so you can see where to trim your current expenses as you make a budget.
It's a very easy app to get started with, so you can take the hassles out of starting a budget for 2020.
The Mint app uses the same security as banks and the team behind this service also makes TurboTax and Quicken, so you can trust that they take all possible steps to secure your accounts and your data.
Mint will send you alerts to unusual charges and helps identify tips customized to your spending that can help you reduce the money you spend on fees and on other bills. Mint also includes your credit score, so you can see a big-picture view of your budget and your personal finances. The base subscription is free, but there is an optional in-app purchase of Mint Live for $24.99.
With the Mint apps for iPhone, iPad and Android you can see your budget anywhere and there is also an online component to look at from your computer and a bill pay component to help you manage and pay your bills in one place.