How to Pay Taxes Online for $3
If you still need to pay your 2016 taxes you don't need to write a check or go to the post office. For just $3 or less you can pay your 2014 taxes online before the end of the day on April 18th and avoid penalties. There's even a free online tax payment option if the system is up.
You can pay taxes online for as little as $3. That's cheaper than mailing the check to the IRS with Certified mail and signature confirmation. You can also make an online payment to the IRS after the local post office closes.
If you pay the IRS directly from a checking or savings account there are no fees. Many users will want to avoid paying the IRS with a credit card because there is a 1.87% or higher fee to make the payment. Instead of using a credit card you can use a debit card to pay your taxes online for less than $3.
Here are the options you need to be aware of if you want to pay taxes online. The first option is free from the IRS and requires a direct connection to your savings or checking account.
Pay Taxes Online for Free
If you use IRS DirectPay to pay your estimated taxes online and choose the Extension option you don't need to File an IRS Form 4868. The service does warn, "If you are a fiscal year taxpayer, you must file a paper Form 4868." You can learn more about how to file a tax extension and e-file it if you need to use that option.
The IRS DirectPay online tax payment option also works if you need to pay the IRS for taxes due even if you already filed your taxes online. You'll ned to know the routing information for your bank and checking or savings account.
You'll need to pay before the service goes down at 11:45 PM for maintenance. Unfortunately, the IRS also warns,
"This site is experiencing technical difficulties so you may have difficulty verifying your identity. If you do, you can visit the Make a Payment page for alternative payment methods or come back later and try again. Note that your tax payment is due regardless of IRS Direct Pay online availability. We apologize for the inconvenience."
Pay Taxes Online for $3 or Less
You can pay taxes online for less than $3 using a debit card. This is a handy way to pay your taxes online without worrying if you entered the right information for your checking account on the IRS DirectPay. It is also good if the IRS DirectPay service is down when you need to pay.
Read: How to File Taxes Late
You can pay your taxes online by credit or debit card at six independent companies. These are not part of the IRS and they do charge a fee, but if you need to make a last-minute payment the debit card fee is very reasonable. Credit card fees are a percentage of the payment and can add up quickly. If you pay your taxes online with a debit card the flat fee is less than $3 at most of the IRS approved payment vendors.
You can use these options to pay your taxes online, pay your estimated taxes online and file the equivalent of an IRS Form 4868 online through services like PayUSATax.
The Best Budget Apps for 2020
Mint Budgeting App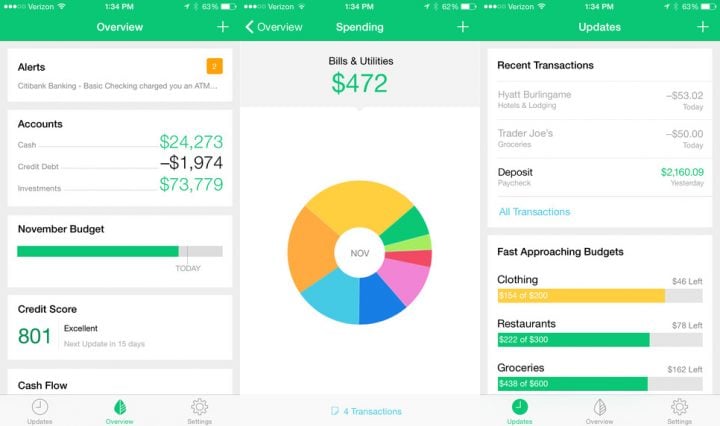 Mint is one of the best budget apps because it takes the hassle out of making a budget. You connect the Mint app to your bank and the app can use your details to help create a personalized budget. We love this budget app because it can help you quickly identify where you are spending your money, so you can see where to trim your current expenses as you make a budget.
It's a very easy app to get started with, so you can take the hassles out of starting a budget for 2020.
The Mint app uses the same security as banks and the team behind this service also makes TurboTax and Quicken, so you can trust that they take all possible steps to secure your accounts and your data.
Mint will send you alerts to unusual charges and helps identify tips customized to your spending that can help you reduce the money you spend on fees and on other bills. Mint also includes your credit score, so you can see a big-picture view of your budget and your personal finances. The base subscription is free, but there is an optional in-app purchase of Mint Live for $24.99.
With the Mint apps for iPhone, iPad and Android you can see your budget anywhere and there is also an online component to look at from your computer and a bill pay component to help you manage and pay your bills in one place.