How to Stop Annoying Facebook Group Notifications
Are you sick of seeing Facebook Group notifications on your lock screen and in your Facebook notifications? You can manage your Facebook Group notifications so that you only see the ones you care about without completely turning them off.
This is especially useful if you are using Facebook Garage Sale groups or are part of an active user group where dozens or hundreds of people are posting in the group each day.
By default Facebook subscribes you to all Facebook group notifications, but you can change this easily to see the notifications you want for each group.
How to Stop Facebook Group Notifications
You can turn off Facebook Group Notifications for each individual group, and even better you can limit notifications to posts from friends, which will keep you in the know without completely abandoning a group.
Open the Facebook app on your iPhone or iPad. (Or go to Facebook on your laptop)
Tap on the three lines on the lower right labeled More.
Tap on Groups.
Find the group you want and tap on it.
Tap on Joined.
Tap on Edit Notification Settings.
Choose Friends' Posts or Off.
This will limit the notifications of that group to none or to just when a friend posts. You need to do this for each group that you want to limit notifications on.
On this page you can also change push notifications. Choose if you want to see Highlights or if you want no notifications pushed to you. This will help you avoid annoying notifications and interruptions into your day.
This is one step to controlling your Facebook news feed. This will help you use Facebook without annoying interruptions from garage sale groups and user groups that you are part of.
The Best Budget Apps for 2020
Mint Budgeting App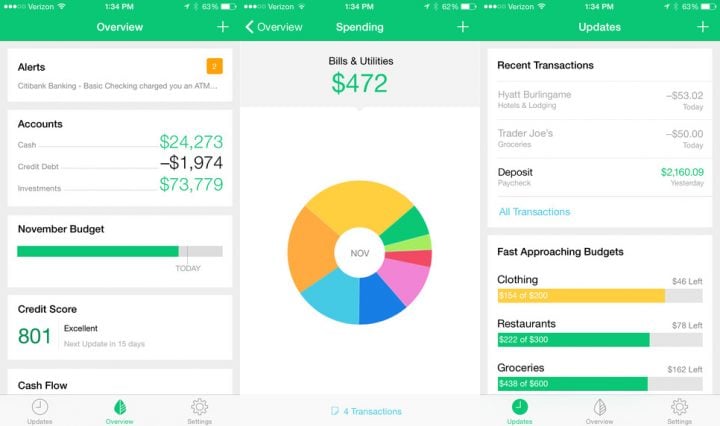 Mint is one of the best budget apps because it takes the hassle out of making a budget. You connect the Mint app to your bank and the app can use your details to help create a personalized budget. We love this budget app because it can help you quickly identify where you are spending your money, so you can see where to trim your current expenses as you make a budget.
It's a very easy app to get started with, so you can take the hassles out of starting a budget for 2020.
The Mint app uses the same security as banks and the team behind this service also makes TurboTax and Quicken, so you can trust that they take all possible steps to secure your accounts and your data.
Mint will send you alerts to unusual charges and helps identify tips customized to your spending that can help you reduce the money you spend on fees and on other bills. Mint also includes your credit score, so you can see a big-picture view of your budget and your personal finances. The base subscription is free, but there is an optional in-app purchase of Mint Live for $24.99.
With the Mint apps for iPhone, iPad and Android you can see your budget anywhere and there is also an online component to look at from your computer and a bill pay component to help you manage and pay your bills in one place.