How to Use Bedtime Do Not Disturb on the iPhone
You can use the new Bedtime Do Not Disturb feature on the iPhone to get a better night of sleep and avoid the anxiety that comes from seeing email, slack or other work notifications when you just want to check the time in the middle of the night.
Do Not Disturb isn't new, but it used to show you the same overnight lock screen that included all kinds of notifications. If you are anything like me, you can't always ignore them.
With iOS 12, there is a new option you can turn on that only shows the time, media playing and a small notification that this new Bedtime Do Not Disturb feature is on. It's an awesome feature and one of the first things you should setup when you upgrade to iOS 12.
How to Use Bedtime Do Not Disturb on iOS 12
If you already use Do Not Disturb on a schedule, you only need to make a small adjustment. If you haven't set up Do Not Disturb on a schedule you can still turn this on in about a minute.
Go to Settings.
Tap on Do Not Disturb
Tap on Scheduled
Choose the Time to be On.
Tap on the Toggle next to Bedtime.
That's all you need to do to set this up. I also recommend you allow calls from favorites and add your family or close friends to this list. Anyone that you want to be able to call you during this period without needing to call twice should be on this list. All other calls and all texts will not alert you.
You can check out the rest of the cool new iOS 12 features below, which can help change how you use your iPhone. Here's more on if you should install iOS 12 yet, or if you should wait.
iOS 12 vs iOS 11: What's New in iOS 12.4.1
iOS 12.4.1 Features and Fixes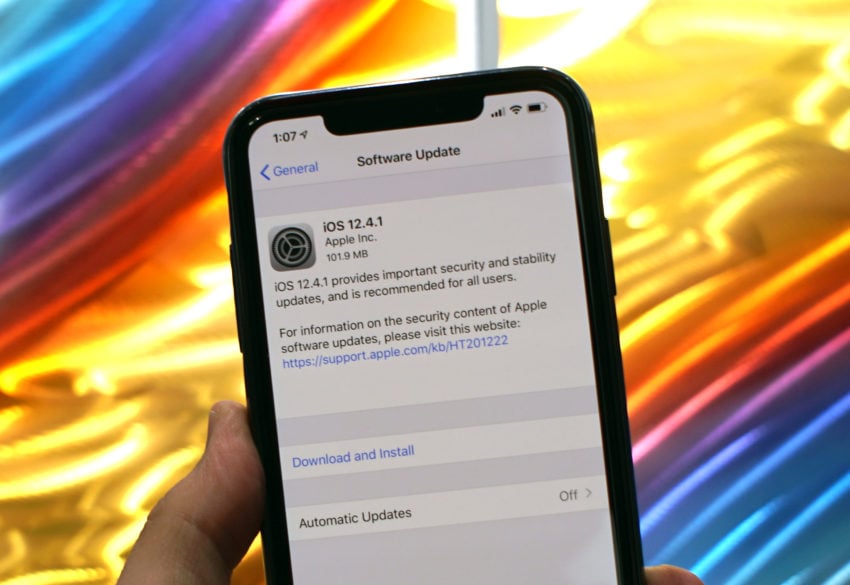 The iOS 12.4.1 update focuses on security fixes for a major bug that Apple fixed once before, but that is back in iOS 12.4. This security issue would allow an app to essentially gain full control over your phone.

Available for: iPhone 5s and later, iPad Air and later, and iPod touch 6th generation
Impact: A malicious application may be able to execute arbitrary code with system privileges
Description: A use after free issue was addressed with improved memory management
This is what allows people to jailbreak iOS 12.4, which is a plus for some users, but most users will want the security that comes from iOS 12.4.1.

As an Amazon Associate I earn from qualifying purchases.