How to Track Your Sleep on Apple Watch
You can track your sleep with the Apple Watch using third party apps that can show you how well you sleep, how often you get up and ultimately give you the data you need to get a better night's sleep.
The Apple Watch doesn't automatically track your sleep with the built-in apps, but you can use free Apple Watch apps and iPhone apps to monitor your sleeping habits with the Apple Watch.
The best app to track your sleep on the Apple Watch is Gyroscope. It's free to download and it automatically starts tracking your sleep when you lay down for bed.
To accurately track your sleep with the Apple Watch, you need to wear the Apple Watch to bed. This means you will want a comfortable Apple Watch band and you will need to plan your charging.
How to Track Your Sleep With the Apple Watch
There are a number of apps you can use to track sleep using your Apple Watch. I've been using Gyroscope, which is an all around tracker that gives you a good overview of your movement and sleep. You may prefer another option, so here are the best sleep tracking apps for the Apple Watch.
You need to download one of these apps, install it on your iPhone and then on your Apple Watch. There's a small setup process in each app to create an account and fill in other personal details.
Most of these will automatically start tracking your sleep as long as you are wearing your Apple Watch when you lay down and through the night.
I like the Gyroscope app, which in my experience does a good job of knowing when I fall asleep, compared to when I am watching a movie or reading in bed.
You'll likely want to try a few different apps to find the one that works best for you. I like that Gyroscope allows me to adjust the sleep time if it is off from when I actually fell asleep.
When I go to bed, I turn on movie theater mode so that my Apple Watch doesn't blind me or my wife in the middle of the night. To do this,
Swipe up from the bottom of the Apple Watch
Tap on the mask / faces icon.
This disables the raise to wake feature, and you can tap on the same icon in the morning.
You'll also want to set up Do Not Disturb on your iPhone or Apple Watch.
The Apple Watch 3 battery life is good enough that I can charge it when I shower in the morning and in the evening and I rarely run out of power. You'll likely need to get a full charge in once a week or so, but you can still track most nights of sleep without running into Apple Watch battery life problems.
65 Exciting Things You Can Do With the Apple Watch
Answer Calls on the Apple Watch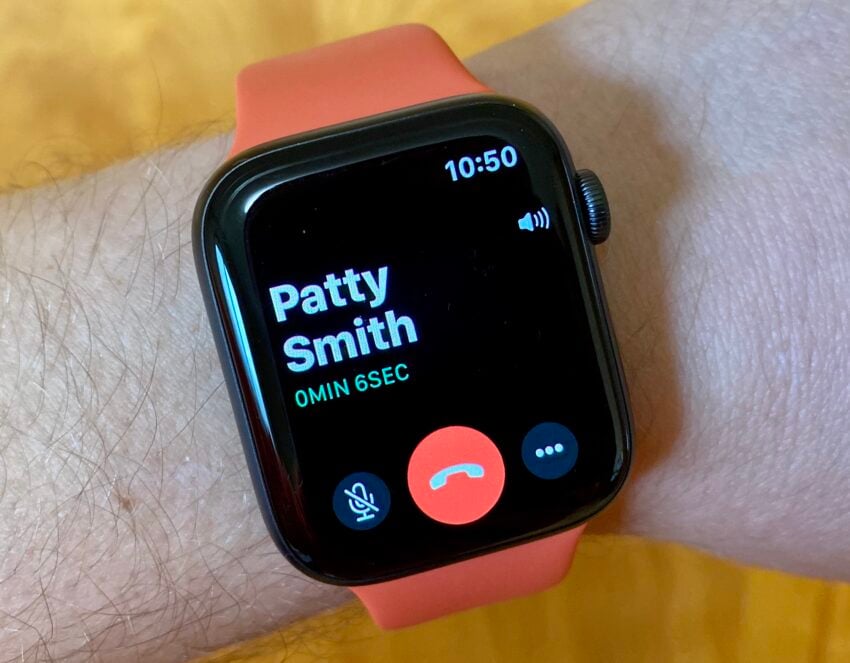 You can answer a call on your Apple Watch using it as a small Bluetooth speakerphone. You only want to use this for shorter calls because the audio quality isn't as good as when you are talking on speakerphone on your iPhone.
The Apple Watch only allows you to answer your calls on Speakerphone, so you won't want to use this all the time. It is very handy when you are working on a project or busy with your hands. Definitely be conscious of where you are taking calls. If you wouldn't talk on speakerphone, you shouldn't talk on your Apple Watch.
If you buy the new Apple Watch with LTE, you can even make calls on the Apple Watch without your iPhone nearby. This requires adding the watch to your plan for $10 a month. You cannot answer a FaceTime video call on the Apple Watch.