How to Use Samsung Secure Folder on Galaxy S9
In this guide we'll show you how to use Samsung's Secure Folder on the Galaxy S9, and why you'd want to. This feature lets the S9 and S9+ protect private photos, apps and more in a secure folder. This area keeps sensitive information safe, and it's easy to use. Here's how to get the most from your Galaxy S9 Secure Folder.
The Galaxy S9's secure folder uses Samsung's Knox security platform, encrypting data in a way that's impossible to access without an iris scan, fingerprint scan, intelligent scan, or PIN code. And yes, this is an extra layer of security on top of the regular lock screen method you use to secure the phone itself.
Read: Top 10 Galaxy S9 Settings to Change Right Away
If you take or keep private photos or videos on your Galaxy S9, put them in the secure folder. It's also a safe place to keep sensitive information, such as bank statements, loan applications and tax returns that you may need to access on the go from time to time. You can even have a second installation of Facebook in the secure folder for work purposes.
One of the best features of the Galaxy S9 Secure Folder is the ability to install the same app twice. And while there are several third-party apps and services like PhotoVault apps, Samsung build the secure folder into the Galaxy S9. You don't have to download anything. Not to mention it can do one thing others can't: hide entire apps. You don't necessarily want friends or family to launch social apps like Snapchat and dating apps like Tinder when they're borrowing your phone or swiping through recent pictures.
Are you sold on the idea of the Secure Folder yet? If so, here's how to use it to the fullest.
How to Use the Galaxy S9 Secure Folder
Open Settings (gear-shaped button in the notification pulldown bar)
Tap Lock screen & Security
Scroll down and tap Secure Folder
Hit the next arrow then click Start
Sign in or create a Samsung Account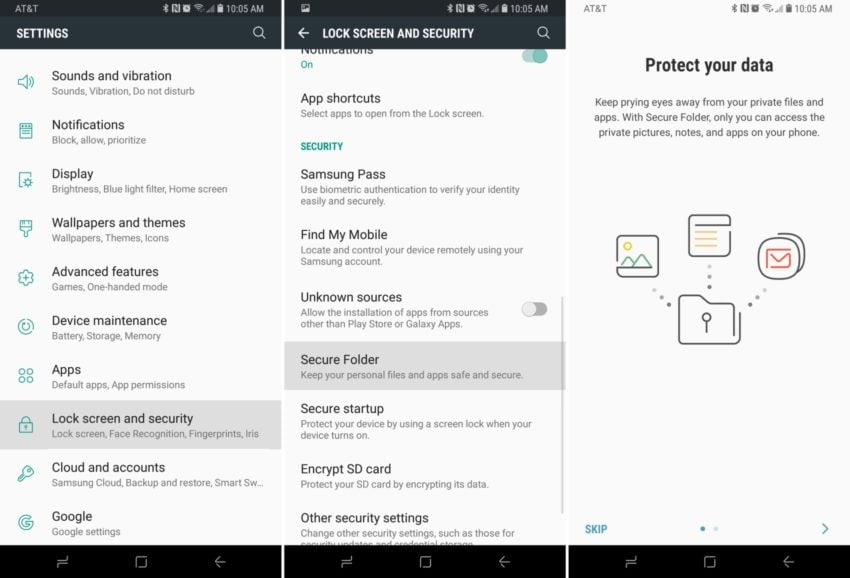 From here, you'll need to add some security layers so people can't access your folder, then start using it.
Add a password, pattern or pin
Then add a second layer of security with a Fingerprint or Intelligent Scan
Tap Done to finish creating your Secure Folder
Now, you're ready to take advantage of your extremely private and secure folder. Go ahead and open the app, then hit Add Files to easily move content to the secure folder. Additionally, you can select Add Apps to either hide an application or install it twice. Yes, like having two Facebook accounts with one hidden. Or a second secure email application for work.
Don't be alarmed when you see a second camera and gallery application in your Secure Folder. This simply lets you quickly take photos that are instantly hidden and secured. Instead of manually moving them later.
Customize the Secure Folder
The next thing you'll want to do is customize the secure folder. Most notably, change the icon so it doesn't look like you're actively trying to hide something. In fact, you can customize the name and icon, so friends or family don't see a suspicious "Secure Folder" app on your phone. If you know what we mean. Change the icon, then name the folder "Games, Vacation Photos" or something boring so no one will click on it.
Additionally, Samsung will let you remove this folder from the home screen so it's only in the settings menu. That way you don't need to worry as much about hiding and customizing it. Or, move it to the notification pulldown bar for quick access without it being anywhere else.
Open the Secure Folder and from inside the app tap the 3-dots menu key near the top right. Head to Settings and customize it to fit your needs, hide it and more to cover any privacy concerns.
Read: How to Turn Off the Galaxy S9 Always On Display 
In closing, Samsung even has a secure cloud-based backup option. That way if your Galaxy S9 gets lost or stolen everything in the Secure Folder is safely backed up. Make sure you enable this, to ensure everything gets saved to your Samsung account. Then, retrieve it later after loss or theft, or if you upgrade to a new device in 2019. While we're talking about keeping your phone safe, check out these 20 best cases for the Galaxy S9.
20 Best Samsung Galaxy S9 Cases (2019)
Spigen Neo Hybrid
Our first recommendation is the Spigen Neo hybrid. Spigen is one of the most popular smartphone accessory manufacturers and they have sweet cases. This is one of the best Galaxy S9 cases available.
The Spigen Neo Hybrid case offers a premium dual-layer design. The entire case is made from a durable and impact-resistant flexible TPU material for drop-protection. They've added a new textured pattern on the back too, for improved grip.
What makes these cases special though, is the reinforced hard pumper polycarbonate plastic frame that goes around the outer edge of the Galaxy S9. Which, by the way, is where most damage starts from drops. The bumper frame has a faux brushed metal design for added styling too. It comes in black, with 5 different accent colors.

As an Amazon Associate I earn from qualifying purchases.