How to Use Your Galaxy Note 8 as a Mobile Hotspot
This guide will show you how to set up and use the Galaxy Note 8 as a mobile hotspot. Letting you share your internet connection with other devices like a laptop, tablet or portable gaming system. Basically turning the Note 8 into a WiFi network for the rest of your devices.
Mobile hotspots are a great way to stay connected while you're traveling, without paying for expensive hotel WiFi or dealing with Starbucks connections. Depending on your carrier, some phones 4G LTE is faster than home internet. Delivering fast speeds to any device you need.
Read: 10 Best Galaxy Note 8 Screen Protectors 
This is often called a mobile hotspot, portable hotspot, or tethering, but they're all the same thing. There are a few different ways to use the Galaxy Note 8 hotspot, including one that uses your USB Type-C charging cable for a more secure connection. We'll cover both in our instructions below.
Before we begin, remember that some carriers charge an extra monthly fee for the hotspot function. Not to mention many unlimited plans don't offer it at all. Furthermore, be careful using your hotspot as it's easy to use an entire 5GB monthly data plan in one day. Basically, know what your carrier allows, and take caution with how you use it.
How to Use Your Galaxy Note 8 as a Mobile Hotspot
Head to Settings from the app on your home screen, app tray, or by pulling down the notification bar and tapping the gear-shaped settings button
Tap Connections
Scroll down and select Mobile Hotspot and Tethering
Select Mobile Hotspot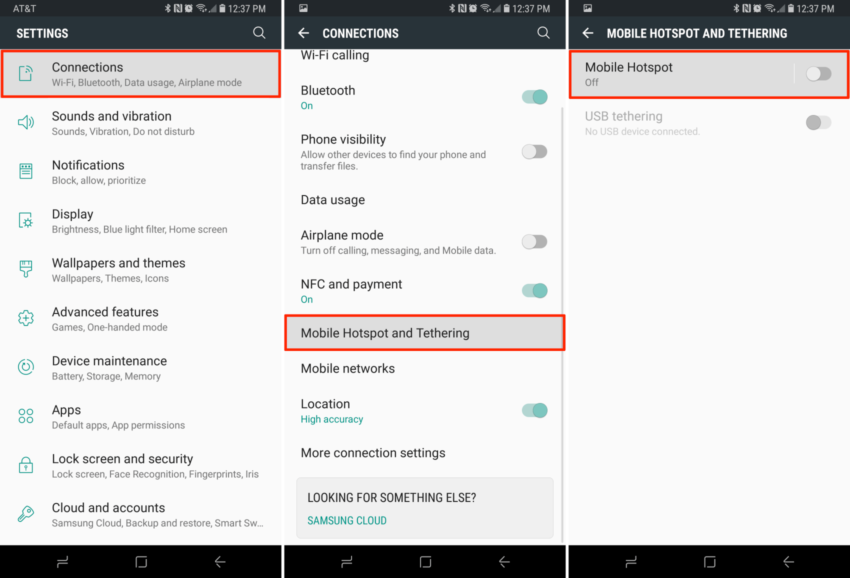 Before using the hotspot make sure you change the name or at least use a password you can remember.
You can use the included name and password, or create your own as shown below
Now tap or swipe the switch to turn on your hotspot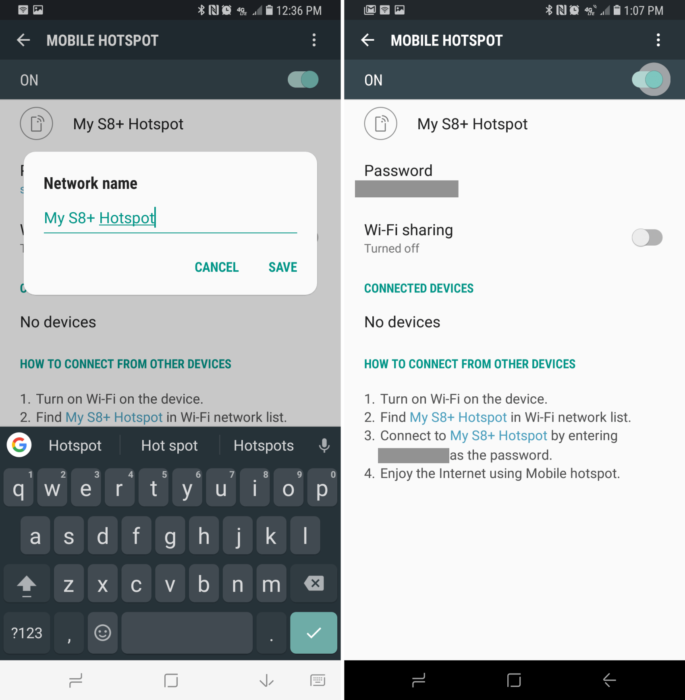 Next, it will verify your mobile plan has the hotspot feature, and begin sharing a WiFi connection
Follow the on-screen instructions to connect your other devices to the Note 8
Basically, you turn on the hotspot, let it authorize, then set up a name and password. Once you've enabled the hotspot just connect to the newly created WiFi network with your tablet, laptop, computer, gaming device or other WiFi-enabled devices.
Before you proceed, it's a good idea to hit the three dots in the top corner of the screen and select Timeout settings. Then choose how long your Galaxy Note 8 keeps the hotspot enabled when it is not in use. This way after 10 minutes of no one connecting, it turns off. This will save your data connection and battery life.
Toggle On/Off Your Galaxy Note 8 WiFi Hotspot
After you set this up the first time, you'll want to have quick access to the feature whenever you need it. Add the hotspot to your list of quick settings in the notification pulldown bar.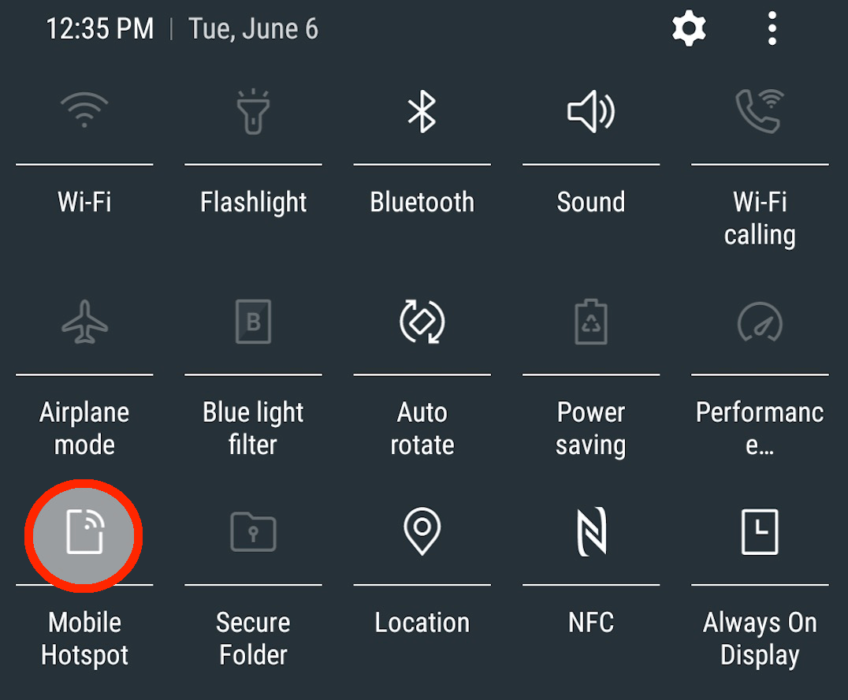 Swipe down from the top of the screen twice to see an expanded few of all the quick-setting icons. Typically there are options for WiFi, Bluetooth, Sound, Flashlight and other useful settings. Find the Mobile Hotspot quick-setting tile, and tap it once as shown above. This instantly turns the hotspot feature on and off.
You can also swipe down twice, then hit the 3-dots menu button and choose "button order". Then rearrange the buttons so the Mobile Hotspot is one of the first six shown, for even faster access.
How to Use Galaxy Note 8 Tethering (USB Type-C)
Similar to the WiFi hotspot, the Galaxy Note 8 can also share its internet and data connection through the USB port on the bottom. This is in the same settings menu as above, under USB Tethering. This delivers a faster connection, one that's also more secure as you're not broadcasting a signal, but sharing it through a cable right to a laptop.
Head to Settings from the app on your home screen, app tray, or by pulling down the notification bar and tapping the gear-shaped settings button
Tap Connections
Scroll down and select Mobile Hotspot and Tethering
Select USB Tethering (grayed out until you connect the USB Type-C cable)
This works almost the same way as the mobile hotspot. Turn it on and connect your USB Type-C cable to your computer and the Galaxy Note 8. On a Mac, you will need to go to Network Preferences and set up USB tethering as a network option. On Windows, a small pop-up should prompt you to connect to a new network and your device may need to download and install some drivers first. Then, just connect to the Note 8 and use it for your source of internet access.
This is another option, one that's more secure. However, using the mobile hotspot is typically more convenient. Also, most wireless providers like Verizon, AT&T, Sprint, and T-Mobile do not accept tethering or may charge an additional monthly fee for access.
A Few More Details
After you use the Galaxy Note 8 as a mobile hotspot it is a good idea to check your data usage. Those with unlimited data plans don't need to worry, but for everyone else, a hotspot can easily eat through your monthly data limit in just a few hours. Again, be careful.
We recommend heading into Settings > Connections > Data Usage and watch it closely so you don't go over the limit or you'll see extra charges on next months bill.
While you're here, learn how to disable the Bixby button, or check out our list of the 20 Best Note 8 cases from the slideshow below.
25 Best Samsung Galaxy Note 8 Cases
Samsung Protective Kickstand Case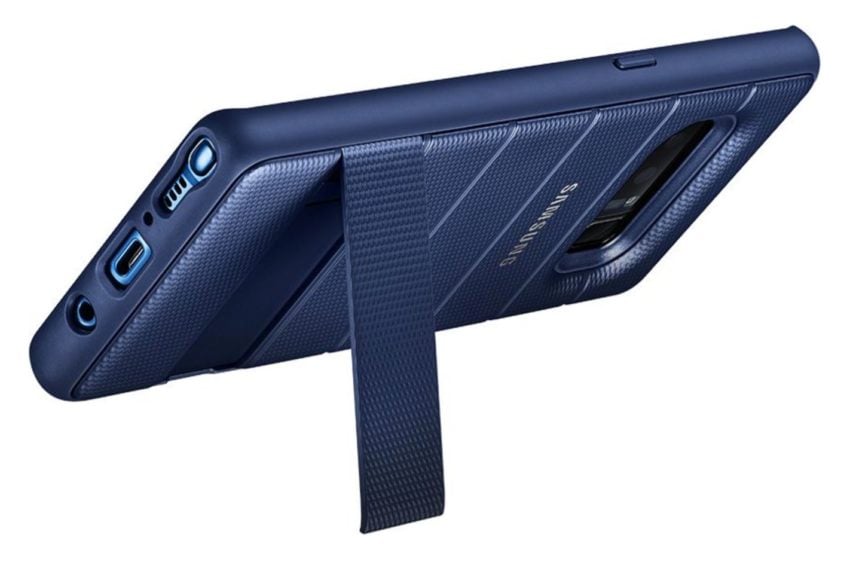 First up is a new case from Samsung themselves. The Rugged Protective Cover is Samsung's new military-grade case for the Note 8. Meaning it's certified for some serious tumbles like drops from 8-10 feet. Basically, this is one very durable case.
Then, to make things even better Samsung added a fold-out kickstand for hands-free viewing. The kickstand will also detach if you put too much pressure on it to prevent damage. Simply snap it back in and you're good to go. This is one of the first cases we recommend, as it's extremely durable and has extra features.

As an Amazon Associate I earn from qualifying purchases.