How to Watch the 2019 NFL Draft Live on Android or iPhone
Here's how to watch the 2019 NFL Draft live from your iPhone or Android device. The 2019-20 NFL schedule is official and that means teams are prepping "war rooms" and getting ready for day 2 and 3 of the Draft. Here's everything you need to know about the NFL Draft start date, time, and how you can watch it from anywhere.
Like every year, fans will watch every moment and hope each pick helps their team improve. We can expect some more crazy moves from teams like the New York Giants, fans booing the Commissioner and plenty of other excitement.
Read: NFL Sunday Ticket vs Sunday Ticket MAX: What to Know
The 2019 NFL Draft is on two broadcast channels with wall-to-wall coverage, and available from multiple cable outlets. Not to mention streaming on Sling TV, FuboTV, DirecTV Now, PS Vue and more.
2019 NFL Draft Date & Time
In case you didn't know already, the 2019 NFL Draft started on Thursday, April 25th at 8:00 p.m. ET.  The first team on the clock took Kyler Murray just like everyone thought they would. Then, it continues Friday at 7:00 p.m. ET (4 p.m PT) and again at Noon on Saturday, April 27th.
This year the Draft is taking place in Nashville, Tenn, after being in Dallas last year. You can tune into multiple channels anytime to see current coverage, analysis of picks, and for round 2 and 3.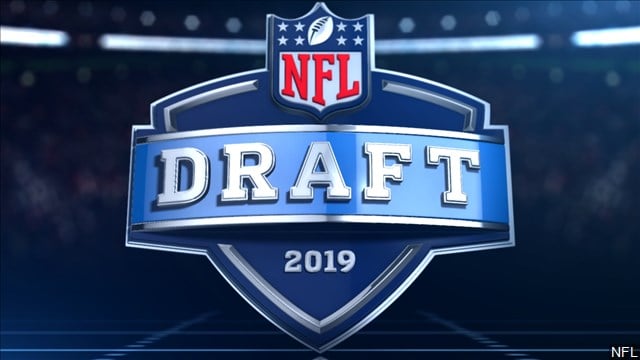 How to Watch the 2019 NFL Draft Live on Mobile
There are several different ways to watch the NFL Draft live on your mobile device or laptop, but first, here are what channels will be airing coverage.
For 2018, the NFL Draft will air on ABC, NFL Network and ESPN as the main broadcast channels. That's your first place to look, or mobile app to download. Then, you'll also be able to watch on ESPN, ESPN 2, ESPN Deportes, and probably a few more. And just like last year, all three rounds and every pick will air on national broadcast TV.
Read: 7 Ways to Watch NFL Games Without Cable
We're also assuming that the NFL's partner, Verizon Wireless, will air much of the content on the NFL Mobile app and Yahoo! Sports. If you have cable, you'll be able to watch the entire Draft on multiple channels, or from a web browser on your computer. If you're on the go and only have your phone, use these apps or services.
WatchESPN
As you saw above, multiple ESPN channels will cover the entire draft. As a result, you can watch it just about anywhere at ESPN.com or with the popular WatchESPN app. However, you'll need a cable subscription login. WatchESPN is behind a pay-wall, where you'll have to confirm you pay for cable somewhere before it'll stream content live.
Download the WatchESPN app for Android or iOS, sign in with your cable subscription, and enjoy the fun. And while yes, we have to watch Roger hug each player up on stage, the NFL will have a ton of things going on to engage fans during the downtime and between picks.
You can also download and use WatchESPN on the Chromecast, Xbox One, Windows 8/10 and other devices like Android TV or Apple TV, Roku, etc. It's available almost anywhere, works great, and is easy to use.
NFL, NFL Mobile, NFL Now, Fox Sports Go
Of course, you can also catch the action through a few different services provided by the NFL. You can go to NFL.com and watch most of it from a web browser on mobile or your laptop. Or, download the official NFL Mobile app for iPhone or Android. Or, get the Watch NFL Network app.
Most of the official NFL content is in partnership with ABC this year, instead of Fox, so get those apps too. Go ahead and download the Watch ABC app on your phone or tablet.
Read: Madden 20 Release Date & Info You Need to Know
We recommend watching on the NFL Network as they have a panel of experts for the live stream, breaking down each move and sharing information as it happens. Not to mention the little bell they ring each time a pick is in, so you can come running into the room to see the selection as I do.
Sling TV, DirecTV Now, FuboTV & More
If you haven't read our guide on how to cut the cord and ditch cable, now is a good time. Or, look through our 7 best cable TV alternatives. That's because in those posts we explain how to watch all of your favorite channels without paying a huge cable bill. Every cord-cutting option includes some sort of over-the-internet TV streaming, all of which works on iPhone or Android.
As a result, we highly recommend Sling TV first. Then other services like DirecTV Now or FuboTV. With Sling TV you get both ESPN and NFL Network for around $30 a month, along with tons of other channels. It's the most popular live TV streaming service, and they cater heavily to sports fans.
Basically, you can watch the entire 2019 NFL Draft, most of the season, tons of games, and all your other favorite channels like AMC and HBO for one low fee, with no contracts. FuboTV is another solid option, as they focus on sports first, then other programming second. That way you don't have to lose out on sports when you cut the cord.
TuneIn Radio
Streaming live TV to a mobile device isn't always an option. Especially if you're worried about going over your monthly data plan or don't have access to a WiFi connection. As a result, the NFL will also stream the entire Draft and each pick on TuneIn Radio. Click here for more details, and you're all set.
Cable Apps
Last but not least we want to mention Cable TV apps and options. If you pay for cable you probably can download an app from your cable company and stream the Draft on your iPhone or Android. Like Contour from Cox, which lets subscribers tune in to 100's of channels they get at home, on a tablet. Contour doesn't work on smartphones, but all you'll need is a WiFi connection (or tether from your phone) and a tablet to enjoy games on Fox, CBS, ESPN and more.
The same type of app is available from many other cable providers. Some have restrictions and limitations, a few allow smartphones, so try what provider you have and see what works best for you. Personally, I just use Sling TV and will likely watch some of the Draft on Yahoo! Sports.
These are just a few of many cable providers that have decent apps that let you enjoy live TV on smartphones and tablets. These are available on iTunes for iPhone as well.
Watching the Upcoming Season
While you're here, we wanted to quickly remind you that watching NFL Football games in 2019-20 will be easier than any year prior. A new deal in early 2019 between the NFL and Verizon allows anyone with any mobile device, on any carrier, to watch NFL games live.
Simply download the NFL Mobile App, Yahoo! Sports, or the Verizon Go90 app and you're all set. Verizon no longer has exclusive rights to the NFL on mobile. Now, no matter what carrier you subscribe to, you can watch local games for free. Plus, it looks like the DirecTV Sunday Ticket rights will be ending soon too, which is good for everyone else.
Enjoy the 2019 NFL Draft, and good luck to you and your team.

As an Amazon Associate I earn from qualifying purchases.