New HP Envy x2 Has Style and Stellar Battery Life
The new HP Envy x2 will have sharp looks, the latest processors, stellar battery life and mobile internet when it launches sometime in the spring of 2018.
HP devices are known for their sharp looks, and there's nothing about the HP Envy x2 to suggest that it will damage that reputation. The company revealed the new laptop at this year's Consumer Electronics Show in Las Vegas, Nevada, and it's the best looking Surface Pro alternative the company has announced yet. Unfortunately, HP won't reveal final pricing until its release date is closer.
There's a lot to like about the HP Envy x2. Its body is made of machined aluminum and Corning Gorilla Glass covers its 1920 x 1280 12.3-inch display. The tablet's rounded edges don't just look good, they should also make it comfortable to hold as users read books, watch movies and browse the internet.
This device is 0.311-inches thin. Despite that, it has some solid hardware inside. It uses Intel Core I Y-series processors to provide solid performance while still offering 17 hours of battery life. HP's fast charging technology gets the device back to 90% of its battery capacity in just 90 minutes when a work day is particularly hectic. Expect models with up to 256GB of solid-state storage, 8GB of RAM and mobile data connectivity. A Windows Hello camera and a fingerprint reader support signing into Windows 10 Home without typing passwords. The 13-megapixel camera on the back of the device should capture detailed photos despite not having flash.
Whatever its cost, HP Envy x2 buyers won't need to buy any extra accessories. The device has a pressure-sensitive digital pen and its dark blue folio case acts as keyboard and kickstand.
10 Best Surface Pro Alternatives in 2020
ThinkPad X1 Tablet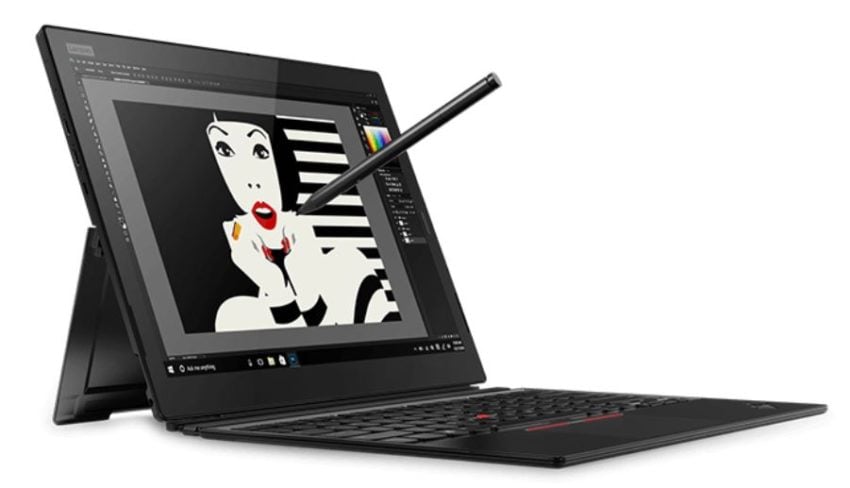 The ThinkPad X1 Tablet offers a lot of great features: a durable shell, an amazing display and Amazon's Alexa personal assistant.

The ThinkPad X1 Tablet has a 13-inch display. And, despite its good looks, the device has passed 12 military torture tests to ensure it can survive dust storms, cold temperatures, drops and spills. Finally, If you don't find Microsoft's Cortana personal assistant useful, the ThinkPad X1 Tablet has the same Alexa personal assistant your Echo smart speakers do. A Surface Pro won't survive a drop or spilled liquid and Cortana isn't as useful as Alexa is.


Read: ThinkPad X1 Carbon, X1 Yoga and X1 Tablet Have Stunning Display and Alexa


The third-generation ThinkPad X1 Tablet has powerful processors, plenty of RAM and other options. Models come with up to an 8th generation Intel Core i7 processor and 16GB of RAM. You won't get stuck waiting for web pages to load or your photo editor to process your touch-ups. If you don't like passwords, use the IR camera on the front of the ThinkPad X1 Tablet to sign into Windows. This 2-in-1 also has a fingerprint reader.

The ThinkPad X1 Tablet's screen detects 4,096 different levels of pressure from its digital pen. Besides that, it's a really detailed display. Windows, your videos and everything else you do on it looks crisp and detailed. Again, it's three times as sharp as an HD display.

Like other Surface Pro 4 alternatives, this Windows 2-in-1 connects to its included keyboard cover using a special slot on its bottom edge. It has Thunderbolt 3 ports for fast data transfers, a MicroSD card reader and a headset jack. With LTE connectivity, you can add the ThinkPad X1 Tablet to your smartphone data plan. You can't do that with a Surface Pro 4.


As an Amazon Associate I earn from qualifying purchases.