Incredible iPhone 6 Plus & iPhone 6 Deals Chop $70 Off
Forget about paying full price for a new iPhone this holiday season with two incredible iPhone 6 Plus and iPhone 6 deals at Walmart that deliver the biggest savings since Black Friday and a major price drop for the three-month old iPhones. This is the cheapest iPhone 6 deal we can find and one of the only iPhone 6 Plus deals you'll see this month.
Walmart iPhone 6 deals include the 16GB iPhone 6 and 16GB iPhone 6 Plus in all available colors. Walmart already offered iPhone 6 deals with $20 off, and now they add another $50 in savings — letting shoppers score $70 off the price at an Apple Store or a carrier.
Starting today, you can buy the iPhone 6 for $129 and the iPhone 6 Plus for $229. Walmart also sells the iPhone 5s for $49.
Read: Which iPhone 6 Color Should I Buy?
The only real catch is that you need to be eligible for an upgrade and to sign a new two-year contract. You can buy the iPhone 6 and iPhone 6 Plus deals on AT&T, Sprint and Verizon in all three colors at your local Walmart store.
You don't need to look much farther to find the best iPhone 6 Plus and iPhone 6 deals. Carriers and Apple do not discount the iPhone this much and even Target isn't chopping this much off the iPhone 6 and iPhone 6 Plus.
There is no gift card savings needed here, you can easily rack up $70 off the retail price and $50 more than Walmart typically sells the iPhone 6 and iPhone 6 Plus for.
Sam's Club members can save an extra $2 on each model and buy an iPhone 6 for $127 and the iPhone 6 Plus for $227. You must be a paying member of Sam's Club for these prices, while the Walmart iPhone 6 deals are open to any shopper. The Sam's club colors, size and models vary by store, so you may be able to find a higher capacity model there.
There is no option to buy a 64GB or 128GB iPhone 6 or iPhone 6 Plus at Walmart, so you will need to make sure that you can live with a 16GB iPhone 6 or iPhone 6 Plus. Some users will need more storage to handle large numbers of photos, videos or games.
The iPhone 6 features a 4.7-inch display and a new metal design that is a little slippery, so make sure you check out iPhone 6 cases. The iPhone 6 Plus uses the same design, but is much bigger with a 5.5-inch display. Both of the new iPhones use an upgraded 8MP camera that takes impressive looking photos. The iPhone 6 Plus adds optical image stabilization that can help with low light photos of still objects.
Read our iPhone 6 Plus review to find out if the largest iPhone yet is the one for you. It is possible to use the iPhone 6 Plus with one hand for some tasks, but it is largely a two-hand device. You can also read our iPhone 6 review to find out what we love about this mid-size iPhone that is an easier device for many iPhone 4s, iPhone 5 and iPhone 5s owners to adapt to.
This is in addition to the trade-ins that Walmart offers for old phones. You can check how much your old smartphone is worth if you want to trade it in towards an iPhone 6 Plus or iPhone 6 deal before you go to the store.
Target is also selling the iPhone 6 with a $50 gift card and AT&T offers big savings on a refurbished iPhone 6 or iPhone 6 Plus at off contract or monthly payment prices. The refurbished iPhone 6 and iPhone 6 offer more storage options, but only a 90 day warranty.
Check out a selection of our favorite iPhone 6 cases below and visit our holiday gift guide for more top picks.
13 Awesome iPhone 6 Cases
Apple Leather iPhone 6 Cases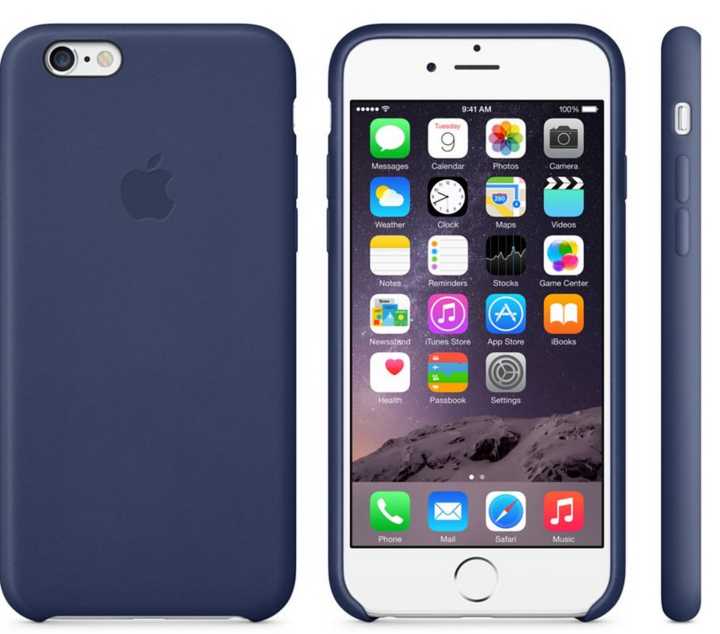 One of the most popular iPhone 6 cases is the leather iPhone 6 case from Apple. This case is one that you can find in any Apple Store on release day and is also listed with many carriers.
Apple designs the leather iPhone 6 case with premium leather in a small form factor that adds minimal bulk to the new iPhone. You can find the leather iPhone 6 case in five color options that match the white and black front of the iPhone 6.
Watch out if you buy the red iPhone 6 case as the leather model for the iPhone 5s wore very fast and looked dirty and grey soon after purchasing.
$45 at Apple

This article may contain affiliate links. Click here for more details.