iOS 11.1 Release Date Tips & Tricks
The iOS 11.1 update doesn't have an official release date, but there's a good chance it'll touch down for iPhone, iPad, and iPod touch users in the near future.
The first iOS 11.1 beta came with some small tweaks and changes, but the second iOS 11.1 beta delivered new and redesigned emojis for the iOS keyboard. Apple employees are also testing the company's upcoming Apple Pay Cash solution on a special version of the iOS 11.1 beta though it's unclear if the feature will make it into the final release.
Apple released its fifth beta, a mere three days after the release of iOS 11.1 beta 4. With every beta release we get closer to the official iOS 11.1 release date.
The iOS 11.1 beta 5 is a tiny update and it could very well be the final beta release. The fifth iOS 11.1 beta is a mere 35MB for the iPhone 7. The fourth beta was nearly 2GB.
The company hasn't attached a specific release date to the iOS 11.1 update, but we expect Apple to push it live in late October or early November. If we're lucky, the company will release the upgrade alongside the iPhone X flagship that's set to arrive on November 3rd.
The iOS 11.1 update is making progress which means you iPhone, iPad, and iPod touch users can, and probably should, start shifting your attention from iOS 11.0.3 to the first major update to iOS 11. The new emojis are exciting, sure, but iOS 11.1 should deliver a nice lengthy list of tweaks and bug fixes for lingering iOS 11 problems.
A recent iOS 11.1 beta brought a fix for an annoying Reachability bug and the company's new update will patch up a nasty Wi-Fi exploit.
In this guide will provide you with some tips that should help you prepare for the iOS 11.1 update's release. The more prepared you are, the better, so get started right now.
Start Prepping Right Now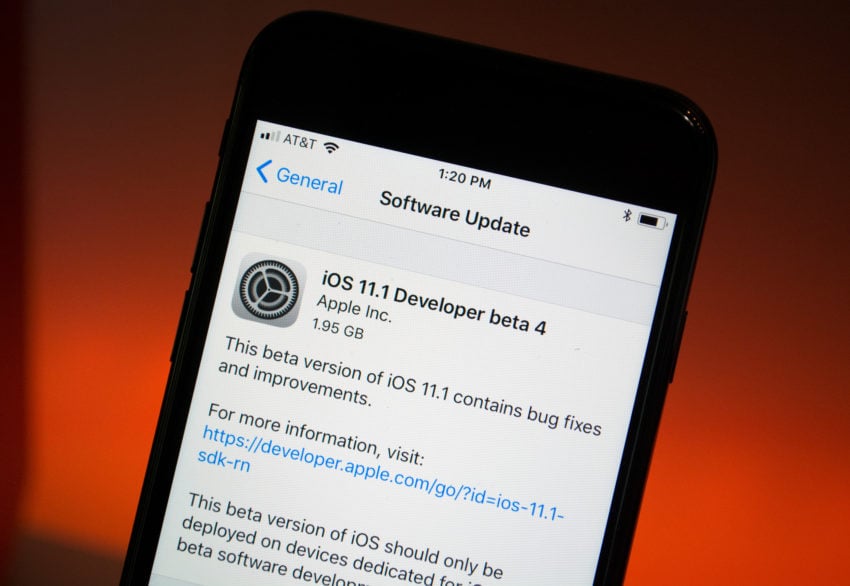 We don't have an iOS 11.1 release date yet, but that doesn't mean you should sit around twiddling your thumbs. There's some early prep work that you can, and probably should, do before the update arrives.
If you need to, use this time to cleanup your device. Dig into your storage and get rid of files you no longer use. Cleaning up your device could also improve your device's performance.
You should also start backing up the data stored on your device(s). If you don't know where to start, you'll want to dig into our guides covering iCloud backups and iTunes backups.
If you want to download iOS 11.1 right when it comes out, make sure your device has at least a 50% charge (or you're near a charger) around 10AM Pacific Monday-Friday.
You should also track down all of your login information. Make sure you have the device's passcode, your Apple ID/iCloud login, and the login info for your important apps and services ready to go. If this will be your first time moving to iOS 11, the iOS 11.1 update could log you out of some of your apps.
This might seem tedious, but a little prep work should help you avoid major problems before, and after, you get the iOS 11.1 up and running on your device.