Jaybird Freedom: Premium Bluetooth Headphones with EQ
The Jaybird Freedom headphones include a customizable EQ that lives on the headphones and will keep your sound the same from iPhone or Android to Mac or PC and other Bluetooth devices.
The new Jaybird Freedom headphones are sweatproof like the Jaybird X3 and include metal earbuds and memory foam tips.
While you may know Jaybird best for workout headphones, these are a slightly smaller and higher end model that delivers passive noise isolation and better in ear comfort than similar bluetooth headphones according to the company.
Jaybird announced the Freedom headphones at CES 2016 in Las Vegas along with the Jaybird X3 headphones that are aimed at working out with the same sound control options.
A common feature of the new Jaybird Freedom headphones and the X3 model is the Jaybird MySound app for iPhone and Android that allows users to set a custom EQ that stays on the headphones across devices.
Users can tweak the sound to match their needs and taste with no need to play with the settings on multiple devices for consistent sound.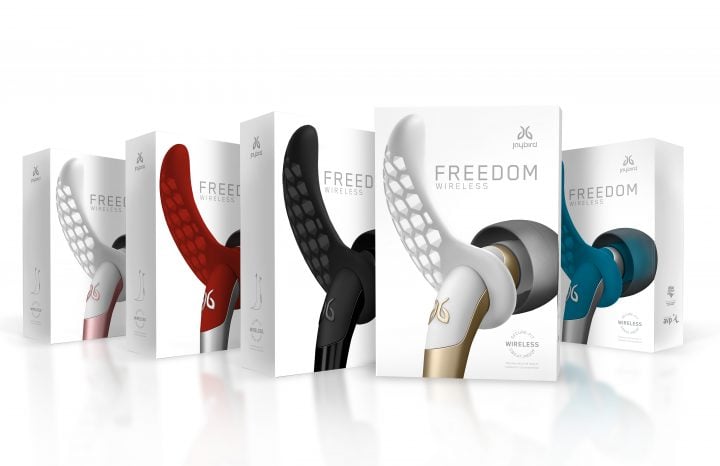 The Jaybird Freedom headphones include eight hours of playback when you combine four hours of in-headphone playtime and another 4 hour charge from the carrying clip that can charge while you use the headphones.
"Freedom combines fashion and sport into the smallest and most elegant wireless earbuds we've ever designed," said Rene Oehlerking, Jaybird's CMO. "The product is both gorgeous and versatile and is designed to be the only buds you'll ever need for fashion, fitness and work. Freedom takes a huge step forward in wireless earbuds innovation by giving users the features of premium over-the-ear headphones in a micro-sized, in-ear package."
Shoppers will find the Jaybird Freedom headphones in stores in Q2 2016 for $199 in carbon (black on black metal), Blaze (red on silver metal), gold (white on gold metal and blush (white on rose gold metal).
Check out the rest of our CES 2016 coverage to see the latest gadgets, accessories, smartphones and other cool tech for 2016.
Best iPhone 6s Cases, Covers & Skins
Speck CandyShell Clear iPhone 6s Case
The Speck CandyShell Clear is the first clear iPhone 6s case from Speck, and the first clear case from the company overall. This form-fitting, minimalist iPhone 6s case delivers a decent amount of protection with a military drop test 810G rating.
Speck assures us that the clear case will not yellow with use like many cheap clear case options. The clear finish is perfect for showing off your iPhone 6s color choice while protecting it.
Buttons move perfectly and are easy to find by touch and there is a raised front bezel to keep the iPhone 6s display off hard surfaces.
$34.95 at Speck