June Clash Royale Update: What You Need to Know
This is what's new and what changed in the June Clash Royale update. In addition to three new 2v2 game modes and four new troops, Supercell is slowing down the powerful new Night Witch and letting players stack spells for more damage.
Following a massive update in March, the developers have been quiet and didn't make any changes in May. As a result, the game is very unbalanced and new troops are dominating the game. On June 12th though, that all changed.
Read: Clash Royale 2017 Updates: 7 Things We Want Next
With each round of balance changes and Clash Royale updates the game changes dramatically. Troops are less effective, and you'll want to adjust battle decks accordingly. In June Supercell made big balance changes, added four new cards, and plans to make 2v2 mode permanent. Read on for more details.
Clash Royale June Update New Features
Earlier this year Supercell added a brand new game mode called 2v2. Allowing two clan members to battle two others from another clan. It's extremely exciting, but didn't give us chests or rewards and was only available a few days a month. Now, an entire month of 2v2 is coming this July and Supercell could make it a permanent game mode. That said, here's everything that's new.
2V2
– Summer of 2v2 is coming with all new 2v2 game modes!
– 2v2 Friendly Battle, 2v2 Draft, 2v2 Challenge!
– AND, starting today, collect chests with your friends in a 2v2 Battle!
CHALLENGES
– New Challenges coming: "Sudden Death", "Ramp Up" and "Triple Elixir"
– Keep an eye out for the golden notification on the Tournaments tab!
NEW CARDS
– New Legendary Card: Mega Knight
– Epic Card: Cannon Cart
– Rare Card: Flying Machine
– Common Card: Skeleton Barrel
– Each new card will launch with a Special Challenge!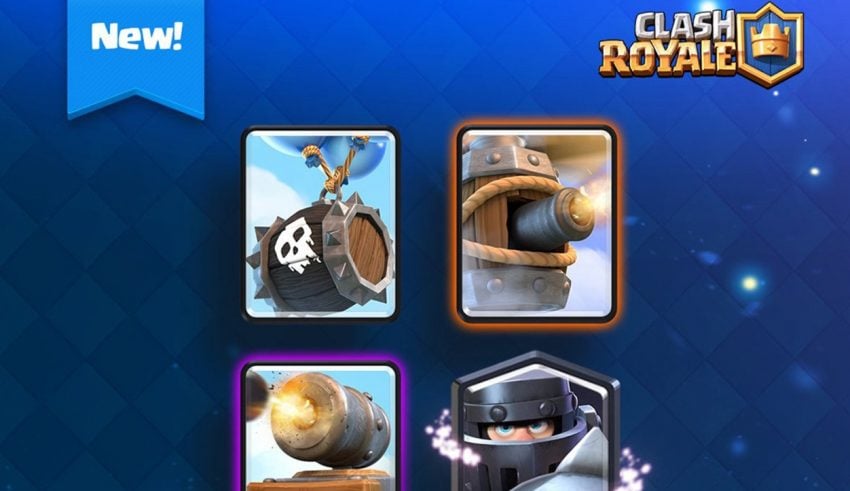 IMPROVEMENTS
– Unlock extra Battle Deck slots at Level 8
– Invite friends to your Clash Royale friends list
– Invite friends directly to your Clan
– Clan Chat profanity filter on/off toggle (in Settings)
– Report offensive language or players via Clan Chat
– Copy decks from TV Royale and shared replays
– Clans now unlock at Level 1 (card requests still unlock at Level 3)
– Card Shop now cycles through all available cards within 3 months
BALANCE
– Giant Chest contains less gold and Common Cards, but a lot more Rare Cards
– Magical Chest and Super Magical Chest contain more gold
– We've re-balanced several cards
As you can see, this is a massive update to Clash Royale. In addition to four new cards and three new modes, there are three new challenges coming too. All of this will give players more ways to play, and more ways to earn chests and new cards. The biggest part of this news is 2v2 now counts towards chests to earn gold and troops, instead of just being for fun.
This is a mandatory update available starting June 12th on the Apple and Google app stores.
Clash Royale June Update Balance Changes
Last week Supercell confirmed all of the balance changes too. The goal is to fix a few broken new cards like the Night Witch and Bandit and balance others to make the game more enjoyable. Here is what changed so players can adjust their battle decks accordingly.
Night Witch: Spawns 3 Bats on death (from 4), Bat spawn speed to 6sec (from 5sec), initial Bats spawn slower
Tornado, Poison, Heal: Multiple of the same spell will stack
Tornado: Duration to 2.5sec (from 3sec)
The Log: Range to 11.1 (from 11.6)
Goblin Gang: Spear Goblin count to 2 (from 3)
Skeletons: Skeleton count to 3 (from 4)
Bandit: Hitpoints +4%, Dash initiates quicker
Inferno Dragon: Hitpoints +7%, re-targets 0.2sec quicker
Witch: Hitpoints +5%, Area damage radius +10%, spawn speed to 7sec (from 7.5sec), initial Skeletons spawn slower
Clone: Faster cloning effect
Battle Ram: Damage that destroys the Ram won't affect Barbarians
Bats: Bat count to 4 (from 5)
Some of the most noteworthy changes are Goblin Gang will now only have five troops instead of six, and the skeletons are going back to three. This should slow down hog cycle decks and cut down on all the swarm decks.
That said, the Log is getting a small nerf too, and now won't travel as far to kill as many troops. Additionally, the new Night Witch is too strong and will lose some bats when she dies, and the Bandit is getting a much-needed boost and will be more useful. We also see a change to an unreleased card, the Bats.
Read: Clash Royale Problems & How to Fix Them
Last but not least, the Inferno Dragon is getting a big increase. It's already a powerful card that can stop huge attacks from the Giant, Golem, or PEKKA, and it will now be more useful than ever before.
Other Details
One potential issue with the update is the ability to stack spells. This means mirroring a heal spell can keep your troops alive. The problem with this is rocket poison decks could become popular, where players never actually touch your towers but win simply by spamming the rocket, poison and a mirror spell over and over.
The new Bats card will arrive in the coming weeks, then every 3-4 weeks one of the four new cards will arrive in challenges where players can win them early.
No one expected a big update until later this summer but it's already here. Try the latest 2v2 game modes now, expect more challenges soon and then four new cards to mix things up.

As an Amazon Associate I earn from qualifying purchases.