LG V30 Release Date, Features, Rumors & News
The LG V30 release date is almost here and we already have a good idea of what to expect from this big-screen smartphone and the powerful software it runs. Here's everything you need to know about the LG V30 release date, rumors, new features, and the latest news.
Recent V30 leaks point to some major changes that should have potential buyers excited, or frustrate fans of the original V10 and V20. From a bigger edge-to-edge display, improved cameras, to water-resistance.
Actually, the LG G6 tells us a lot about the upcoming LG V30. That's because it will feature a similar big bezel-free display and ditch the secondary screen. As the August 31st announcement nears, here are the important details you need to know.
LG V30 Release Date: August 31st announcement, release rumored for September 23rd
How Much Will the LG V30 Cost?: Around $799+ based on previous releases
What is the LG V30?: LG's biggest and best flagship smartphone that delivers the latest cutting-edge specs and features. A big 6-inch phone with an edge-to-edge screen, high-end audio, and two great cameras. Past models delivered improved audio, a secondary screen, and other premium features.
Now that you know a few of the basics and we've answered some important questions, read on for the latest news and rumors.
LG V30 Release Date
Each year LG releases a top-tier smartphone during the first few months. Then later in the year something better comes along to compete with the new iPhone and Samsung's Galaxy Note. Both the LG V10 and last years LG V20 arrived around September at an event called IFA, a tech event in Berlin, Germany.
LG has confirmed the V30 will follow a similar path and get announced on August 31st a day before that event kicks off. The company will showcase its new phone and other products as it prepares for the LG V30 release date in late September.
We know LG is making announcements on August 31st, and expect the V30 to take up a lot of that time. If so, a release date should follow in mid to late September. One leak suggests September 23-25th is the actual global release date. When you consider the 10th anniversary iPhone will debut in September of 2017, LG could look to speed up its release schedule. We'll have to wait and see.
LG V30 Display
A key selling point or feature for the past two LG V smartphones was the display. With the LG V20 the company offered a large 5.7-inch Quad-HD display, then a secondary screen above it for shortcuts and other tasks. It's a novel idea that some love, while others find somewhat useless and a waste of valuable space.
Time and time again we've heard that LG will stick to this model, and the V30 will feature two screens on the front. However, recently LG confirmed something different. This year the company will debut its latest and greatest screen technology. The LG V30 will have a 6-inch OLED screen with curved glass, rounded corners, and an edge-to-edge display. Essentially cutting down the black bars and bezels on the top, bottom, and sides by stretching the screen to each edge. We saw this earlier in the year from the LG G6 and Galaxy S8, and it's rumored for the iPhone 8.
The image above comes right from LG, teasing the new curved screen and edge-to-edge design. It looks strikingly similar to the Galaxy S8 and could offer even smaller bezels than the upcoming Galaxy Note 8. A few reports state LG ditched the secondary screen and will instead use a software overlay to deliver a floating secondary screen-like experience.
All you need to know is the V30 has a big 6-inch P-OLED screen that should look stunning.
LG V30 Design
Based on the information we've seen thus far and mentioned above, the LG V30 should look very similar to the LG G6 released earlier this year. Essentially a large single aluminum unibody frame with a glass back. Then we expect almost all screen on the front. Here's a video showing it from all angles, based on leaked Blueprints and recent rumors.
It's hard to say whether or not this is an accurate description of the design, but @onleaks has an accurate history when it comes to smartphone leaks. It should look extremely similar to what's being shown above.
Keep in mind that we don't see the famous secondary display here, and instead just one big screen on the front. Additionally, there are dual cameras on the back, a fingerprint sensor, and no antenna lines like the iPhone. The sides house a few buttons for the volume and that's it. The fingerprint sensor doubles as the power button. You'll also notice USB Type-C and a single bottom firing speaker, with the 3.5mm headphone jack up top.
The LG V line always offers a little of everything and is a premium device. Meaning don't expect to lose the headphone jack and don't be surprised if this phone is IP68 water-resistant. Not to mention offer some sort of wireless charging similar to the LG G6. There is a downside to that, which is the lack of a removable battery. Both the V10 and V20 had a removable battery but weren't water-resistant. Keep that in mind as you consider this as your next smartphone.
Furthermore, some photos recently leaked from LG's partnership with a company that helps create their commercials and advertising campaigns. The photo at the top of the page is one, and here's our first official look at the front of the LG V30. The Galaxy Note 8 has some tough competition from LG this year.
LG V30 Camera
We expect the LG V30 to feature dual cameras on the back just like previous models. Following the LG G6 most rumors suggest dual 13 megapixel cameras for the LG V30. One is a fast f/1.7 aperture lens for great daily photos and video. However, the secondary sensor is another 13 megapixel camera with a f/2.1 aperture for wide-angle photography.
LG could increase the cameras in the V30 but we'll have to wait and see. Another area of improvement is the front selfie camera. Rumors believe LG will opt for a better 8 Megapixel camera on the front. That said, these are only rumors and we'll update once we know more. LG is already teasing how great the camera will be, so expect good things.
LG V30 Specifications
Each year the LG V series is slightly better than anything else the company has released. By offering improved specs, a bigger screen, and more features it stands out and competes with the Galaxy Note. And while we don't know too much about the LG V30 yet, here are some potential specs based on rumors and past releases.
LG V30 Specs (Rumored)
6-inch Quad HD P-OLED Display with Small Bezels
Snapdragon 835/836
64 of storage and 6GB of RAM (microSD slot for storage expansion)
Android 7.1.2 Nougat (Soon after an update to Android 8.0 "O")
Dual 13 Megapixel Rear cameras, one features wide-angle photography
8 Megapixel front-facing camera
3,300 mAh battery with Fast and Wireless Charging (Battery is not removable)
Rear-mounted fingerprint scanner
IP68 Dust and Water Resistance up to 5ft
Quad DAC for improved audio
Secondary display (maybe)
USB Type-C port, 3.5mm headphone jack, more
At this point, we're assuming the phone will have the Snapdragon 835 processor, similar to the Galaxy S8 and other recent smartphones. It could be LG's first phone with 6GB of RAM, but that's unconfirmed. As the September release dates nears more information should surface.
LG V30 Features
Most of the features on the LG V30 are things we've seen before. The curved display, small bezels like the LG G6 and even a Quad-DAC for improved audio. Which, was a key selling point for earlier LG V smartphones from 2015 and 2016.
That doesn't mean LG isn't bringing new features and additional options to the table. The camera is getting a major overhaul, as we explained above. So what's new and different? Well, a lot, actually.
Above is an image provided by LG teasing the software enhancements and power of the LG V30. It shows a sleek new and improved look running on what we assume is Android 7.0 Nougat. This image is very telling. It shows an on-screen floating bar, which will act as the "second screen" many enjoyed on the LG V20. Easily accessible by sliding it out from the side of the curved glass screen. A system similar to the Edge panel on Samsung Galaxy devices.
Furthermore, LG is teasing a revamped and highly customizable always-on display setup as well. This too was on earlier models and now has more features to compete with Samsung and Motorola.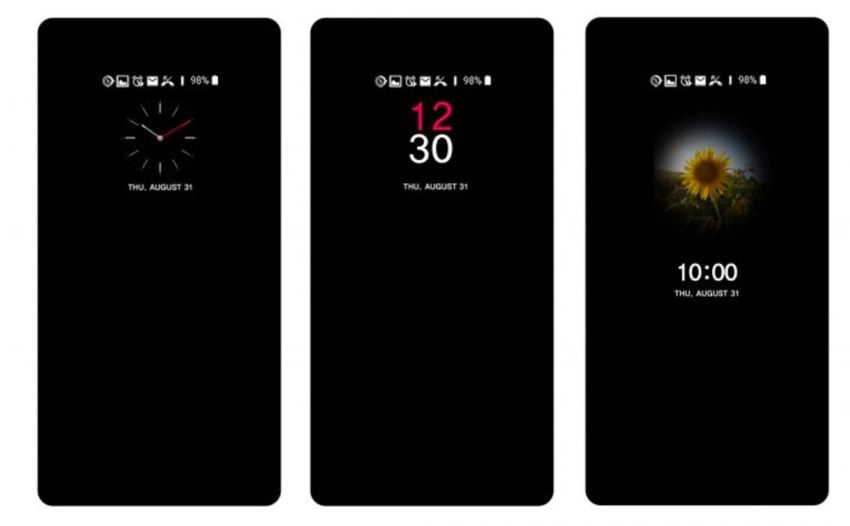 Then, this week LG shared information about the audio improvements bundled inside the LG V30. That includes a new 32-bit Quad DAC with digital filters and plenty of sound presets. Meaning users get a crisp and clear sound that's also highly customizable. Additionally, expect Bang & Olufsen headphones included in the box with each phone. These are called the B&O Play USB Type-C earphones.
And finally, LG confirmed the V30 will use a haptic engine similar to the iPhone 7 Plus and Galaxy S8. Rather than just have a generic vibrate when users touch the screen, it will use an engine that's very advanced. This will allow for different levels of customization, software controls, and maybe even a hard-press 3D Touch type experience. You can even customize the vibration engine to match ringtones, as it's fully customizable.
From what we're seeing LG has a lot of tricks up its sleeve for this phone. Delivering not only great hardware but software too, that can match the competition.
LG V30 Price
The LG V30 price is completely up in the air right now. As an example, the LG V20 retailed around $799 and had plenty of neat features. However, the LG G6 has a sleek design and undercuts most of the current competition in terms of the price. We could see a similar approach with the V30 pricing.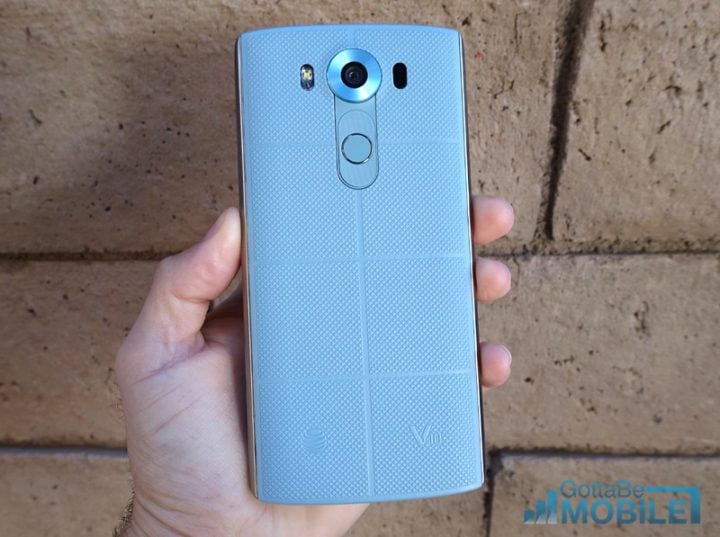 It's highly possible that LG will look to offer this phone around the same $799 price tag as previous models, but we can't say for sure. If it indeed adds wireless charging, water-resistance and an improved OLED display this could come in around $849 or $899 instead. And while that's expensive, it's less than the new $950 Galaxy Note 8 and rumored $1,000 iPhone 8.
Either way, considering all the upgrades and the bigger screen this will be an expensive smartphone. There are still plenty of questions unanswered so we'll have to wait a few more days for more details. This post will get updated with additional information is it becomes available.

As an Amazon Associate I earn from qualifying purchases.