Mario Kart 8 Deluxe Release Date, Features & Details
With the proverbial race to get the Nintendo Switch on to store shelves over, Nintendo is turning its attention to actual go-kart races. At least, the kind that involves famous characters from across its slate of franchises. The company is gearing up for the Mario Kart 8 Deluxe release date.
Mario Kart 8 Deluxe was first shown off in the weeks and months leading up to the final Nintendo Switch reveal. The short video clip of the console that arrived last September revealed that Nintendo was planning to bring Mario Kart to the new console in some form. Such a move made sense, the Nintendo Switch is the perfect way to experience the long-running racing franchise. Its Joy-Cons have sensors that can help players lean into every curve in the game's tracks. The Joy-Con controllers can be separated from the console too, turning it into the ultimate party game machine. Playing with other people is one of Mario Kart's best experiences.
Read: 15 Exciting Nintendo Switch Games for 2017
If you were thrilled with The Legend of Zelda: Breath of the Wild being the only high-profile game on the new system, the time to get excited is now. The Mario Kart 8 Deluxe release has almost arrived.
Mario Kart 8 Deluxe Release Date, Features & Details
Mario Kart 8 Deluxe Release Date
New Features for Mario Kart 8 Deluxe
What Nintendo Switch Play Modes Mario Kart 8 Deluxe Will Support
Accessories & Mario Kart 8 Deluxe
Mario Kart 8 Deluxe Amiibo
Mario Kart 8 Deluxe Deals
Mario Kart 8 Deluxe Release Bundles
Mario Kart 8 Deluxe Release Date
Back in September, many hoped that Mario Kart 8 Deluxe would arrive on store shelves at the same time as Nintendo Switch. That would have meant that the console had an alternative for those that weren't too thrilled at its launch line-up of Breath of the Wild, Super Bomberman R and 1-2 Switch. That didn't happen.
Instead, Nintendo confirmed that the Mario Kart 8 Deluxe release date would come after Nintendo Switch was readily available. The move gave Breath of the Wild all the space it needed to shine.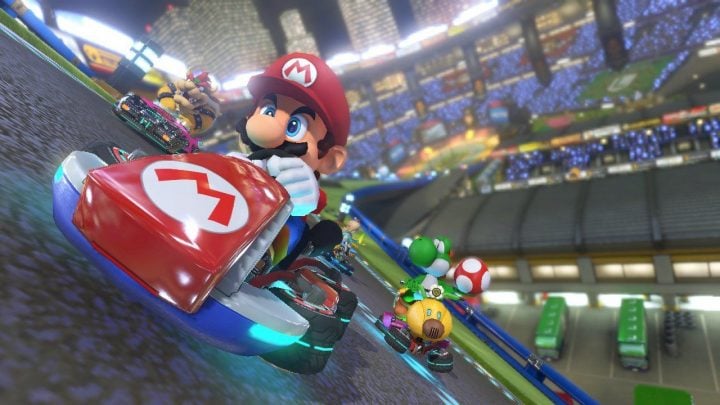 The Mario Kart 8 Deluxe release is set for April 28th, nearly two months after the arrival of Breath of the Wild and the Switch console itself. It'll give the console a high-profile boost until Nintendo's second, completely original game for Nintendo Switch makes its debut: Splatoon 2.
Read: Splatoon: 5 Fun Things to Know
New Features for Mario Kart 8 Deluxe
Mario Kart 8 Deluxe isn't the second high-profile title to be made specifically for the Switch because it made its debut with the Nintendo Wii U. Mario Kart 8 Deluxe is an upgraded version of the original game that also has some DLC differences. Mario Kart 8 on the Wii U has downloadable content. Mario Kart 8 Deluxe for Nintendo Switch packages all that content with the game.
Races, Racers and Tracks
The are 42 different characters to race in Mario Kart 8 Deluxe. They include Inkling Girl from Splatoon. Inkling Boy is on that roster too. Bowerser Jr, Dry Bones and King Boo are included as well. Again, Mario Kart 8 Deluxe has 48 different tracks to race on, including a Splatoon themed track.
Half the fun of Mario Kart is using different in-game items to take down opponents with ease. There's nothing like getting hit with a projectile just when you thought you had a race locked down. Boo will allow gamers to go invisible and steal the items that other players are carrying. The feather allows players to jump over obstacles and other racers. Double items get racers two power-ups or weapons instead of just one.
200cc class lets racers go faster than they can possibly handle, and Smart Steering gives those that have a hard time on floating tracks a bit of help. Gamers can customize their karts.
Game Modes & Online
Grand Prix mode is available. Vs Race is available too. In this mode, players get to decide on the track and rules that racers have to abide by. Time Trials challenges players with beating their own best time on each of the tracks.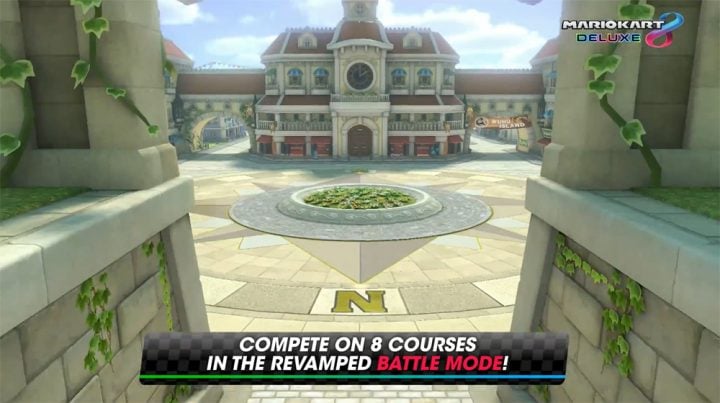 It's the player's job to pop everyone else's balloons in Battle Mode. Renegade Roundup, a mode that forces gamers to "catch players or get caught" is new for the Mario Kart 8 Deluxe release. Bomb-o-Blast is new too. Gamers use bombs to take out opponents. Another mode tasks players with collecting as many coins as possible. It's also new. The new Shine Thief game type leaves players to battle over an object at the center of each level. In total, Battle Mode has 8 courses.
Online multiplayer for Mario Kart 8 Deluxe supports 12 different players. Tournaments can be configured, with their own rules and regulations.
What Nintendo Switch Play Modes Mario Kart 8 Deluxe Will Support
Nintendo Switch leverages everything that people enjoy about modern and classic gaming. While Xbox and PlayStation are focusing on co-operative and multiplayer that requires two different consoles, Switch offers multiplayer on a single Switch or multiple Switch consoles. You lose your connection to the Xbox and PlayStation ecosystems when you leave home. The same isn't true of Nintendo's offerings. Switch owners simply slot the Joy-Cons into their rails and play where they want.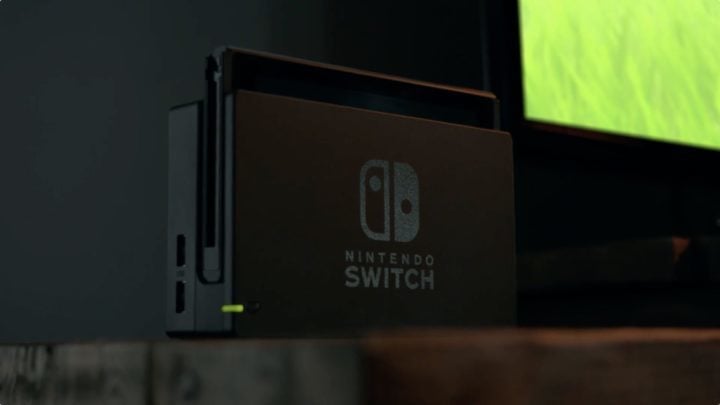 Mario Kart 8 Deluxe will offer TV Mode compatibility. Gamers will be able to enjoy the title on their television set, just like they could with the previous game. It's only in this mode that 4 players are supported on one console. Tabletop Mode is when a Nintendo Switch user disconnects the Joy-Cons and uses them as wireless controllers. 2 people can play in that mode. Up to a whopping 8 different players can go head to head in Mario Kart 8 Deluxe with separate devices.
Accessories & Mario Kart 8 Deluxe
Mario Kart 8 Deluxe will support the motion controls inside the Left and Right Joy-Cons. The make this a bit easier on everyone, Nintendo is already selling a two-pack of racing wheels to slot the controllers into. The game will also support the Nintendo Switch Pro Controller that looks and feels more like a gamepad than the Joy-Cons with Joy-Con Grip.
Read: Nintendo Switch Accessories Breakdown: What You'll Need & Want
Mario Kart 8 Deluxe Amiibo
Amiibo, those tiny physical figures and cards that unlock features and content inside many of the Wii U's games, work on the Nintendo Switch and Mario Kart 8 Deluxe.
The Nintendo Switch's Joy-Con Controllers have the sensor necessary for Amiibo built in. So does the Nintendo Switch Pro Controller. They'll unlock kart upgrades and racing suits for Miis.
Mario Kart 8 Deluxe Deals
With the Mario Kart 8 Deluxe release fully detailed, the only thing left to do is pre-order your copy of the game. It is already available for pre-order from Best Buy, GameStop and Amazon. Amazon will discount the game by 20% when it sees that you have an Amazon Prime membership. Best Buy's Gamer's Club Unlocked includes a 20% discount too.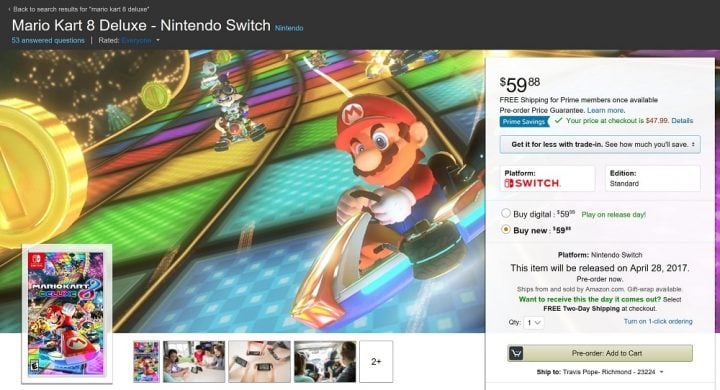 None of these stores offer a pre-order bonus. Right now, GameStop isn't offering its customary boost in trade-in value toward the game.
Mario Kart 8 Deluxe Release Bundles
As many anticipated, Nintendo is rolling out a Nintendo Switch Mario Kart 8 Deluxe bundle. that's the good news, the bad news is it'll only be available in Russia. There's a bundle in the United States too. It comes from GameStop, though. It is a bad deal.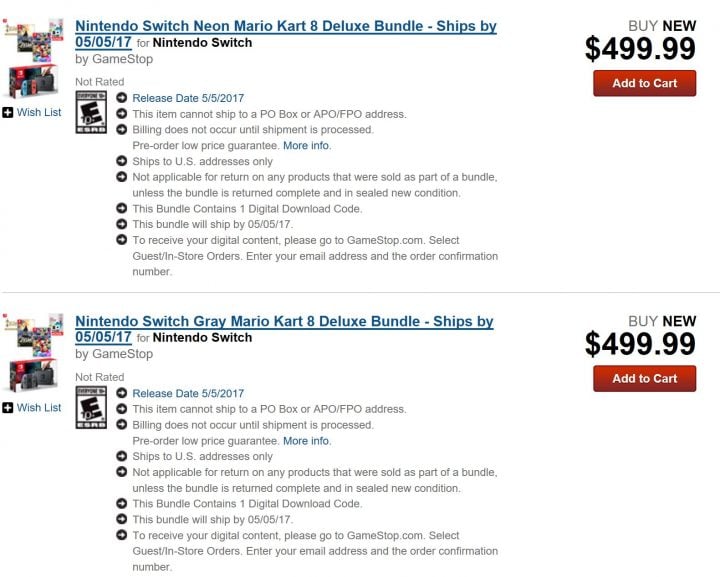 These GameStop bundles include a Nintendo Switch console, Breath of the Wild, Mario Kart 8 Deluxe, a screen protector and a 128GB memory card. Even if you purchased these separately it'd be $15 less than the $499 this bundle costs.
The launch of the Nintendo Switch seemed a bit dull, but things like the Mario Kart 8 Deluxe release are sure to bring new life to the console's online network.
10 Best 2017 Nintendo Switch Games Coming
Sonic Forces
Featuring three protagonists, Sonic Forces will offer platforming and an all-new story when it arrives on video game consoles – including the Nintendo Switch – in 2017.
We know that Sonic Forces lets gamers create their own characters. Players must base this character on one of seven different classes that come with their own advantages and abilities. Sonic Team calls these custom characters "Avatars," and there are hundreds of cosmetic items for Sonic Forces players to add some style to their creation.
You can skip the custom character mode and enjoy two generations of Sonic game play: 2.5D and 3D. The 2.5D mode offers the classic side-scrolling Sonic experience from your childhood. 3D Mode plays more like Sonic Unleashed. All game worlds and characters are three-dimensional, just like they would be in a modern game.

As an Amazon Associate I earn from qualifying purchases.