Minecraft for Nintendo Switch Release Date, Features & DLC
Video game developer Mojang isn't ok with just dominating PC game sales with its Minecraft world-building and survival game. Soon, the Minecraft for Nintendo Switch release will arrive and bring the company's flagship game to yet another video game console.
Minecraft has versions spanning almost every device. After arriving on Windows PCs initially, the game quickly spread to smartphones and tablets. It's on Xbox One and PS4 video game consoles now. They replaced versions meant for the Xbox 360 and PS3. Even with those versions available, Minecraft for Nintendo Switch is the most exciting launch the game has had in some time. The Nintendo Switch is designed to let gamers take their favorite titles with them anywhere. The console is just as great paired with a television set as it is out of its dock and in your hands on the go.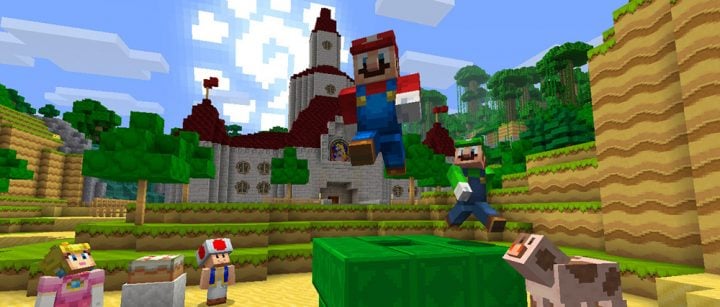 Read: 7 Nintendo Switch Tips & Tricks
The Minecraft for Nintendo Switch release is almost here, and thankfully, Mojang has finally begun sharing all the details that you need to know.
Minecraft for Nintendo Switch Release Date
The Nintendo Switch arrived on store shelves back in March. Gamers rejoiced on release night. Nintendo had begun talking about the console years before. In fact, it talked about it so early that the company might have impaired sales of its previous console, the Nintendo Wii U. Lots of people didn't pick up a Wii U, which meant that lots of developers didn't bring their games to the console. Mojang did release Minecraft there. The Wii U edition is still one of the console's most-played titles.
Read: Where to Download Minecraft & Minecraft Pocket Edition
Minecraft for Nintendo Switch was teased before the Switch was released because of the popularity it still enjoys on the Wii U. The Minecraft for Nintendo Switch release date is set for May 11th, a little more than two months after the launch of the console itself.
To be clear, this is only the digital Minecraft for Nintendo Switch release date. Mojang hasn't said when physical copies of the game will be made available.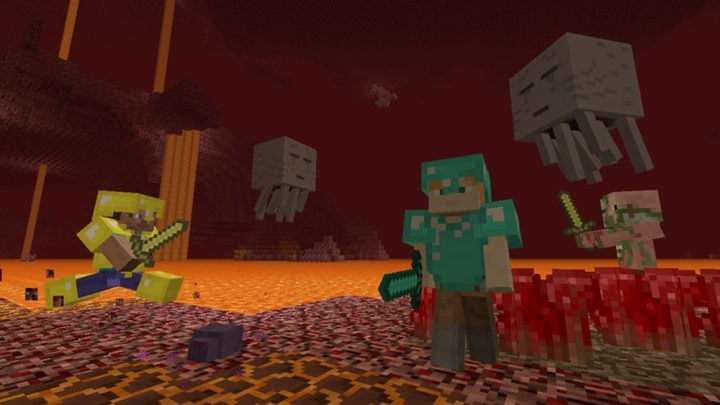 Skins and Extras Coming with Minecraft for Nintendo Switch
Minecraft costs $27 for desktop PCs not running Microsoft's Windows 10 operating system. The console versions have always been less expensive than this version. They don't offer as many features, leaving Mojang to offer up free downloadable content with them to make up for the difference.
Minecraft for Nintendo Switch will include the Super Mario Mas-Up Pack. This pack adds Mario-themed character skins and blocks to the game. There'll be 40 different Super Mario themed skins, entire worlds themed from locations in Mario and surprises to discover. Creative Mode, Survival Mode, Battle, Tumble and Glide are all included. It is Creative Mode that allows gamers to build their dream landscapes and structures to show off their skills.
Read: iPhone, Android & Xbox Minecraft Mods: What to Know
A recent blog post on Minecraft.net also notes that the game will be similar to other console versions and not handled like a Pocket Edition version of the game. Pocket Editions for iPhone and Android have different features and are on a different release schedule.
Minecraft for Nintendo Switch Price
Minecraft for Nintendo Switch should cost around $20 when it arrives on store shelves and the Nintendo eShop. That being said, Mojang is waiting until the last-minute to provide the final pricing details to retailers, apparently. Right now, Best Buy and Amazon show Minecraft for Nintendo Switch costing $60. These are placeholder prices based on how much new physical games for the console usually cost. Expect the title to be way less when cartridge copies of the game do arrive.
Read: Cheap Minecraft Arrives with Xbox on Windows 10
Modes that Minecraft for Nintendo Switch Supports
Minecraft for Nintendo Switch will support some of the different modes that the console offers. These modes are why the console is doing so well with users now. You can go from playing with your friends to playing alone on your living room television easily. The key to all of this are the Nintendo Switch Joy-Con controllers.
Mojang has confirmed that Minecraft for Nintendo Switch will let up to 8 gamers enjoy the same world when using the console's online gaming service. Only 4 people will be able to use the wireless multiplayer mode that lets owners enjoy titles with others in the same area as them. 4 people can enjoy the game on the same docked Nintendo Switch. When on the go, the game supports 4 players as well.
Read: 13 Nintendo Switch Problems & Fixes
We don't know if the game will let users take advantage of the HD Rumble technology inside the Joy-Cons. It's also unclear if the game will support the motion controls that some other Nintendo Switch games do.
All told, the Minecraft for Nintendo Switch release is set to be a big day for owners of the console. Big releases will continue into the late spring and summer. Arms also arrives in May. Splatoon 2 is set for July.
10 Best 2017 Nintendo Switch Games Coming
Sonic Forces
Featuring three protagonists, Sonic Forces will offer platforming and an all-new story when it arrives on video game consoles – including the Nintendo Switch – in 2017.
We know that Sonic Forces lets gamers create their own characters. Players must base this character on one of seven different classes that come with their own advantages and abilities. Sonic Team calls these custom characters "Avatars," and there are hundreds of cosmetic items for Sonic Forces players to add some style to their creation.
You can skip the custom character mode and enjoy two generations of Sonic game play: 2.5D and 3D. The 2.5D mode offers the classic side-scrolling Sonic experience from your childhood. 3D Mode plays more like Sonic Unleashed. All game worlds and characters are three-dimensional, just like they would be in a modern game.

As an Amazon Associate I earn from qualifying purchases.