Splatoon 2 Release Date, Features & Details
The Splatoon 2 release date is an important day for anyone that owns or plans to buy the Nintendo Switch console. The game will finally bring an exciting, in-depth multiplayer experience to Nintendo's latest piece of hardware.
Splatoon 2 is only the third major multiplayer game to come to the Nintendo Switch after Mario Kart 8 Deluxe and Arms. It is a sequel to the enormously popular arena shooting game that took the Nintendo Wii U by storm. In Turf War, players on each team use paint weapons to cover as much of each level in their team's colored ink as possible. The new Salmon Run Mode lets groups of Splatoon 2 players battle the game's octopus enemies. Gamers can pre-order Splatoon 2 now, and the game launches on July 21st.
Read: 6 Best Nintendo Switch Cases, Covers & Why to Avoid Skins
Here's everything that you need to know about Splatoon 2 before you can buy it in a store or inside the Nintendo Switch eShop.
Splatoon 2 Release Date, Features & Details
Splatoon 2 Release Date
Splatoon 2 New Content & Features
Splatoon 2 Pre-Orders
Splatoon 2 Amiibo
Nintendo Switch Online App for Splatoon 2
Splatoon 2 Release Date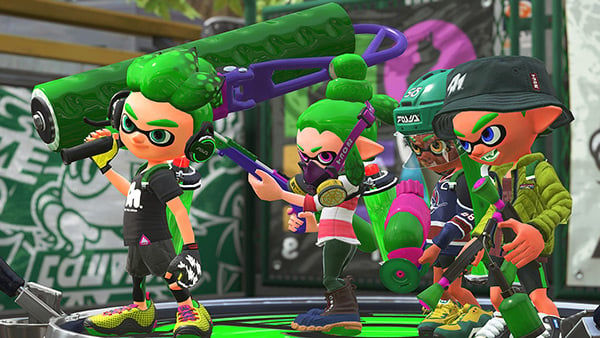 Read: 15 Exciting Nintendo Switch Games
Friday, July 21st is the Splatoon 2 release date. That's the date that digital and physical copies of the game go on sale. This isn't a region specific launch either. Gamers can play online with anyone that has a Nintendo Switch, a copy of the title and internet access.

Splatoon 2 New Content & Features
The things coming with the Splatoon 2 release comfortably fit into two categories. Some features are new, like the Splat Dualies weapon. Other modes, maps and weapons were in the original game.
New features are everywhere in the title. Splatoon 2's new Salmon Run Mode allows gamers to battle Salmonids together. It's the franchise's first cooperative play experience. Inkopolis, the place gamers go to change their character's gear, has a new look. Gamers can quickly spray enemies and levels with their team's ink using the new Splat Dualies pistols. A new jetpack provides a decent way to dodge an enemy's ink. Character gear lets gamers customize their character's look and add bonuses to tailor their character to their play style.
Turf War, the game mode that divides players into two teams to cover as much of a level with ink as they can, is in Splatoon 2. Tower Control, Rainmaker and Splat Zones are still around as well. Gamers that don't want to play online can open Hero Mode to battle on their own without an internet connection. It was also in the original game.
Nintendo will add new content to the game regularly, just as it did with Splatoon for Wii U.
Read: Best Nintendo Switch Accessories
The multiplayer and functional upgrades are extensive. Splatoon 2 adapts to each gamer's preferred control scheme. Players can game with their Joy-Con controllers docked to the side of the console or wirelessly using the Joy-Con Grip. Motion controls let gamers move around in the title without much effort. Like other Nintendo Switch games, Splatoon 2 lets gamers use the Nintendo Switch Pro Controller.
Splatoon 2 adopts many of Nintendo Switch's multiplayer modes. Online play lets gamers team up using their internet access. Players can use the new Nintendo Switch Lan accessory to hold private tournaments without internet access. Nintendo will hold online Splatfest battles for everyone that owns the game. Unfortunately, playing with friends without internet access requires two consoles.

Splatoon 2 Pre-Orders
Splatoon 2 pre-orders are available now. GameStop, Amazon and Best Buy are already selling physical copies of the game. As of now, they don't include any pre-order extras at all. The game will appear in the Nintendo eShop closer to launch, where it will sell as a digital download for those that don't like Nintendo Switch Game Cards. The game costs $59.99.
Splatoon 2 Amiibo Releases
The Splatoon 2 release date will bring more than just the game itself. Nintendo has confirmed that three Splatoon 2 Amiibo figures will launch on July 21st. Amiibos are the tiny figures that unlock in-game content across most of the Nintendo portfolio of games and systems. This new line-up consists of a new Inkling Girl, a new Inkling Boy and an all-new Squid. When used, each character appears in the game with exclusive gear, Nintendo says. Each figure costs $12.99.

Nintendo Switch Online App for Splatoon 2
The Nintendo Switch Online app manages all online Splatoon 2 activities. Gamers use it to send invites to friends that they like to play the game with. It's also the only way for players to voice chat with their team during a Splatoon 2 match and monitor their overall performance stats in the game.
Be sure to download it from the Google Play Store or iTunes Store now. Nintendo says that it won't begin charging for Nintendo Switch Online multiplayer or the app until it formally launches the Nintendo Switch Online service in 2018.
10 Best 2017 Nintendo Switch Games Coming
Sonic Forces
Featuring three protagonists, Sonic Forces will offer platforming and an all-new story when it arrives on video game consoles – including the Nintendo Switch – in 2017.
We know that Sonic Forces lets gamers create their own characters. Players must base this character on one of seven different classes that come with their own advantages and abilities. Sonic Team calls these custom characters "Avatars," and there are hundreds of cosmetic items for Sonic Forces players to add some style to their creation.
You can skip the custom character mode and enjoy two generations of Sonic game play: 2.5D and 3D. The 2.5D mode offers the classic side-scrolling Sonic experience from your childhood. 3D Mode plays more like Sonic Unleashed. All game worlds and characters are three-dimensional, just like they would be in a modern game.