Nintendo NES Classic: What It Is & How to Find One in Stock
Nintendo stunned gaming fans when it discontinued the NES Classic in favor of the SNES Classic and other projects, like the Nintendo Switch. Now, the company has good news for anyone trying to find the NES Classic in stock. The console will return in the summer of 2018.
Here's everything that you need to know about what the Nintendo NES Classic is, what games it plays and when you can expect to see one on store shelves again.
Read: How to Find the Nintendo Switch in Stock
What is the Nintendo NES Classic?
Launched in 1983, the NES Classic was the gaming system of choice for many. It was simple to set up, and it focused completely on games that people of all ages could enjoy. Super Mario, Zelda both got their start on the console. Other classics that never turned into a franchise, like Duck Hunt, are still at the top of gamer's favorites lists today.
The Nintendo NES Classic trades on today's love of yesterday's games and nostalgia for older Nintendo hardware. It shares the original console's look; there's even a fake cartridge flap on the front.
Rather than just remake the console, Nintendo opted to modernize it where it could. Its front has two USB 2.0 ports for controllers, and it connects to modern television sets through HDMI.
Up to two people can play the Nintendo NES Classic, though, someone will need to purchase an extra classic controller because the console only comes with one. The controller that comes with the NES Classic works with the Wii U Virtual Console games. You can continue to game with it long after you've tired of playing the NES Classic's selection of built-in games.
What Games Are Installed on the Nintendo NES Classic?
At a time when more expensive video game consoles are shipping with one or two free games, the Nintendo NES Classic has 30 stored in its internal memory.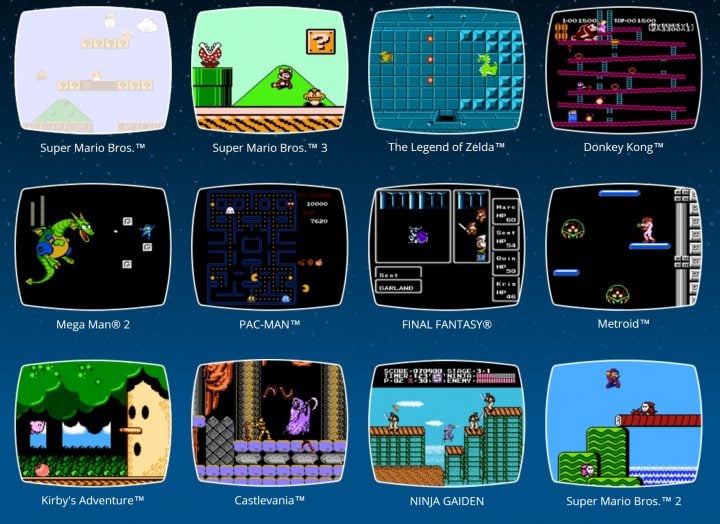 Super Mario Bros, Super Mario Bros 3, The Legend of Zelda, Donkey Kong, Mega Man 2, Pac-Man, Final Fantasy, Metroid, Kirby's Adventure, Castlevania, Ninja Gaiden, Super Mario Bros 2, Dr. Mario, Punch-Out, Balloon Fight, Donkey Kong Jr., Zelda 2, Excite Bike, Ice Climber, Kid Icarus, Double Dragon 2, Bubble Bobble, Temco Bowl, Castlevania 2: Simon's Quest, Mario Bros, Super C, Galaga, StarTropics, Ghost'n Goblins and Gradius all come onboard at no extra charge.
Upgraded saving will make these titles a little easier for all gamers. The Nintendo NES Classic supports saving so that you don't lose progress if you should die in the game or lose power for some reason. Originally, none of these games offered that, and it made beating them very frustrating for people who didn't have a lot of time.
How to Find the Nintendo NES Classic in Stock?
Finding the Nintendo NES Classic in stock is very, very hard. You can try NowInStock.com to check a few retail stores, but don't expect to find one in 2017. Retailers sold out months ago. However, if you're willing to buy the console used or unopened at an auction site, there is hope.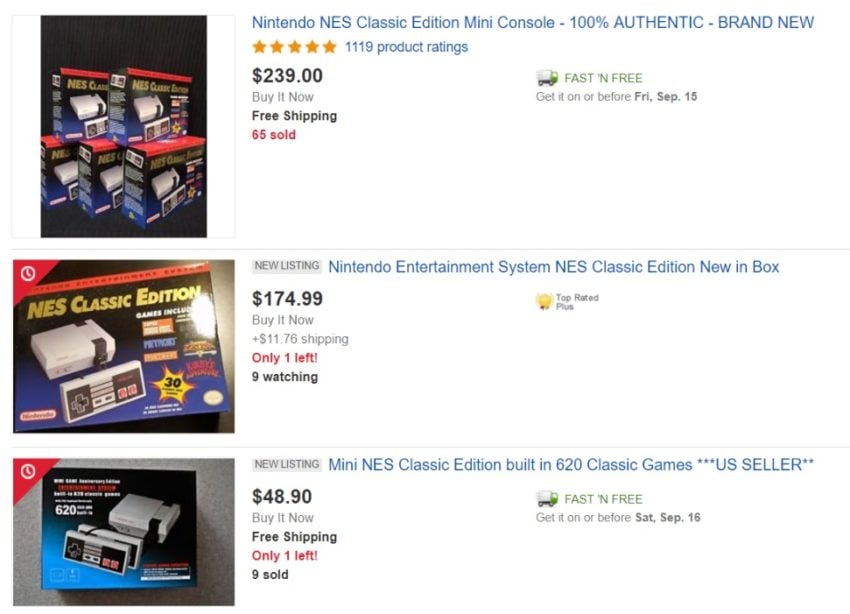 eBay sellers have a small selection of Nintendo NES Classic consoles to sell. Because of the jump in demand, these sellers want more than the NES Classic's $59.99 launch price. Skipping an auction and buying the NES Classic immediately pushes prices to $175 or more. One eBay seller with good reviews has the Nintendo NES Classic in stock with the Buy It Now option for $239. Buy it Now lets you skip a bidding war with other shoppers.
As you check eBay for the NES Classic, be careful to not buy a third-party knock off device. If the box doesn't match the NES Classic's packaging above, don't spend your money on it. The site has tons of unofficial NES Classic copies that don't have a warranty and can break at any moment.
Get Nintendo NES Classic in 2017
If you can't find a Nintendo NES Classic in stock, don't worry. Instead of paying the high prices resellers are demanding, wait to buy the console until 2018. A recent statement from Nintendo confirms retailers will have new NES Classic units to sell in 2018.
We'll also bring the Nintendo Classic Mini: NES back to Europe next summer. More info will be shared in the future ► https://t.co/YUY2dxzI50 pic.twitter.com/RcIxPKlil7

— Nintendo of Europe (@NintendoEurope) September 12, 2017
"Next summer, Nintendo will also bring back the Nintendo Entertainment System: NES Classic Edition system with new shipments. More information about the timing of the return of NES Classic Edition will be announced in the future," the statement reads. Nintendo hasn't confirmed any new games or a potential release date for the new systems. We only know that system goes on sale again in the summer of 2018.
10 Best 2017 Nintendo Switch Games Coming
Sonic Forces
Featuring three protagonists, Sonic Forces will offer platforming and an all-new story when it arrives on video game consoles – including the Nintendo Switch – in 2017.
We know that Sonic Forces lets gamers create their own characters. Players must base this character on one of seven different classes that come with their own advantages and abilities. Sonic Team calls these custom characters "Avatars," and there are hundreds of cosmetic items for Sonic Forces players to add some style to their creation.
You can skip the custom character mode and enjoy two generations of Sonic game play: 2.5D and 3D. The 2.5D mode offers the classic side-scrolling Sonic experience from your childhood. 3D Mode plays more like Sonic Unleashed. All game worlds and characters are three-dimensional, just like they would be in a modern game.