Polk Command Bar Review: Impressive Soundbar with Alexa Built-in
The Polk Command Bar is a great sound bar with a wireless subwoofer that instantly upgrades your TV's weak sound and also adds Alexa to your living room. I upgraded from an older Samsung soundbar and am impressed with the sound quality, ease of setup and the convenience of Alexa in the living room. The sound quality is excellent for a soundbar in this price thanks to the subwoofer and multiple sound modes.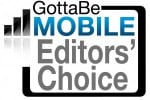 If you use an Amazon Fire TV Stick, you can plug it in to a hidden HDMI port and power it with the built-in USB port for an easy installation. The Polk Command Bar works with all types of devices, but when you pair it with the Fire TV Stick, you can use Alexa for even more controls. The Command Bar earns a Gotta Be Mobile Editor's Choice Award for the great Alexa and Fire TV Stick integration and excellent sound that upgrades your home theater effortlessly.
At $299 the Command Bar is an awesome way to upgrade your TV's sound and to bring voice control to your soundbar at the same time. The Polk Command Bar with Alexa is available at Amazon and Best Buy.
Alexa isn't a novelty feature in this soundbar, it's a really handy way to control the soundbar in addition to using a remote. I frequently used Alexa to change the volume or mute the sound bar when watching our Apple TV or DirecTV. I also use it to listen to music on Spotify and to listen to audiobooks. While an original model lacked the feature, the Command Bar comes with full support for multi-room music, so I can even easily control music in my office or in my basement. Before this I didn't have Alexa in the living room, and now I enjoy being able to start my work routine from the kitchen, so that my office lights are on, the fan is blowing and my shades are open. It's a great smart home gadget for the living room.
Design
While it looks like an Echo Dot in the middle of the Command Bar, it's simply to deliver the same look and ease of use with familiar buttons. This is an important distinction since setting an Echo dot in the middle or on top of a normal soundbar wouldn't work. The Command Bar uses a special microphone array that Polk designed, and the soundbar drivers are farther out so that Alexa can hear you even when you have the volume cranked. The familiar design means anyone in the house knows what the buttons do and the familiar ring makes it easy to understand Echo notifications.
The sound bar is deeper than some models (4 inches), but it offers a modern look and is low profile enough to fit in front of our very low sitting Samsung 4K TV without blocking the remote sensor or the image. You can wall mount this soundbar, but it looks more at home on an entertainment stand.
There is small remote included that features an Alexa button, but I didn't need to use it much thanks to the ease of just saying Alexa and using my TV remote to control the volume of the soundbar when connected through the HDMI ARC input.
Inputs
The Polk Command Bar comes with two 4k HDMI ports that support 4K HDR content from appropriate sources and a HDMI ARC port to connect to your TV for easy control. There is also an optical input.
Polk designed one of the HDMI ports to perfectly fit the Amazon Fire TV Stick, and there is a USB port on the back that can power the Fire TV stick as well. This is especially handy since Alexa can control many of the Fire TV Stick functions and it allows for a pretty clean setup. You could also use this HDMI and USB port for Roku or another streaming stick, but the Alexa integration makes the Fire TV Stick or Fire TV 4K Stick the natural fit.
You can also connect to the soundbar with Bluetooth, to stream from your smartphone, but with Alexa built-in and connected to the Internet over the included WiFi, I found myself using Alexa to play music and handle other tasks I'd normally want to use a Bluetooth speaker for.
Sound & Features
The Polk Command Bar sounds very good for movies and TV, and is also quite capable for jamming out to music and listening to audiobooks. The included subwoofer really adds depth to action scenes, but it also makes the dialogue feel fuller and sound better than a system without a subwoofer. This sounds way better than the built-in speakers on any TV.
You cannot add rear speakers to the system, but that's not something I can do in my living room, nor can many people do this thanks to open floor plans. My living room spills into a dining room and a kitchen, so rear speakers are out of the question anyway. This 2.1 setup delivers a good immersive sound with the Dolby DTS surround without the need for rear speakers, and it excels at filling a need in an open room.
With our open room design I found myself using the soundbar to listen to Spotify or to my Audible audiobooks while folding laundry, doing dishes or cooking, which is where this setup excels over my old soundbar. The simplicity of voice control means I use it more than when I had to stream to Bluetooth or find an app on the Apple TV.
Polk includes several sound settings including a Voice Boost mode that makes it easier to hear what characters are saying without blasting the volume. You can change these modes with your voice. Alexa also allows you to change the volume, mute, turn up the bass and switch inputs. I found that if I muted the TV and then used Alexa to check on something the TV would unmute after Alexa finished telling me the answer to what I asked.
If you hook up the Fire TV Stick, Alexa commands allow you to do more including using your voice to play music or movies, pause, fast forward and more.
[letsreview]
19 Cool Things Your Echo and Alexa Can Do
Stream Music From Spotify, Apple Music Amazon Music, Pandora & More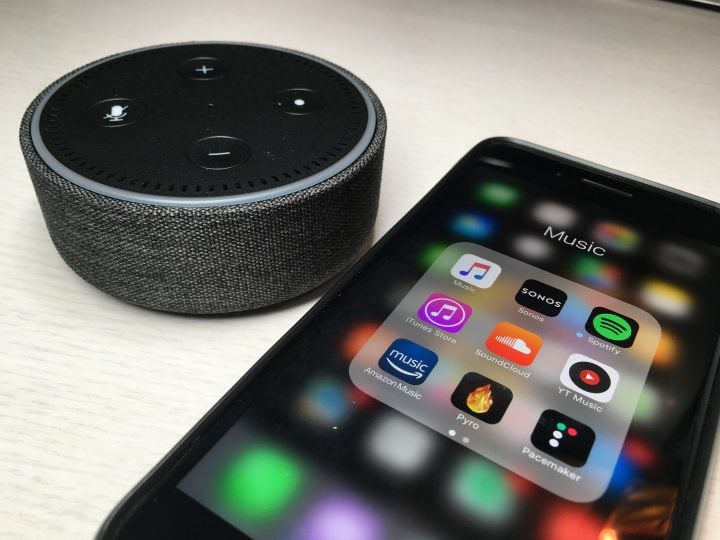 Alexa can stream music from Spotify to the Echo, Echo Dot or a paired Bluetooth speaker. You can also stream Amazon Music, Apple Music, TIDAL, Pandora, iHeartRadio or TuneIn radio to the Echo using your voice.
Open the Alexa app and tap on the menu in the upper left. Tap on Settings and then on Music & Media. Tap on the account you want to use and then link to your account by logging into the account. You need to have Spotify Premium installed for this service to work with Spotify.
You can log into all the accounts you have and when you ask Alexa to play you can say "on Spotify" or on a different service to choose where to listen. On the bottom of this page, tap on Choose default music services to pick the service Alexa should use if you don't specify.

As an Amazon Associate I earn from qualifying purchases.