Prong PWR iPhone 6s Case Review
We've reviewed plenty of iPhone 6s cases, including battery cases, but the Prong PWR iPhone 6s battery case is one that adds a unique feature that makes charging up the case really quick and easy.
One big problem with the iPhone is that its battery just doesn't last as long as most users want it to, and many accessory makers have come up with options to fix that, including iPhone cases that have built-in batteries that extend the battery life of the iPhone without needing to plug it in to recharge.
Read: Best iPhone 6s Battery Case: Double Your Talk Time for Cheap
Of course, these cases add a considerable amount of thickness, but that's a trade-off you take if you want better battery life.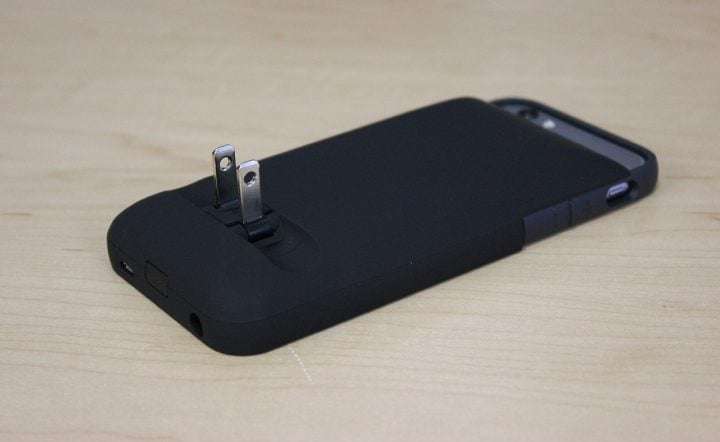 However, these battery cases need to be recharged, most of which require a microUSB cable, which you may not have lying around if you're a die-hard Apple user.
Thankfully, the $100 Prong PWR case for the iPhone 6s and the iPhone 6 doesn't need a cable at all to recharge its internal battery, as it has a wall plug built right into the case.
Prong has been around for a few years now, first starting out as a Kickstarter campaign where they introduced the PocketPlug, which was nothing more than an iPhone case with a built-in outlet plug that charges up your iPhone without the cable and adapter. Now the company has the PWR case, which is like the PocketPlug, but it comes with an internal battery to give your iPhone some extra juice while on the go.
The PWR case comes in two parts. There's a low-profile silicon bumper case that looks just like any other iPhone case, and then there's the battery and plug portion that your iPhone easily slides into. The case portion is made so that it works perfectly with the other half of the bundle, and when all connected, it simply looks like one big iPhone case.
The unique feature with the battery case is that it comes with an integrated outlet plug that you can plug directly into any wall outlet, which means you don't need any cables or adapter to charge up the case or your iPhone. The two prongs lie flat alongside the back of the case, but can easily be flipped out to and locked parallel with each other so that you can plug it in.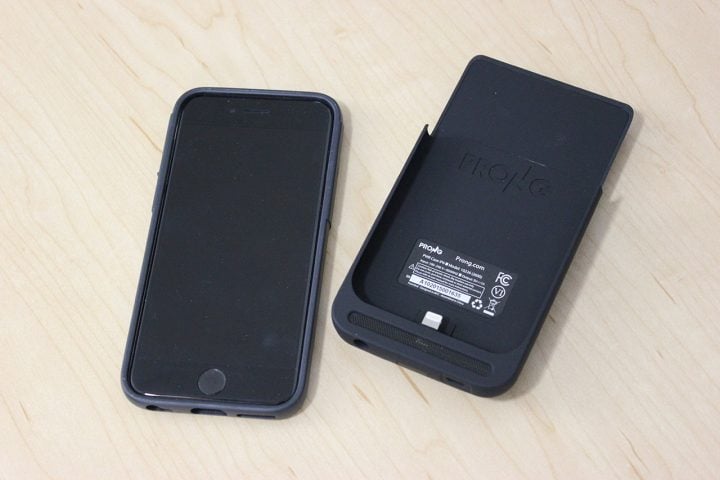 The case also comes with a microUSB port if you'd rather charge up the old-fashioned way with a cable and wall adapter, which might be necessary at times (like in the car where an outlet is nonexistent). There's also a slot where the headphone jack goes, and the case comes with a headphone jack extender if your headphone cable can't be plugged in that deep with the case on.
The battery included is a 2,600mAh battery, which is enough to fully recharge your iPhone when it dies and then a little more. It also recharges your iPhone fairly quickly. Going from around 15% to 100% took about an hour, which isn't too bad.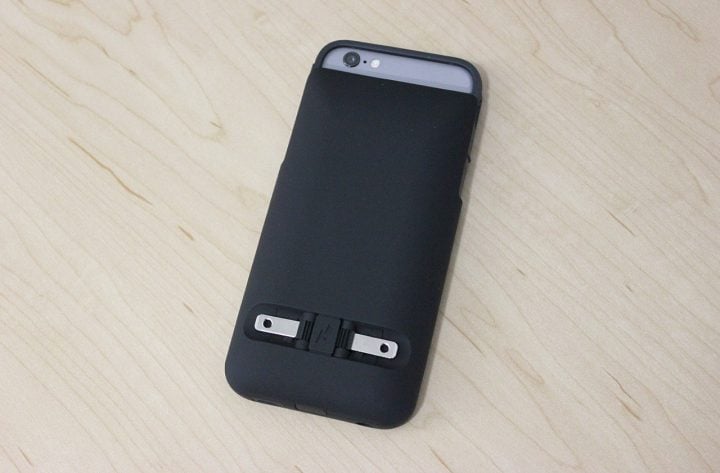 However, recharging the battery case itself takes a bit longer. In my case, it took about twice as long to recharge it back up to 100% after it died. The cool thing is that you can see how much juice the case has left by pushing the button on the bottom of the case, which will light up four small LEDs if the battery is full or near-full, while one LED lit will signify a low battery.
I really like the whole two-case setup that the PWR case has going on. The thinner silicon case makes it easy to use your iPhone if you don't feel like dragging around the entire case with you, literally taking two seconds to slide in and out of the battery case. Most other battery cases don't make it that easy.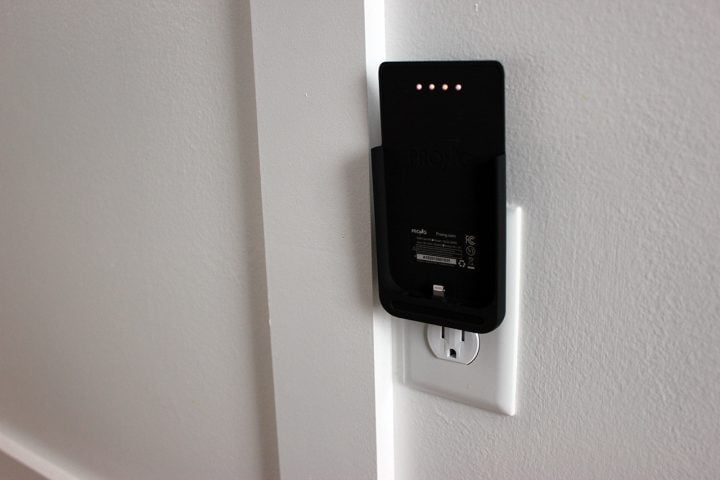 However, the silicon case leaves a lot to be desired. It's not really that well designed and doesn't look all that great. There's also fairly large gaps where the port holes are, but thankfully the case holds in the iPhone rather well.
The back of the silicon case has a clear plastic backing that doesn't really feel all that great when I'm holding my iPhone, and the relatively sharp edges of the case make it a bit uncomfortable to hold in the first place.
The whole case combined is also really thick. It's way thicker than Incipio's OffGrid Express, which has a larger 3,000mAh battery inside. It's possible that the PWR case is thicker because of the added circuitry needed for the built-in outlet plug, and that makes sense, but it's definitely something to be aware of.
Overall, the Prong PWR is a neat little battery case that has its unique features. It's easy to slide in and out and you don't need to mess with any cables or wall adapters. It's also competitively priced, so you're not really needing to pay extra for these features.
However, its added thickness makes it a tank to carry around and the accompanying silicon case isn't anything to write home about.
In the end, I'd say that if you really hate cables and wall adapters, or like the idea of being able to easily take off the battery case whenever you wanted, the Prong PWR is definitely an iPhone case to consider.
Best iPhone 6s Cases, Covers & Skins
Speck CandyShell Clear iPhone 6s Case
The Speck CandyShell Clear is the first clear iPhone 6s case from Speck, and the first clear case from the company overall. This form-fitting, minimalist iPhone 6s case delivers a decent amount of protection with a military drop test 810G rating.
Speck assures us that the clear case will not yellow with use like many cheap clear case options. The clear finish is perfect for showing off your iPhone 6s color choice while protecting it.
Buttons move perfectly and are easy to find by touch and there is a raised front bezel to keep the iPhone 6s display off hard surfaces.
$34.95 at Speck

As an Amazon Associate I earn from qualifying purchases.