PS4 EA Access: 5 Things You Need to Know
This summer you will be able to sing up for a PS4 EA Access account that will allow you to play over 50 full games, try out many new games like Madden NFL 20 and others as well as get a discount on digital games and in game purchases with EA.
Originally only available on Xbox One and shunned by PlayStation, PS4 EA Access is coming to the console this summer and just in time for you to use it to play the latest EA games and to get ready for new ones like Madden 20, NHL 20 and Star Wars Jedi Fallen Order.
Whether you are interested in the new games or the old ones, this is what you need to know about EA Access on the PS4 before you sign up.
What is EA Access for PS4?
EA Access is a game subscription service, but it is not a game streaming service. When you are a PS4 EA Access member you can download from a library of games that stay on your PS4 just like if you'd purchased them through the PlayStation store.
This includes most of the '19 games from EA like Madden 19, NHL 19 and NBA Live 19as well as many other games like Star Wars Battlefront II and a variety of other EA games.
The wait is over. EA Access is coming to PS4! https://t.co/48c1ptT2I7 pic.twitter.com/dnSsngoFyx

— Electronic Arts (@EA) May 7, 2019
With EA Access you get the full game, can play online and there are no time limits. You can play with friends and you can earn trophies. Sometimes you get some DLC included, but in other cases you will need to buy DLC.
The only real catch is that you must keep subscribing to play these games. You cannot pause your subscription and keep playing. It's kind of like how Netflix works, except you aren't streaming.
How Much is PS4 EA Access?
PS4 EA Access is $4.99 a month if you want to subscribe month to month, but the best deal is to do an annual subscription for $29.99 a year.
This cuts the monthly price down and it makes more sense if you want to keep the service for access to the vault of games. If you just want access to the Play First Trials, then you should consider the monthly option in the fall.
When EA Access on PS4 launches, you will be able to subscribe from the PlayStation Store, or you will likely be able to buy a subscription card on Amazon. It is not clear if you can buy EA Access once and use it on both Xbox and PS4.
What Games Are Includes with EA Access for PS4?
There are over 50 games in the EA Access Vault, which is the name of the service that you can use to play full games. These include a wide range of games from those released in fall 2018, to very old games. On the Xbox we saw some older backwards compatible games, but it isn't clear if the full list will come over.
Some of the EA Access full games include;
Madden 19
NHL 19
NBA Live 19
Star Wars Battlefront II
UFC 3
The Sims 4
Need for Speed Payback
Mass Effect Andromeda
Titanfall 2
Battlefield 1
and many others
EA keeps adding new games to the vault and the list is a nice mix of sports, driving, first person shooters and smaller games.
What Are Play First Trials?
In addition to the Vault games, which are full versions with no time limit, you can also try new EA games before they come out, or you can try them at any time. These trials last 10 hours and allow you to play most of the game. Sometimes EA will lock part of a story mode out, but this is the exception, not the rule.
So far the Madden 20 trial is confirmed, and we expect to see Star Wars Jedi Fallen Order, NHL 20 and FIFA 20 added.
Trials typically arrive five days before the full game release and allow you to play for 10 hours. If you buy the game, your progress carries over.
EA Access Discounts
If you buy a lot of EA games, the PS4 EA Access subscription can pay for itself quickly. There is a 10% discount on buying digital EA games and on in-game purchases like points, packs and DLC.
On the base Madden 20 edition, you save $5.99 and on the Ultimate Superstar edition you save almost $10. Factor in a few games and you can get all the benefits without paying more than if you bought the games digitally on the release date.
4 Reasons to Buy Madden 20 Today & 2 Reasons To Wait
Buy if You Love to Grind MUT Challenges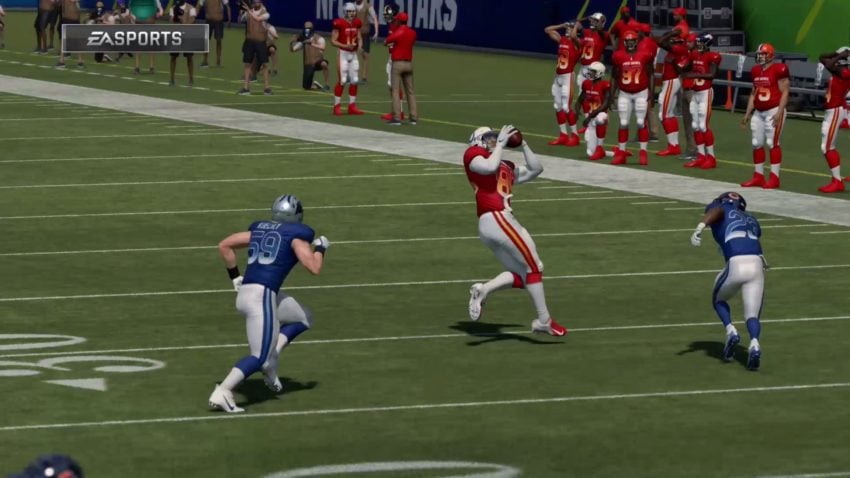 Do you love to play MUT and grind out those challenges? This is how I tend to play Madden Ultimate Team and after playing Madden 20 for the first time I'm a big fan of the new system that makes rolling through challenges much easier.
When you complete a challenge in a series, you can roll right into the next challenge. In Madden 19, you had to go out, collect rewards, go back in and it was a lot of loading and a lot of time wasted. With Madden 20, you go right into the next Challenge in a series.
I also enjoy the new options to choose the difficulty for challenges to earn more stars. This makes it easier to get through missions quickly when you are starting, or to really challenge yourself.
You can buy Madden 20 for PC, Xbox One and PC starting at $59.99 at GameStop, Best Buy, Amazon and digitally through Microsoft and Sony.

As an Amazon Associate I earn from qualifying purchases.