4 Reasons to Wait for AirPods Pro & 2 Reasons Not To
Is it worth waiting for the AirPods 3 or AirPods Pro? This is what you need to know about the latest AirPods Pro rumors and a guide to why some users should wait and other users should simply buy the current AirPods or an alternative.
While AirPods 2 aren't that old, signs point to Apple announcing AirPods 3 in October and selling them soon after. The name may actually be AirPods Pro, taking a cue from the iPhone 11 Pro and PowerBeats Pro naming schemes.
The AirPods 3 will likely be more expensive with new features that could convince some users to upgrade, even from the most recent AirPods model. Here are the reasons to wait for the AirPods 3;
Wait for AirPods Pro This Month
Wait for New Design
Wait for a Better Fit
Wait for Noise Canceling
While these are all very good reasons, there are also two very important reasons not to wait for the new AirPods;
Don't Wait If You Aren't Willing to Pay a Premium
Don't Wait for AirPods 2 Deals
Keep reading our guide to learn more about the AirPods 3 or AirPods Pro, and more details on each of these reasons. This can help you make up your mind to decide if you should wait.
AirPods Pro Rumors
The new AirPods which many potential buyers are calling AirPods 3 could arrive late this month. Rumors point to a new AirPods Pro model in October 2019 with a new design, noise-canceling, rubber tips, and better water resistance as well as a higher price.
As far back as April, we heard that Apple could launch a completely new AirPods design in Q4 2019. This came from Ming-Chi Kou, who has a very good track record. More recently the China Economic Times reported an October announcement with availability in time for the holiday shopping season.
In the iOS 13.2 beta, we saw a look at redesigned AirPods. Soon after we saw photos showing what could be a wider AirPods case and a new AirPods 3 design. The photo shows a case that has room for the larger AirPods and still room for wireless charging. We could also see rubber tips for a better fit. We're seeing more photos showing a similar design on Slashleaks. The Photo on Slashleaks is likely a knock off, but they say it is likely an accurate description.
We continue to hear that the AirPods 3 will feature noise-canceling, which we are seeing on the Alexa Buds and that we find in many over the ear headphones. This technology uses algorithms to monitor exterior noises and cancel them out. think of getting some solitude on a plane or in a coffee shop.
While you shouldn't expect to go swimming with AirPods Pro, you can expect more water resistance, which means they will hold up better to sweat and rain.
The Economic Daily News, reports that Apple is adding up to eight AirPods colors for the new models. The AirPods Pro colors could be white, black, midnight green and potentially other colors. It would be surprising to see eight color options, but we've seen many different Beats colors.
Another rumor is that AirPods Pro will work farther from your iPhone than AirPods 2 and other wireless headphones. This will be interesting to see, and then to test in the real world.
The AirPods 3 price is much more representative of the AirPods Pro name. Current estimates suggest a retail price of $260 for the AirPods Pro. That is $100 more than the AirPods 2 and right up there with PowerBeats Pro pricing.
Wait for AirPods Pro This Month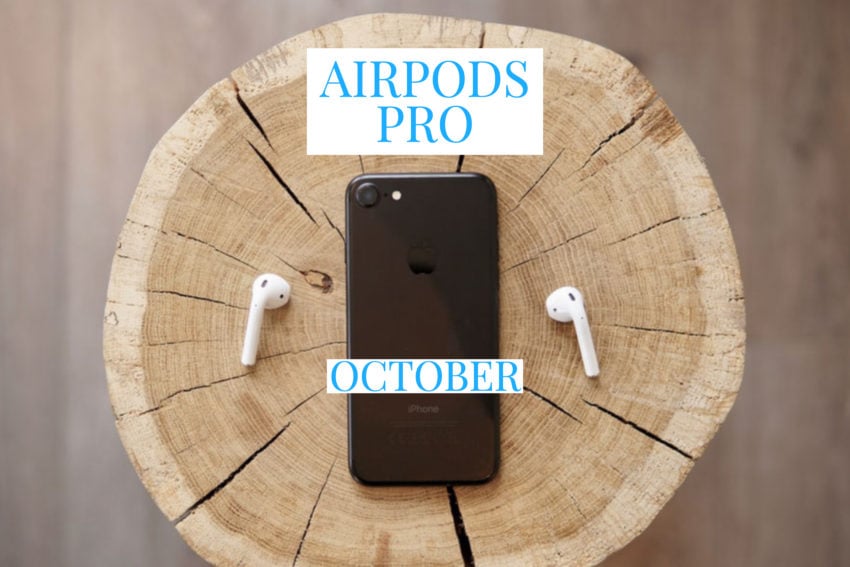 Everything points to an AirPods Pro release date this month. These are technically AirPods 3, but it looks like Apple will sell them alongside the current model as AirPods Pro.
If you can wait a few weeks, you should. One report says the new AirPods 3 release date is coming in October, and while there isn't much time left, Apple could announce these at the end of the month and start shipping them in November.
For anyone that hates getting something and then finding out a week later that a better model is coming, this is your warning to wait for the new AirPods that it looks like Apple will announce this month.