Red Dead Redemption 2 Online Details
Rockstar's confirmed Red Dead Online, the online portion of Red Dead Redemption 2 and it's set to go live soon.
The Red Dead Redemption 2 release date has come and gone and many people are exploring the game's huge world on the Xbox One and PlayStation 4.
Later on this month, the game will get even bigger thanks to the game's online component of Red Dead Redemption 2 dubbed Red Dead Online.
Like GTA Online, Red Dead Online will put players into Red Dead Redemption's huge map with other players with plenty of things to do, people to see, and of course, enemies to kill.
Here's everything you need to know about Red Dead Redemption 2 online right now.
Red Dead Online Beta
Rockstar's new Red Dead Online mode will launch in beta when it arrives in November. That means it will be unfinished and buggy across all consoles. A work in progress.
In its announcement Rockstar says the mode will launch "initially as a public beta" and that "with most online experiences of this size and scale, there will inevitably be some turbulence at launch."
The company says it will use the beta to improve the online mode and interact with the community as it fixes "teething problems and works to "develop Red Dead Online into something really fun and innovative."
Red Dead Online Beta Release Date
The Red Dead Online release date is confirmed and Rockstar is going to stagger its release.
Those who bought the Ultimate Edition get first dibs. Red Dead Online opens up to Ultimate Edition owners on November 27th at 8:30 a.m. ET. A day later, the online mode will start opening up for everyone else. Here's how it breaks down.
Tuesday, November 27th: All Red Dead Redemption 2: Ultimate Edition owners.Players who purchased the physical Ultimate Edition must redeem the Ultimate Edition code in the packaging to be eligible.
Wednesday, November 28th: All players who played Red Dead Redemption 2 on October 26th according to Rockstar's data.
Thursday, November 29th: All players who played Red Dead Redemption 2 between October 26th to October 29th according to Rockstar's data.
Friday, November 30th: All players who own Red Dead Redemption 2.
Once the beta is live you'll see an option in the top right of the screen to select Online.
How to Get the Red Dead Online Beta
If you want to join the Red Dead Online beta you'll need to buy a copy of Red Dead Redemption 2. It's not a standalone game.
Rockstar says access to Red Dead Online is free to anyone with a copy of Red Dead Redemption 2 on the PlayStation 4 or Xbox One.
Red Dead Online Features
We don't have a full list of features yet, but we expect Red Dead Online to mirror GTA Online in a lot of ways.
Rockstar says Red Dead Online is the "evolution of the classic multiplayer experience in the original Red Dead Redemption, blending narrative with competitive and cooperative gameplay in fun new ways."
The company says the gameplay from Red Dead Redemption 2 will serve as the foundation for the online mode and that "Red Dead Online will be ready to be explored alone or with friends."
According to Rockstar, you'll be able to create and customize your character and tailor your abilities to suit your play style. You can also:
Form or join a Posse to ride with up to seven players
Gather around the fire at your Camp
Head out hunting or fishing
Visit bustling towns
Battle enemy gangs and attack their hideouts
Hunt for treasure
Take on missions
Interact with familiar characters from across the five states
Fight against other outlaws in both spontaneous skirmishes and pitched set-piece battles
Compete with other players or whole Posses in open world challenges
Thanks to a couple of leaks from RockstarIntel, we have a look at some specifics including a list of vehicles and player-owned properties. These are preliminary lists and are subject to change.
Wagons & Carts
Horse Cart
Small Coach
Chuck Wagon
Chuck Wagon (Gatling)
Supply Wagon
Utility Wagon
War Wagon
Horses
Hungarian Half Bred
Missouri Fox Trotter
Dutch Warmblood
Turkoman
Data miners digging through the Red Dead Redemption 2 companion app have also discovered the presence of "Adversary Modes," a game type that's found in GTA Online.
On top of that, it looks like Red Dead Online will feature private sessions and seamless PvE (Player versus Environment).
Like GTA Online, Red Dead Online will feature constant updates and adjustments as Rockstar evolves the experience over time. Grand Theft Auto 5 recently turned five years old and Rockstar is still pumping out content so expect support to last for years.
Red Dead Online Bonuses
Those planning to play Red Dead Online in November and beyond should investigate the bonuses that come with the Ultimate Edition.
The Red Dead Redemption 2 Ultimate Edition comes with two exclusive outfits for your online character, free access to the Survivor Camp Theme, a Black Chestnut Thoroughbred horse, free access to additional weapons, and rank bonuses.
For more on the Red Dead Redemption 2 bonuses, please take a look at our guide to the various editions.
4 Reasons to Buy Red Dead Redemption 2 & 3 Reasons to Wait
Buy for a Great Story & Voice Acting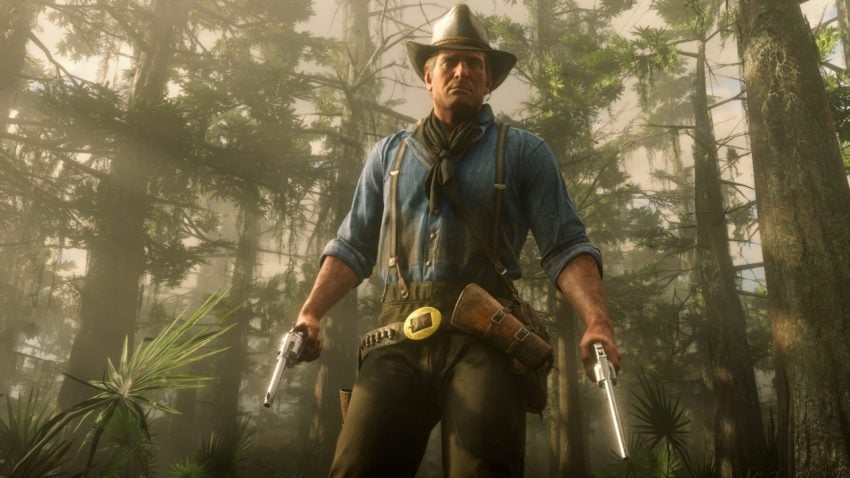 Red Dead Redemption 2 is a sprawling game with lots to do. There are plenty of other games that provide a huge sandbox to play around though few games can match the quality of Rockstar's open world experiences. And that starts with the story and the voice acting.
I'm not going to spoil anything here, but know that Red Dead Redemption 2's storyline, characters, and dialogue are the backbone of this game.
Many games provide a huge playground, but very few back it up with a memorable cast of characters that you truly care about and want to interact with.
Often times characters are underdeveloped, annoying, and/or forgettable. It's the exact opposite in Red Dead Redemption 2. You'll might even come to love the game's most vile characters.
The main story line is outstanding and believable and the actors (including the original John Marston) and actresses that voice the main characters, lesser characters, and various other NPCs truly bring these them to life.
The main story is just one piece though. There are side quests with minor characters and random events with strangers. You can also interact with every person in the game.
These side missions and the organic random interactions have been quite enjoyable. On one ride up into the mountains to look for a legendary animal I ran into five unique random events.
This is a world populated with characters that are truly interesting and believable and it's one of the game's obvious (once you start playing) strengths.
If you love a good western or if you like good writing, the story alone is worth the price of admission.

This article may contain affiliate links. Click here for more details.