Rules of Survival App: 7 Things to Know
The Rules of Survival app is a battle royal style game for your iPhone or Android. It's essentially a PUBG or Fortnite game that you can play on your phone. It's an impressive feat considering you are playing a multiplayer game with over 100 people. Here's where you can download PUBG Mobile.
This is what gamers and parents need to know about the Battle Royale style shooter for iPhone, iPad and Android. We'll cover what this game is, how to play it, details on in-app purchases, and more including Rules of Survival tips and what to know about cheats.
What is the Rules of Survival App?
Rules of Survival is a free game for iPhone and Android. It is a Battle Royale style shooter. That means you need to kill other players and be the last one alive to win. It takes a minute to get into your first game, and from there you will play through a game until you win or are eliminated. Once you are knocked out you can go directly into another game, so you don't need to wait around to see how your first game plays out.
You can change the look of you player through supply drops and there are a wide range of weapons that you can find in the map. If you are familiar with Player Unknown's Battlegrounds or with Fortnite, this will be second nature once you adjust to the controls.
Is Rules of Survival Safe for Kids?
The Rules of Survival app is a shooter style game with guns and vehicles. it is cartoonish violence, so it is not hyper realistic, but there is still a shooting element to this game even if you plan to mostly run and hide.
Apple rates Rules of Survival as 17 and up for,
Rules of Survival In App Purchases
The Rules of Survival game is free to download and to play. There are in app purchases on both iPhone and Android. These are for different packs, gifts, and diamonds.
Current Rules of Survival in app purchases are 99 cents up to $99.99 according to Google Play. On the iPhone they are 99 cents up to $19.99. You can play without making purchases, but expect to see pushes to spend real money.
Rules of Survival Downtime
On February 28th there is planned Rules of Survival downtime that you need to plan around. For many users this won't be an issue since it is in the middle of the night for players in the U.S., but it's middle of the day around the globe. On February 28th the game will go offline at the time listed below.
PST (Los Angeles): 11:00 PM, Feb. 27 ~ 01:00 AM, Feb. 28, 2018
EST (New York): 02:00 AM ~ 04:00 AM, Feb. 28, 2018
UTC (London): 07:00 AM ~ 09:00 AM, Feb. 28, 2018
UTC+1 (Paris, Berlin): 08:00 AM ~ 10:00 AM, Feb. 28, 2018
UTC+2 (Istanbul): 09:00 AM ~ 11:00 AM, Feb. 28, 2018
UTC+3 (Moscow): 10:00 AM ~ 11:59 AM, Feb. 28, 2018
UCT+7 (Bangkok, Hanoi): 14:00 ~ 16:00, Feb. 28, 2018
UCT+8 (Singapore, Manila): 15:00 ~ 17:00, Feb. 28, 2018
UCT+9 (Tokyo, Seoul): 16:00 ~ 18:00, Feb. 28, 2018
The Rules of Survival downtime should last about two hours, but it could take longer. This will deliver many changes and it will also start Rules of Survival Season 1. All ranking and stats will reset when this happens. Players will get gold and a special outfit depending on their rank.
What's New in Rules of Survival for March 2018
After the game comes back from downtime, there will be new content and new features. Here's a look at what's new in March. Study up now to get an edge on the competition.
New Content
Added a new vehicle Battle Jeep that can hold up to 5 players. Players in particular seats can shoot with Vehicle-mounted MG using rifle ammo.
Now players can shoot and jump during glider flights. Players in particular seats can shoot with Gilder-mounted MG using rifle ammo.
Now players can view their opponents' information after being killed.
New classic supplies where you may draw the Rosy Comet, a highly prized vehicle.
New fashion collection is at the store. New special packs are available at the same time as well.
Added a valuable firearm camo AR15 Ice Dragon. You can buy directly from Looks or go to the Packs page under the store to get it from the AR15 Ice Dragon Pack.
New advanced supplies are now available.
To make it easier for players to get the items, certain styles in the Looks and Store pages will show how the items can be obtained.
General Experience
Added a button for switching seats when players on a hovership.
Optimized background of vehicle display.
Adjusted the damage caused by mines, and reduced the probability of immediate death.
Optimized the display logic of the team's nameplate during battles, and lowered the power consumption.
Added a button to shoot with the left hand on the vehicle machine gun.
Bug Fixes
Fixed the camera issue where the lens has failed to move in certain instances when watching a battle.
Fixed the system freeze issue after the motorcycle has been overturned.
Fixed the issue where players are brought directly back to the lobby when they are in the midst of watching a battle due to a network disconnection and reconnection.
Fixed the invalid button behavior that may surface at the tier page.
Fixed the abnormal flight of the glider wings.
Fixed the system freeze issue when player is trying to jump to another window.
Fixed the issue where the displays were inconsistent with shooting through walls, and some sheltered scenes.
There may be other changes and fixes added, but this is what we know about right now. You can expect to see tweaks and changes next week as well.
Rules of Survival Controls
There is no official Rules of Survival controller support. Some gamers have been able to get Bluetooth or wired controllers to work, but it is hit or miss. However, you can choose from a range of control options to make it easier to play. Tap on Settings than then on Operation. Here you can choose the sensitivity of looking around, and you can also change how you use the sniper rifle and control vehicles.
Tap on Advance and you can change the control method. You can choose between Classic, Advanced and Touch Screen. You can also turn 3D Touch and Aim Assist on or off.
This screen also includes an option to double tap the joystick button to turn around. This can help you get an edge in a close encounter while you have a short range weapon or fists.
Rules of Survival Tips and Tricks
Here are the essential Rules of Survival tips that you need to do better in the game. There are a lot of little features that can help you win games, as explained in this video and below.
Use the Eye – You can look behind you as you are running without changing your run or where you are going. Use this to look for other players so you aren't caught from behind.
Footsteps on the Compass – Watch the compass at the top of the screen to see footsteps so you know when someone is near and where they are located.
Pay Attention to the Safe Zone – The map gets smaller throughout the game, and you have to stay inside the safe zone, always be working your way to the safe area.
Jump and Strafe – If you are being shot at, jump, strafe and move erratically. It's tough to aim and this will help keep you alive.
Watch Finger Placement – Make sure you don't accidentally tap on backpack and other options.
Vehicle Tips – Never get out while the vehicle is moving, you will take damage.
Learn how to Parachute and you need to plan ahead if you want to parachute in faster to get loot quicker than your opponents. Open the map to see how the plan is flying across the map. Set a marker where you want to land. When you are close, jump and then push up and away to go as fast as you can to the ground, or pull up slightly to go farther. Avoid landing right next to other people if you can.
The hardest part about Rules of Survival is winning gun fights. This tutorial will walk you through how to aim better as you play the game. It takes a lot of practice so don't get disappointed if you have issues getting started.
Adjust your sensitivity to fine tune your controls and go back to it as you are between games until you get the settings just right. Also, make sure your screen is clean. Always try to keep your aim at head height even when you are running around. Other than that, you need to practice a lot to improve.
The Best iPhone X Cases
x-doria Defense Lux iPhone X Case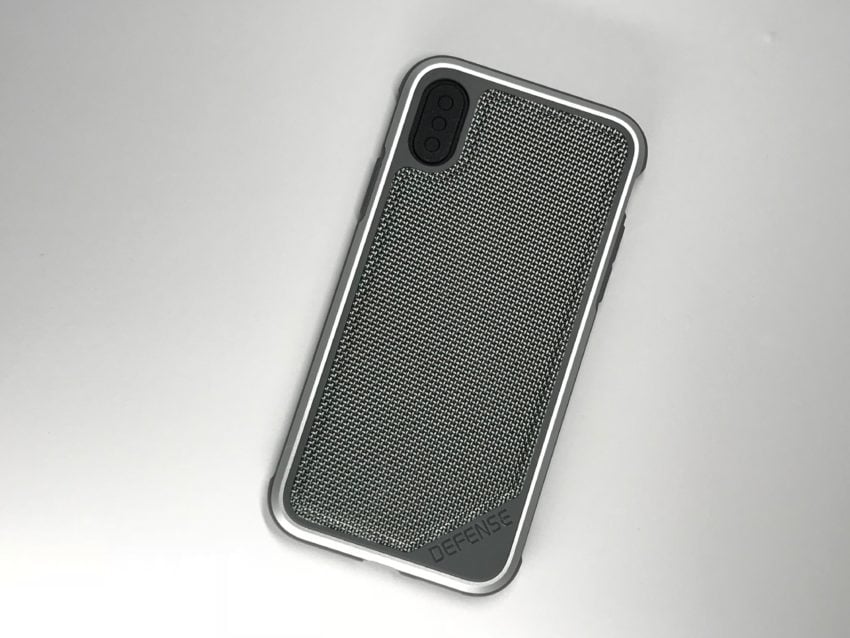 The x-doria Defense Lux iPhone X case is amazing. This case looks great, feels awesome and offers military grade drop protection without adding much bulk.
We love the look of this case in Ballistic Nylon and Black Carbon on the iPhone X. These cases not only offer a cool look, but the back is actually textured like the material listed. The Ballistic Nylon case has a soft, but grippy feel to the back just like you'd expect from looking at it. The Black Carbon feels like textured carbon fiber and looks awesome.
We didn't mean to, but we did drop our iPhone X in this case and our doorbell camera caught it on video. The case iPhone survived without any problems.
x-doria designed this case to protect your phone from drops up to 10 feet on concrete and there is . sound channel to direct the speaker towards you instead of straight out the bottom. The raised edge keeps the screen safe when setting the phone face down on a table.
$34.99 at x-doria