PUBG Mobile: 7 Things to Know
The official PUBG Mobile app is here, allowing you to get your Player Unknown's BattleGrounds fun on iPhone and Android. The PUBG app joins Fortnite Mobile, Rules of Survival and a whole host of other PUBG Alternatives on mobile.
This is what gamers and parents need to know about the official PUBG Mobile app for iPhone, iPad and Android. This guide walks you through what you need to know about playing PUBG on Android or iPhone, what you need to know about in app purchases and PUBG tips to help you get a Chicken Dinner.
What is PUBG Mobile?
PUBG Mobile is the official Player Unknown's BattleGrounds app for iPhone, iPad and Android. It is a battle royale style game where you drop from a plane to an island and pick up weapons and gear so you can fight to be the last person alive. PUBG gained popularity on PC, came to Xbox One late last year and is now on mobile. This is a third person shooter game on mobile, but we could see a first person mode arrive.
Games last as long as you survive. This could be 5 minutes, or it could take half an hour to finish a game. The first few games you will play against bots, which take it easy on you, so you can expect them to take a lot longer than later matches against other players.
Download PUBG Mobile for iPhone or iPad from Apple and from Google Play for Android.
Is PUBG Mobile Safe For Kids?
PUBG Mobile is rates 17+ and it's rated that for good reason. The purpose of the game is to find other players and kill them. The violence is not super graphic, and blood shows up as a blue-ish green mist instead of red, but the purpose of the game is still to kill other players. Apple rates it 17+ for "Frequent/Intense Realistic Violence" and Google Play rates PUBG Mobile Teen for Violence and Blood.
PUBG Mobile In App Purchases
PUBG Mobile is free to download and free to play. There are no PUBG in app purchases yet. There is a good chance that the game will get in-app purchases at some point in the near future to allow you to buy crates that unlock cosmetic items. It would make sense to see this added as the player base grows. Since there are no ads, the game will need to make money through in-app purchases at some point.
PUBG Mobile Controls
The PUBG Mobile controls are all on screen, but you can turn on a gyroscope control in the settings to add some motion control as you play or only when you are using a scope.
The on screen controls work well, and your player will loot health items, ammo for weapons you are carrying and accessories automatically. This simplifies the game dramatically. You play against bots for the first game or so, which will help you learn the controls.
PUBG Mobile Controller Support
There is no official PUBG Mobile controller support for iPhone or Android. That's frustrating for many players. There is a workaround on Android, but you are out of luck on the iPhone.
To use a controller on Android with PUBG Mobile you need to jump through a lot of hoops. This will allow you to play PUBG Mobile with a PS3 or PS4 controller. You need an OTG cable, and the Sixaxis app. This also only works on a Rooted Android device, further limiting the number of devices it will work with.
PUBG Mobile Missions & Events
You earn BattlePoints as you play, but you can also earn them by completing missions and taking part in events. You can access these on the lobby screen, which allows you to see what you need to try to do in each of the games.
Simply logging in each day will unlock new gear and help you earn BP that you can spend on crates to unlock new gear.
PUBG Mobile Tips & Tricks
The first few games are against bots who will shoot so you can get an idea where they are and then stop so you can find them and shoot them. Use these matches to learn the controls, the maps and learn how weapons work.
Use Auto Sprint – When you are running forward you can move your finger up to turn on Auto mode. Do this when you are in a fight so you can keep moving while you aim.
Use the Gyroscope – You can use the phone's gyroscope for looking at all times or just when using the scope. Experiment and pick the option that works best for you.
Customize Controls – Go into the setting and pick a new controller setting if you have trouble with the default.
Change Sensitivity – One of the best ways to improve your game is to change the sensitivity of scopes and general aiming.
Mind the Circle – When possible go to the shortest edge of the circle, so that fewer players will be coming up behind you.
Learn the PUBG Map – Use Pubgmap.io to see the PUBG Map and where loot spawns so you can learn more about the game.
You can also check out our PUBG tips and tricks, which you can apply to how you loot, how you fight and where you go in the game.
The Best iPhone X Cases
x-doria Defense Lux iPhone X Case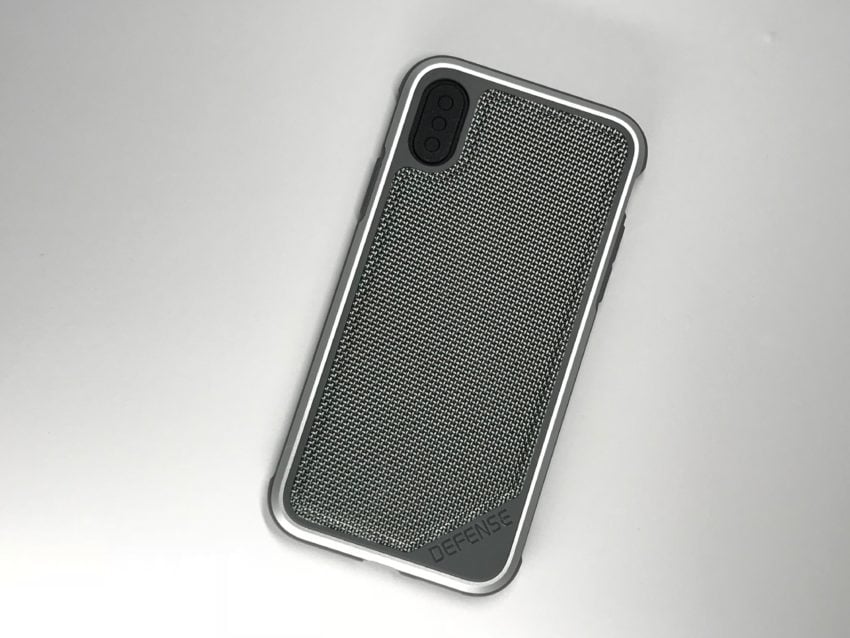 The x-doria Defense Lux iPhone X case is amazing. This case looks great, feels awesome and offers military grade drop protection without adding much bulk.
We love the look of this case in Ballistic Nylon and Black Carbon on the iPhone X. These cases not only offer a cool look, but the back is actually textured like the material listed. The Ballistic Nylon case has a soft, but grippy feel to the back just like you'd expect from looking at it. The Black Carbon feels like textured carbon fiber and looks awesome.
We didn't mean to, but we did drop our iPhone X in this case and our doorbell camera caught it on video. The case iPhone survived without any problems.
x-doria designed this case to protect your phone from drops up to 10 feet on concrete and there is . sound channel to direct the speaker towards you instead of straight out the bottom. The raised edge keeps the screen safe when setting the phone face down on a table.
$34.99 at x-doria