Samsung Galaxy S10 Long Term Review
"Should I upgrade to the Galaxy S10?" That's the question friends and family have been asking me during my month of testing the Samsung Galaxy S10 on Verizon. The answer is a clear, maybe. The Samsung Galaxy S10 is one of the best phones you can buy, but it's not a phone that most shoppers should jump to from the Galaxy S9.
Samsung's big changes pay off with a beautiful screen with a cool hole punch for the front facing camera and a fingerprint reader built-in below the Infinity O display. The rear camera packs in an ultra wide angle option and a zoom so you never miss a shot and the Galaxy S10 takes beautiful photos of basically anything you point it at from kids and pets to cars and landscapes. The battery life is impressive and you can augment it easily with wireless charging and fast charging options. Samsung even includes a cool reverse wireless charging system that you can use to charge other things wirelessly.
There is a lot to love about the Galaxy S10 and if you are coming from a Galaxy S7 or older, this is an upgrade where you will see and feel the differences every time you use your phone. It's more affordable than the Galaxy S10+ and it offers enough upgrades that for power users it is a better option than the Galaxy S10e.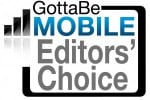 The Galaxy S10 earns a Gotta Be Mobile Editor's Choice Award for delivering a great experience with meaningful features in a market crowded with novelty features.
Bottom Line: If you want one of the best Android phones you can buy without breaking the bank the Galaxy S10 is a great buy, but you should definitely compare it to the Galaxy S10e before you pick a phone.
Who Should Upgrade? If you've owned your phone for more than two years this is an easy, "Yes, you should upgrade." While there are other great Android phones, the Galaxy S10 checks all the right boxes. It's tougher to say you should switch from iPhone, which as great as the Galaxy S10 is, is just something I'm not ready to do, but it is better than the Galaxy S8+ that I carry as well as an iPhone.
Where to Buy the Galaxy S10: You can buy the Galaxy S10 now from Samsung, Amazon, Walmart, Best Buy, eBay and direct from Verizon, AT&T, Sprint, T-Mobile, U.S. Cellular and Xfinity Mobile. The Samsung Galaxy S10 is $899 for 128GB of storage, and you can get 512GB of storage for $250 more. There are a lot of Galaxy S10 deals that You can go with the base model and get a MicroSD card for more storage.
[letsreview]
Galaxy S10 Infinity-O Display
Samsung skips the notch that you see on the iPhone and many other Android devices in favor of the hole punch, which is a small cut out in the upper right where Samsung places the front-facing camera.
This is quite literally a hole in the screen, and I was concerned that it would get in the way of playing games or reading on the phone. After living with the hole punch for a month it's faded out of my mind when I pick up the phone, kind of like the notch on the iPhone XS Max. Yes, it's there and i'll notice it occasionally, but it's not distracting and I haven't found an app where it breaks the phone experience. When you are on the home screen or your lock screen Samsung's wallpaper options hide the hole with smart designs.
The display itself is stunning. Samsung knocks it out of the park with the Infinity-O display. It's incredibly bright, the colors look amazing and it's an all around pleasure to use. Whether you read, game or stream, the Galaxy S10 display is as close to perfect as I've seen on an Android phone. DisplayMate is a testing company that compares performance of smartphone displays with super-advanced machinery and found that this is the most color accurate smartphone display ever, and they gave it the overall highest grade of A+.
If you're upgrading from the Galaxy S7 or older, you will definitely notice these screen enhancements, and I even found myself gravitating to the display from the Galaxy S8+.
Galaxy S10 Camera
The wide angle Galaxy S10 camera option is my favorite part of this amazing camera setup. With one tap you can double what the S10 camera sees in the frame. This produces amazing photos in tight spaces and impressive landscapes with amazing scope.
The rear cameras on the Galaxy S10 include a wide angle option, a normal option and a zoom option. This is all done optically, so you don't lose any image quality when you switch between these modes.
I am impressed with the image quality of the Galaxy S10's rear camera setup in daylight, indoors and in low light. The system performs well and will do a great job of capturing important moments in your life. This is the camera you'll always have on you. If you're using a Galaxy S7 or older phone to take pictures of your kids or trips, this is an upgrade you'll love today and in 10 years when you look back on the photos.
Samsung includes a Scene Optimizer that can automatically change the camera effects to take the best photo without you needing to tweak anything. There are also a number of modes including Live Focus that lets you blur the background for stunning portrait photos, slow motion, super slow motion and a food mode. This is a full-featured camera app. The video quality is also top-notch with 4K settings and the ability to use the same wide angle or zoom views. If you don't need to zoom, you can use a really amazing Steady Shot feature that smooths out your video for hand shake and movement.
The front facing camera is good and it uses software to create the blurred background portrait style photos. It's not as good as the Galaxy S10+, which uses a better camera setup to do the depth processing, but it is OK. You can also use the front facing camera for AR Emoji, which lets you control a customized emoji or pre-built emojis for fun photos and videos.
The Google Pixel 3 still offers the best smartphone camera, but the overall experience on Samsung is better. The iPhone XS camera is no slouch and offers a more natural looking photo.
Galaxy S10 Battery Life
The Galaxy S10 battery life is great, getting me through most busy days without the need to recharge. When I do need more power the fast charging makes it easy to quickly top up the S10 before heading out for the night or getting back to work.
You also get wireless charging, which is super convenient for charging the phone at night or at your desk. It's not as fast as plugging in, but it's my favorite way to charge a phone.
One thing the Galaxy S10 does that most other phones on the market can't is charge other devices wirelessly. PowerShare is a feature that you can turn on in the settings to wirelessly charge another device with the Galaxy S10. This means you can charge a Galaxy Watch, Galaxy Buds, your friend's AirPods or even another phone with the Galaxy S10. It's an awesome feature and something more phones need to add.
Galaxy S10 Performance
The Samsung Galaxy S10 performance is at the top of the class thanks to the latest processors and 8GB of RAM. The smaller S10 features the same power as the larger Galaxy S10+, so there is no need to upgrade for more speed.
You won't see or feel slowdowns when you jump from app to app and launch new apps. The camera app opens fast and is ready to go quickly, so you won't miss a shot and switching between apps is smooth. Thanks to plenty of RAM, you can easily jump back to an app that you haven't used for a while and it is ready to go without refreshing.
I tested out Asphalt 9 and Fortnite on the Galaxy S10 and it ran both easily with great looking mobile graphics and even during longer sessions the phone didn't start to lag or get hot.
Call quality is excellent. Calls to another Verizon number sounded as good as FaceTime Audio does on my iPhone, and calls to AT&T sounded good, but not as great. The 4G LTE speeds were on par with all of my other devices. Keep in mind this will vary based on your coverage and location. This is not the 5G model, so I am not able to test those speeds.
Sound quality is good, filling up my office easily with Spotify and delivering more than enough volume to share a YouTube video with a friend.
Galaxy S10 Design
The Samsung S10 is the perfect size for many buyers. While the S10+ requires a stretch to reach the screen edges, I'm able to easily hold the S10 in one hand and to use many of my favorite apps without constantly adjusting my grip.
This year Samsung puts a fingerprint scanner under the screen. This ultrasonic fingerprint reader is very good. I had to re-train it after I ran into some issues. Once I did that the speed and reliability picked up. I still occasionally miss where to put my finger or how hard to press, but after a month of use it's becoming second nature. There is a face recognition option, but it's not as reliable as Face ID on the iPhone so I mainly use the fingerprint reader.
You get a 3.5mm headphone jack and a USB C connection on the bottom of the phone. Samsung includes a power button, volume buttons and a dedicated Bixby button. The phone is sturdy with a good heft, but it's not heavy.
Galaxy S10 Software and Apps
The Galaxy S10 runs Android 9.0 Pie with the Samsung One UI skin on top. This is a skin on top of Android that is designed to make using the phone easier from placement of gestures and frequent actions for one hand use to surfacing the right notifications and bringing routines and useful features to the forefront.
I like the new look, though it's a subjective part of the phone. If you don't like the overall look, you can install a Galaxy S10 theme, but you'll need to learn to use the Samsung take on Android. It's better than the older ways Samsung changed Android and I like the looks of this modern Samsung take on Android's top layer.
In addition to Google Pay you get the superior Samsung Pay on the S10. This is a handy wallet that keeps your credit and debit cards as well as other digital items. While Google Pay and Apple Pay are restricted to machines with a tap to pay feature, Samsung Pay works on almost any credit card reader out there.
There are some pre-installed Android apps that will vary from carrier to carrier. These are mostly games, and you can easily uninstall any that you don't want.

As an Amazon Associate I earn from qualifying purchases.