Top 10 Galaxy S8 Settings to Change
When you get your big new Galaxy S8 or Galaxy S8+ out of the box there will be a lot that's new. In fact, there are multiple Galaxy S8 settings to change or features that can be enabled for a better experience. With that in mind, these are the first 10 Galaxy S8 settings you should change.
Many of the options mentioned here are things we do on every Samsung device. Some are new specifically to the Galaxy S8, like enabling full screen apps, and some you may already know about. Either way, this is what we'd recommend.
Read: How to Reset a Frozen Galaxy S8
Following the announcement in March the Galaxy S8 was set for an April 21st release date. Pre orders went out early, and millions around the globe are getting Samsung's new phone. Buy some cases, get a screen protector or some accessories. Then, learn all about some important things to change below.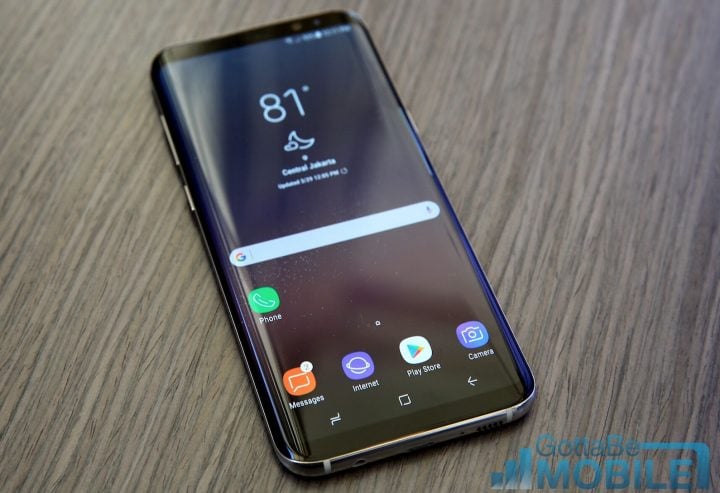 Most Galaxy S8 buyers have enjoy Samsung devices in the past, but this could be your first Galaxy. Whether that's coming from an iPhone, or even another Android device from Motorola or LG. Exploring these Galaxy S8 settings will help users get familiar with the device, learn where everything is, and get set up for the best experience possible all at the same time.
Everything detailed here will improve performance and daily tasks on the Galaxy S8. Not to mention disable things you won't need, or just get it ready for daily use.
Read: 8 Neat Things You Didn't Know About the Galaxy S8
Obviously all users should setup the fingerprint scanner, but that's just one of many unlock options available. We can customize the quick settings on the notification bar, change the on-screen keys and do tons of other fun stuff.
Enable Full Screen Apps on the Galaxy S8
First things first, the screen is big. It's also really tall and not as wide as most. It's an all-new aspect ratio and select few apps won't go into full screen mode automatically. Most will, but if not here's how to enable full screen apps.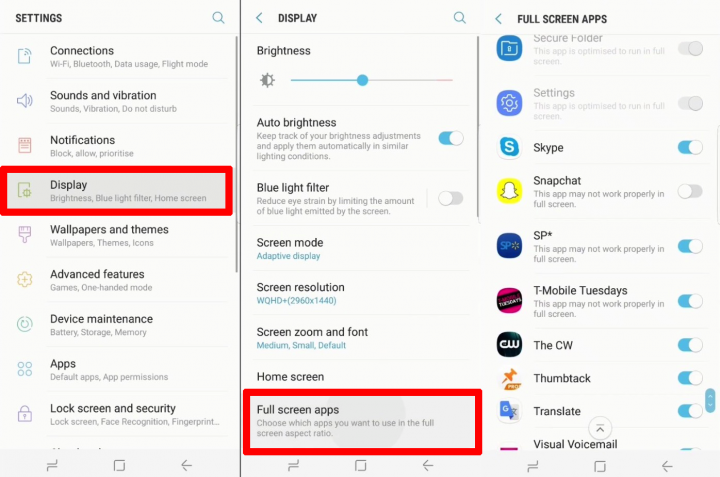 Just head into Settings > Display > Full Screen Apps > and enable any app that isn't highlighted. This will scale apps up to fit the full 5.8 or 6.2-inch screen. You'll love it.
One of our favorite Galaxy S7 features was double tap the home button to quick launch the camera. Perfect for getting photos in any situation. Of course the home button is now missing, but there's another option.
Make sure you open the camera, go to settings and enable "Double Tap Power Button to Quick Launch Camera". Now, no matter what you're doing double tapping power will fire the 12 dual pixel sensor up for photo and video.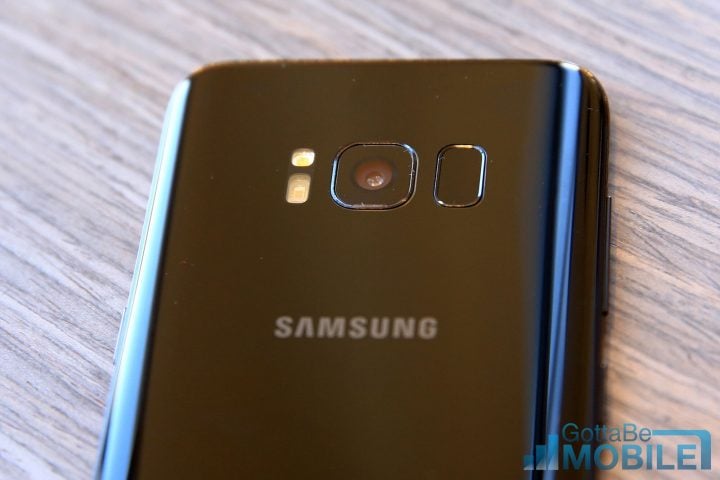 While you're here turn off camera shutter sounds, and head into "video size" and change the recording from 1080p to something higher if you'd like. Even 4k video and slow-motion recording is available.
An important feature that returned to the Galaxy S8 is the option to add a micro-SD card for additional storage. While 64GB built-in is plenty, we'd still recommend a microSD card. Once you toss in a 128GB or even a 200GB microSD, make sure if prompted you select to save photos to the micro-SD card, rather than internal storage.
Fire up the camera app, tap settings, and scroll down to "storage location" and set it for "SD Card" rather than internal storage. Once you start taking tons of photos, and you will, you'll want it all going to the micro-SD card. Instead of the internal storage which you can save for music, apps and games.
Setup a Secondary Unlock Method
For the first time in seven years the Galaxy S8 and S8+ do not have a physical home button on the front. Instead, it's a software navigation key. This made Samsung put the fingerprint scanner on the back. And not under the camera like most other Android manufacturers, but to the right of the camera.
It's a bit of a stretch for some, not to mention a miss-tap will get smudges on the camera lens. Which is why most reviews around the web suggest trying one of the other five unlock options. There's a password, pin code, pattern, Iris eye scanner or facial unlock.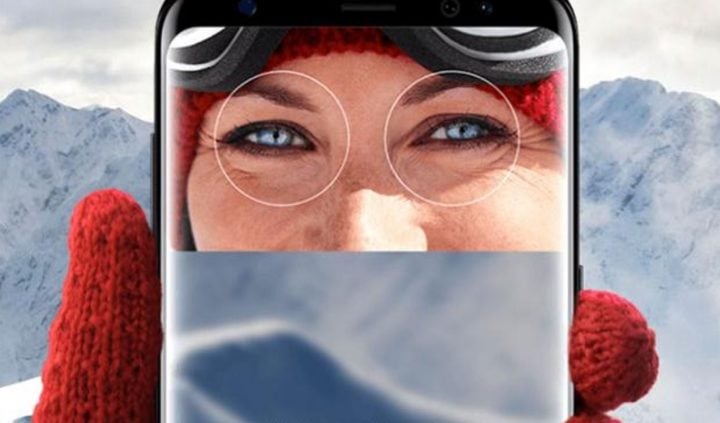 Head into Settings > Lock Screen & Security > and choose what works best for you. So far we're noticing how great the Iris eye scanner is. It's faster, more accurate, and appears to be a wider angle camera than the Galaxy Note 7. It works really well. Even at night or through glasses.  While you're here, add multiple fingerprints so if you do choose that method, it works no matter which hand or finger is available.
Do-Not-Disturb is a great feature that everyone should use. It works great on the Galaxy S8 and only takes a moment to setup. I have Do-Not-Disturb to automatically come on at 10:45PM each night, and turn off at 7AM.
Head to Settings > Sounds & vibrations > and scroll down to "Do-Not-Disturb" and turn it on with a set schedule. Owners can even customize it so alarms can still get through so you aren't late for work. There are even exceptions like specific friends or family members can still call or text you, while everything else will be silenced until morning. We highly recommend using this.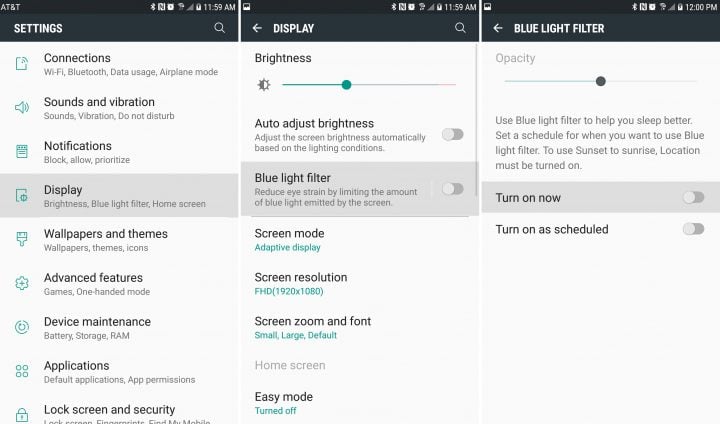 Another great option in Settings > Display is Night Mode or what Samsung calls the Blue Light Filter. Shown above on the S7 Edge but the same on the Galaxy S8. Essentially this lowers any blue light from coming out of the screen at night. Basically turning the screen almost an amber or red-orange tint. Similar to Night Shift on the iPhone. This is easier on the eyes, prevents strain, and helps reportedly helps calm the brain at night to help you sleep. The blue light is a stimulant, apparently.
Disable Bloatware
Bloatware is a never-ending battle with smartphones in the United States. Well, unless you buy unlocked devices. What is bloatware? It is apps pre-installed by carriers and partners that we cannot uninstall. Wasting precious space on our phones. We can however, disable them to clean up the app tray and put them out of sight and mind.
Start by going to Settings > Applications > App Manager > and simply select any and all pre-installed apps and tap "Disable". They'll no longer work, but won't be in the application tray wasting space either. I disabled everything from Amazon, AT&T, AT&T Data Usage Manager, Lookout Mobile Security and a few others. Same goes for Verizon apps, T-Mobile stuff, and Sprint NASCAR additions. Don't remove too much or things you don't understand, as the phone or certain features won't work right if they're disabled. If you want any back, just go to the same area and "enable" it.
Get Your App Drawer Button Back
For those that have used Samsung phones for years, there has always been an app drawer button in the bottom corner. Tapping this displays all installed applications known as the app tray or drawer. It's gone on the Galaxy S8. Instead you simply swipe up from the bottom, which is actually our preferred method. There's no reason to waste space with a button dedicated for the drawer.
However, some will want it back. We're creatures of habit. Long press a blank space on you screen. Your screen will zoom out to an edit and layout page, as well as show widget and background image options. Tap the gear-shaped settings button. Next hit the option in settings labeled "Apps Button" and select show apps button. Now hit done and go back. You'll have that familiar button back for ease of use.
Read: How to Get the Best Galaxy S8 Features on any Android
You can even hit "Home screen only" to put everything on your home screens. Like an iPhone.
One of our favorite features of recent Galaxy devices is the Samsung Theme store. By default it isn't in the application tray, so head to Settings > Personal > Themes and browse through all the themes. There are countless options to change the entire look and feel of the Galaxy S8. My favorite is Material Design, so it looks similar to stock Android.
There are countless other bright, colorful, animated, black and white or other options available. In fact, there is something for everyone. Cars, sports, bubbly animations and more. Enjoy a unique looking phone, then set it back to "Default" if you want to go back to how things were out of the box.
Turn on NFC and Use Samsung Pay
The Galaxy S8 and Galaxy S8+ like most Samsung phones have Samsung Pay. Similar to Apple Pay or Android Pay, only better. It completely replaces a wallet, rewards cards and they have a reward system of their own. Here's the best part. Android or Apple Pay only works in 5-10% of retail stores as they need NFC and new terminals to work. Samsung Pay works almost everywhere.
Read: Samsung Pay vs Android Pay: What's the Difference
Samsung Pay uses the new NFC wireless payment method, and the credit card swipe-based magnetic strip system that 95% of stores around the United States use. It works with both. It's the best mobile payment system in the world, and we'd highly recommend everyone use Samsung Pay. Even with that oddly placed fingerprint scanner.
To get started simply follow this How to Use Samsung Pay Guide. It's on the Note 5, but similar steps complete it for the Galaxy S8.
We could go on and on about changing Galaxy S7 settings, but the 10 mentioned above are some of the more important ones. We'd also recommend using Smart Lock so you don't always have to use a fingerprint if your in a trusted place like home or your car, change the default text message app, turn off the Always-on Display feature if it gets annoying, and more. Now that you're familiar with the phone, check out some great cases in our slideshow below.
Take Advantage of Bluetooth 5.0
We could go on and on about using fast wireless charging or customizing the notification pulldown bar, but most do those things anyways. What is new though, is the Galaxy S8 is the first smartphone in the world to use Bluetooth 5.0 and it's a big deal.
Bluetooth 5.0 increases the range by 4 times, to over 120 feet instead of around 20-30 indoors. Making bluetooth better than ever before. It's also 8x faster than ever before and has multiple lanes of signals. It's like sending audio or files on a one-way lane, vs a huge 8-lane mega highway. Bluetooth 5.0 is a feature everyone can take advantage of.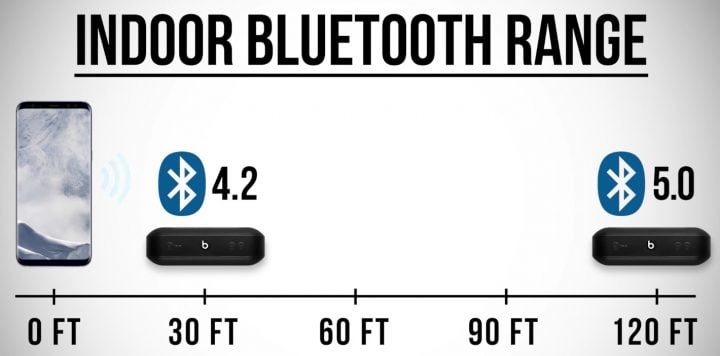 Not only do we have much better signals to use bluetooth while the phone is upstairs or in another room, but you can even pair two devices at the same time. Use two of the same (or completely different) bluetooth speakers for stereo sound, and more. Or, Samsung has options in settings to control what apps actually send sound over Bluetooth. Meaning you can stream audio to headphones for the kids while you watch Netflix and still get sound out of your device. It's powerful stuff, and more important than many realize.
Other Thoughts
We'd also recommend everyone setup what's called Smart Lock. Just search for it in settings. The phone will know when you're home, connected to a watch or bluetooth stereo, or at work and won't require a lockscreen security method. Once you leave, the lockscreen security kicks into place. It's very convenient.
Don't forget to customize or turn off the Always-On display, and give the settings menu a good look to learn all about your new phone. For those who have already started having problems, check out this post for more details. While you're here check out these awesome official Galaxy S8 accessories, and enjoy your new phone.

As an Amazon Associate I earn from qualifying purchases.