Apps to Take Advantage of Trump Tweets that Move Stocks
Donald Trump Tweets move the stock market and if you make the right moves, you might make some money from Trump's next Tweet.
Two apps can help you trade any time Trump Tweets about a publicly traded company. If you make the right trades based on Trump Tweets you can, as it turns out, make money.
A new Trump bot detects any time Trump Tweets about a company with stock, detects if the Tweet is positive or negative in nature and then takes the appropriate action. This is in addition to an alert system that notifies you every time Trump Tweets about a stock you own, which allows you to take action.
If you are willing to put all of your faith in a bot that determines if Trump is happy or angry about a specific company you can use the Trump2Cash tool to trade as soon as Trump Tweets about a public company like Nordstrom.
A simulated fund trading based on Trump Tweets alone has an annualized return of 58.683%, which is quite impressive. You can see a summary of tweets, their sentiment, and the resulting value of that tweet on the simulated account of  $100,000.
To use the Trump2Cash app you'll need to download the tool and run it on Google Cloud Compute. If that's beyond the level of expertise you have or the effort you are willing to take to earn money based on Trump Tweets, there is another option.
With the Trigger app, you can get a notification anytime Trump Tweets about a stock that you own. This allows you to get an instant alert and then make a decision based on other factors. By removing the bot from the picture, you can bring in other information before deciding to buy or sell stock based on Donald Trump Tweeting.
Once you set up Trigger to know your stock portfolio, you can get an alert anytime Trump Tweets about any publicly traded stock or about a stock that you own. The Trigger app is not a one-trick-pony. It allows you to set Triggers for information like the Federal Reserve interest rate changing and much more.
Trigger is only available on the iPhone at this time. The Trigger app is free and you can configure it to send you stock notifications for a wide-range of items.
20 Best Apps to Make Money in 2020
Google Opinion Rewards - Make Money By Answering Questions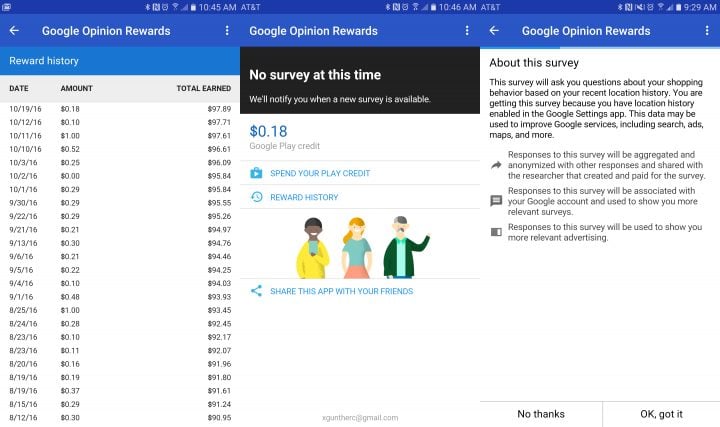 You can make money answering survey questions on your smartphone with Google Opinion Rewards. Also known as Google Surveys by many users, this free app rewards you for sharing your opinion. This works on iPhone and Android, but the best way to make money is on iPhone.
A member of the Gotta Be Mobile team earned over $100 with Google Opinion Rewards. All you need to do is answer questions and you'll earn anywhere from a 10 cents to a dollar. You can also answer Google Opinion Rewards surveys in stores to really earn more money.
The money that you make works for Google Play Credits on Android that you can use to buy apps, movies, books, and even spend on in app purchases for games like Clash of Clans without spending your cash.
iPhone users get the credit sent to PayPal when they have a balance of $2, which can happen every two or three weeks depending on how many surveys you qualify for. It's easy to earn when you start, but surveys may become less frequent as you go.
Download Google Opinion Rewards for Android and Google Opinion Rewards for iPhone.