How to Turn on Windows 10 Dark Theme
Don't let the searing brightness of Windows 10's apps keep you from using your notebook, laptop or tablet. Turn on the Windows 10 Dark Theme and put an end to all that white light for good.
Think of the Windows 10 Dark Theme as a last-ditch effort to make the operating system more comfortable to use at night. By default, every PC uses the Light Theme, a mix of grays and whites. This theme gives the operating system a clean, professional look, but it's also too bright to use in a dark room. To compensate for all the white light, most PC makers include an ambient light sensor in their laptops and tablets that automatically darkens their displays. Unfortunately, that doesn't help desktop PC owners or anyone that just doesn't like white splashed all across their operating system.
The Windows 10 Dark Theme switches almost everything that's white and light gray on your system now to dark gray and black.
Read: 52 Windows 10 Tips & Tricks You Need to Master Your PC
Here's how to turn on Windows 10 Dark Theme.
Open the Start area. To do that, press the Windows key on your keyboard. If you have a touch display, you can also tap on the Start button in the bottom-left corner of your screen.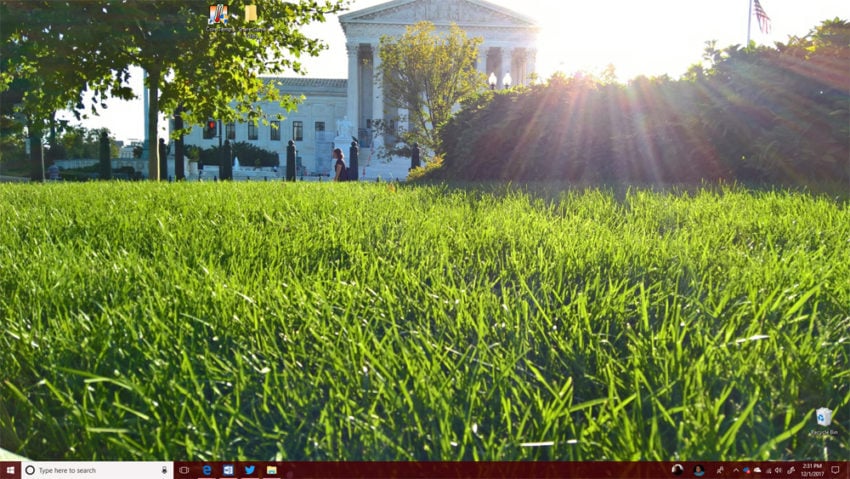 Inside the Start Menu or Start Screen, tap or click on the Settings cog along the bottom-left edge of your screen.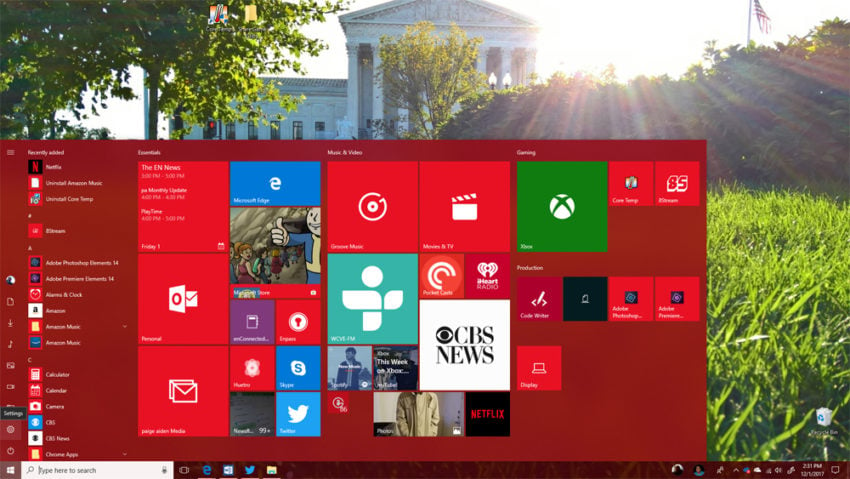 Inside the Settings app, click or tap on the Personalization icon in the top-right corner of the Settings app.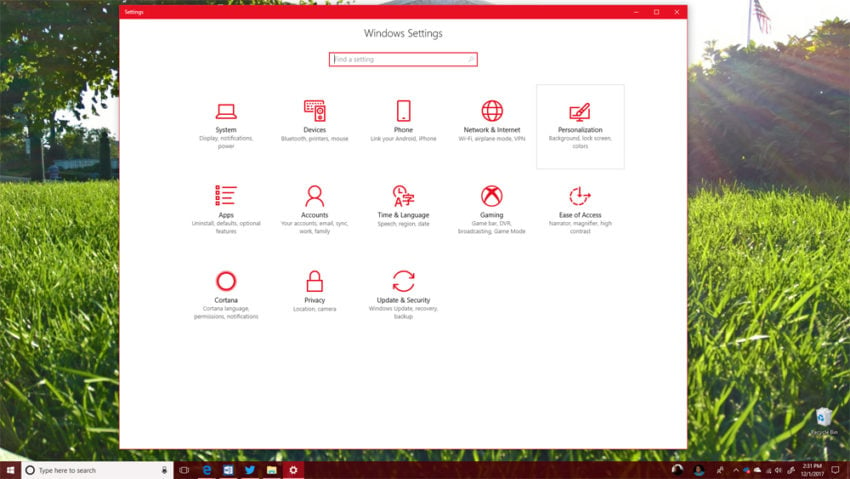 The Personalization menu opens to the Background area. Don't click on anything here. Instead, tap or click on the Colors menu item on the left side of the Settings app.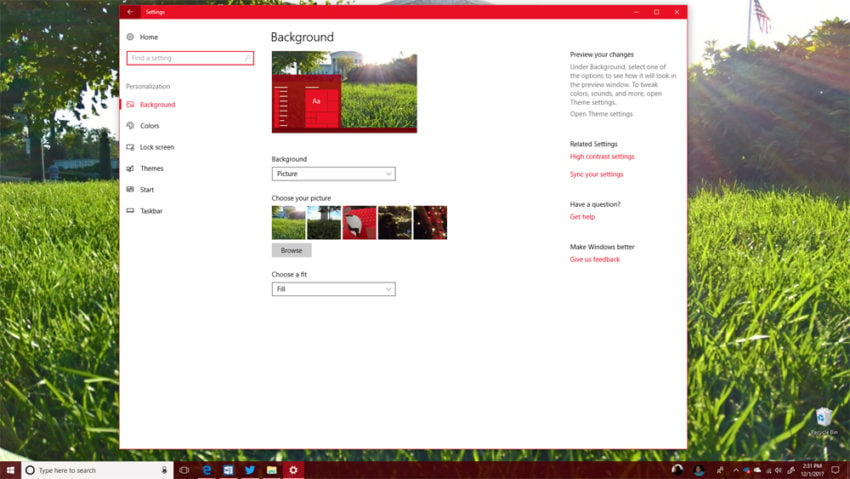 Now, scroll down to the bottom of the Colors settings page. Look for those buttons under Theme. By default, white is selected. To turn on the Windows 10 Dark Theme, click the Dark button.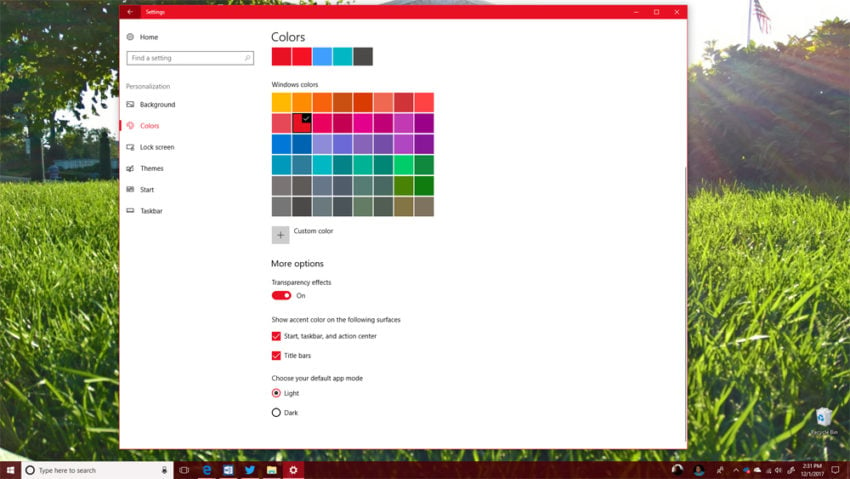 Your PC will take a moment to process the change, then immediately begin to switch to the Windows 10 Dark Theme. When the process is complete, the background of the Settings app will change to black.
If you also want to get rid of the bright accent color that you have, scroll back up to the top of the Colors screen. Make sure that the Automatically Pick an Accent Color checkbox isn't selected. Replace your current accent color with a dark gray.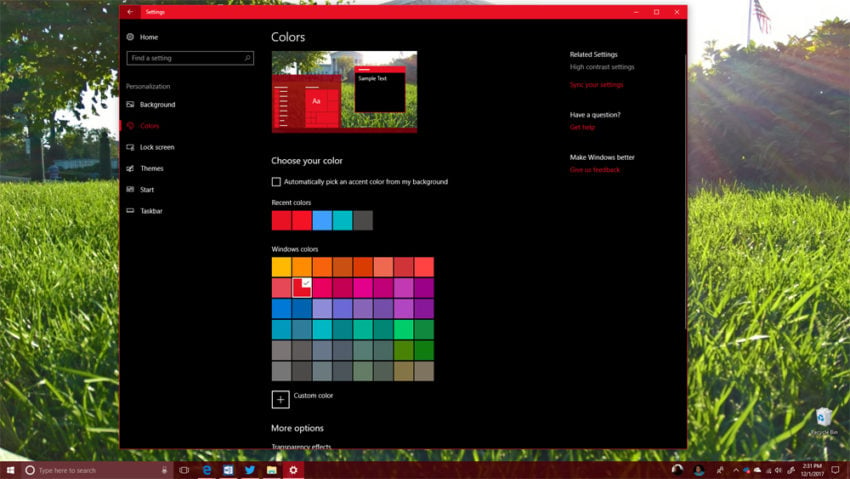 Read: How to Add a Background and Colors to Start in Windows 10
Unfortunately, the Windows 10 Dark Theme only applies to apps that get their colors directly from your Windows 10 settings. Any app that doesn't do that will stay bright. For example, Microsoft Word Mobile stays white even with the change. It doesn't have a dark mode at all.
Every other app that comes with Windows 10 installed will automatically acknowledge your theme change, including Mail, Calendar, People, Microsoft Store, Movies & TV, Photos and Groove Music. Desktop programs, that is the software you download from the internet, don't have access to the Windows 10 Dark Theme.
Dark Theme for Microsoft Edge & Google Chrome
Microsoft Edge, Windows 10's default web browser, does have a dark theme, but you must manually turn it on from the browser's settings. To turn this feature on, open Microsoft Edge from the Start Menu.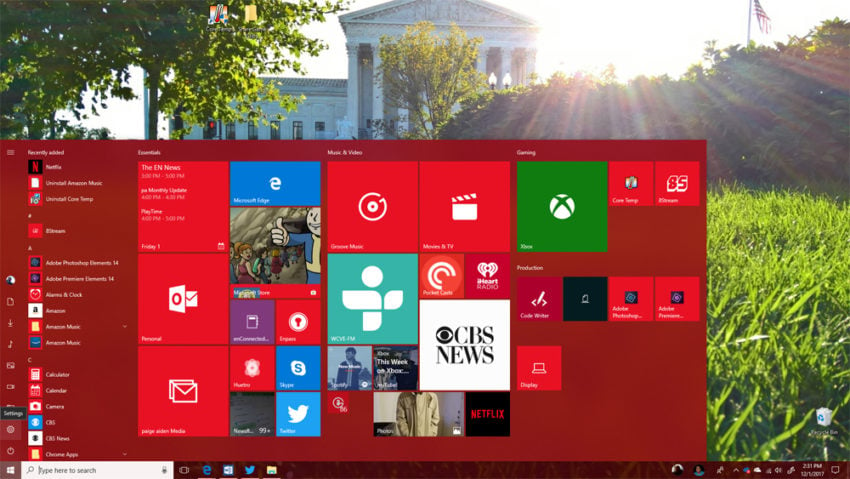 Click or tap on the three dots in the top-right corner of your screen.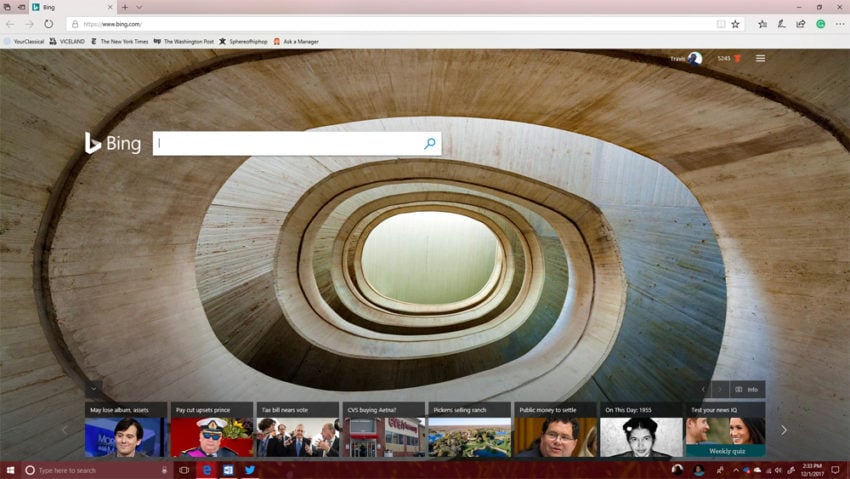 Click Settings at the very bottom of the menu.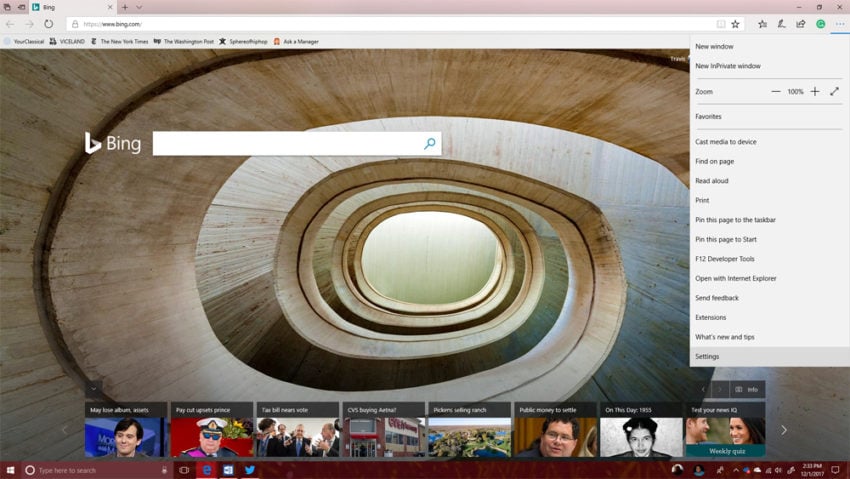 Click or tap on the Theme drop-down at the top of the menu and select Dark.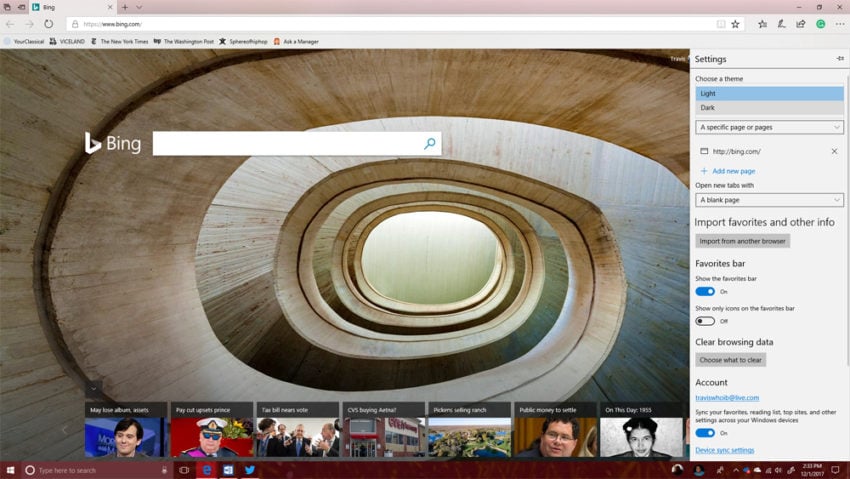 Google Chrome will ask you if you'd like to download a Dark Theme the moment you switch to Dark Theme. Just look for the pop-up below.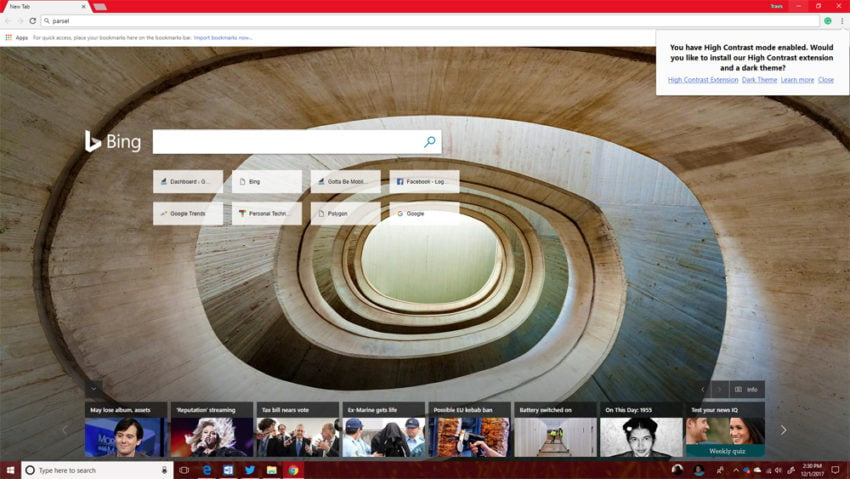 Read: Best Windows 10 Browser: Edge vs Chrome
Dark Theme for File Explorer
The Windows 10 Dark Theme's biggest omission is the File Explorer. These are the windows that pop-up for folders, external storage and the Control Panel.
You can create your own Dark Theme for File Explorer by turning on High-Contrast Mode. To do this, go back to the Colors area in the Settings app. Click on the High Contrast Settings link in the top-right corner of your screen.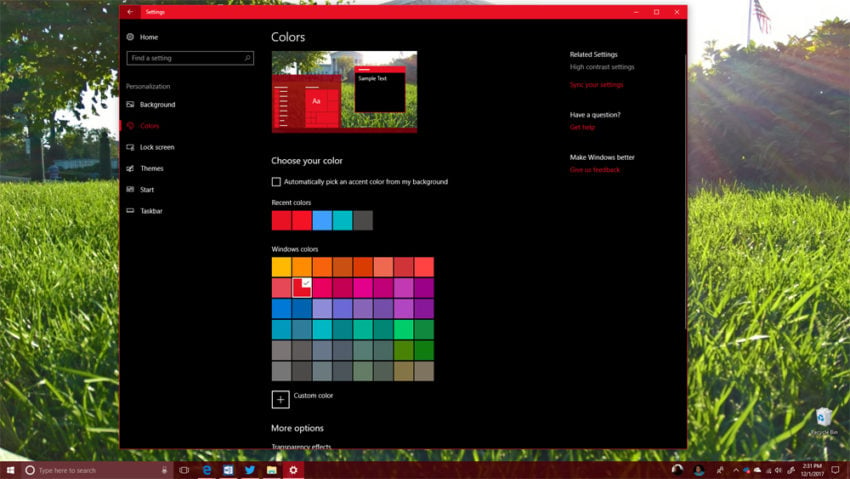 Select High Contrast Black from the Choose a Theme drop-down. Click Apply.
This is another weird area where Windows 10 is half-finished. Because Microsoft is slowly transitioning all Windows 10 to its new design, expect the File Explorer to get a makeover that adds a dark theme support in the future. Microsoft has already revealed that the next major Windows 10 update will introduce tabs for some apps. It's possible that this update will finally introduce this rumored File Explorer update too.
6 Best Windows 10 Laptops in 2018
Razer Blade Stealth - $1,499.99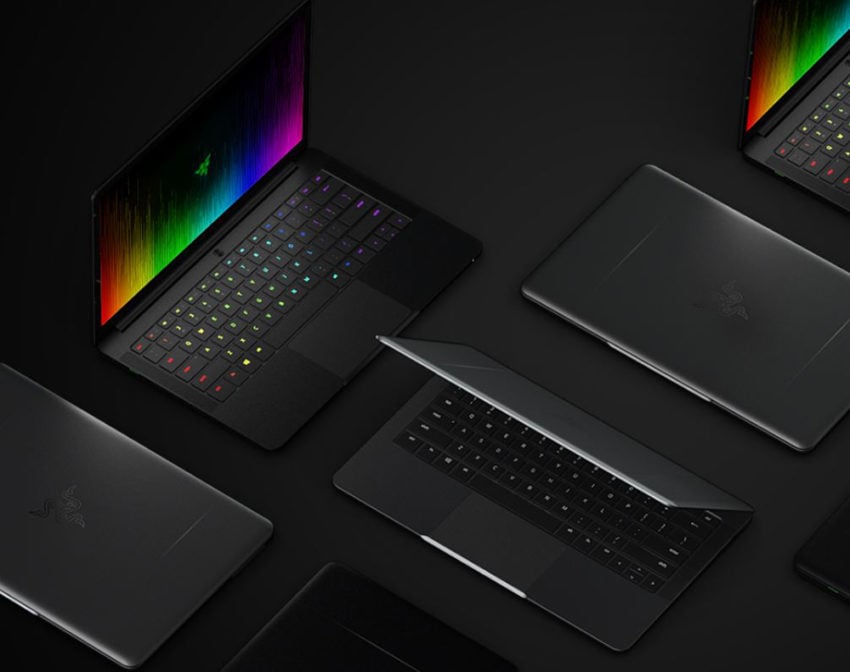 The Razer Blade Stealth is a high-end laptop that transforms into a gaming powerhouse with the right accessory.

The laptop takes its name from its black or gunmetal aluminum chassis. At 0.52 inches thin and 2.98-pounds, you won't have a hard time stuffing it in a bag. Despite that thin profile, it lasts 10 hours between charges and has a Chroma keyboard that highlights the keys you need to play your favorite games. Intel graphics are inside, but connect it to a graphics card using the Razer Core add-on and you can expect full resolution gaming even on the model with a 13.3-inch 4K display with touch.

You can order a Razer Blade Stealth with as little or as much power as you need. It supports up to a quad-core 8th Generation Intel Core i7 processor, 1TB solid state drive and 16GB of RAM. It has a 3.5mm headset jack, 2 USB 3.0 ports, an HDMI port and a Thunderbolt 3 port. That Thunderbolt 3 port communicates with the Razer Core add-on.


Read: Razer Project Valerie is a Badass Triple Monitor Gaming Laptop


The Razer Blade Stealth starts at $1499.99. A Razer Core v2, which uses the graphics cards you already own, costs $499.99.