Best Windows 10 Browser: Edge vs Chrome
Without knowing you, it's easy to guess what activity you do more than anything else on your Windows 10 PC. The best Windows 10 laptops, desktops and tablets are stuffed with apps and games, but chances are you browse the web more than anything else. Microsoft Edge is one of the operating system's most ambitious undertakings. The company knows that you do a lot of web browsing. It's hoping all that browsing happens in Microsoft Edge. That hope sets the battle for all the Edge vs Chrome talk you might have heard from friends and family that follow these things.
Since the early 2000s, companies have battled over who can offer users the best browser. For years, Microsoft dominated web browsers with Internet Explorer. It was able to do so by installing it on nearly every machine that ran a copy of Windows. Soon it was the only browser to choose from. Seeing the success others had found in the space, Google Chrome arrived to give everyone easy access to the company's best online web apps, like Gmail.
Read: Best iPhone Browser: Safari vs Google Chrome
Microsoft Edge and Google Chrome are locked in an epic battle. Both want to desperately be your default web browser. They each want to help you find what you're looking for in their search engines. Both sync your tabs from across different devices with ease.
Should you use Microsoft Edge or Google Chrome? Like all things technology related, it's a little more complicated than it may seem. That being said, there is a clear winner.
Edge vs Chrome: Built for You
Microsoft Edge exists because Internet Explorer slowly became hated by most users. Certainly, by the time Windows 10 arrived in 2015, Microsoft had alienated enough users that it needed to start over. Despite attempts to make it more user-friendly with Windows 8, Internet Explorer's design wasn't particularly suited to both a mouse and touch, for example. Technologies inside the browser were long outdated.
Edge uses a new engine called EdgeHTML to render web pages. Its design is flat to match the rest of Windows 10. Because it supports the latest standards that websites use, Edge is supposed to be more compatible with the websites and web apps that everyone uses today. In attempt to keep you safe, Microsoft Edge blocks pop-ups by default and has a kill switch for Adobe Flash. That's a web plugin that used to need to be downloaded for certain sites. The browser connects directly to your Microsoft Account, meaning your browser history and favorites travel with you from PC to PC, provided you're logged in with the same credentials. You can't add themes to Microsoft Edge but you can make the window a dark gray for better night-time reading.
Read: 10 Things You'll Hate in Windows 10
Google Chrome is by far the most popular web browser there is. Launched in 2008, it quickly made a name for itself by being fast and stable. Frequent updates didn't hurt either. Neither did its built-in support for Extensions.
Its browser is available everywhere that you'd expect a browser to be. It's the default browser on Android smartphones and has a companion app on iPhone. All the different versions of Chrome are tied together by your Google Account. As such, your favorites and browsing history are always with you. Flash is baked into the Windows version and can be turned off with just a switch. Google Chrome has theming too, something Microsoft Edge doesn't have.
Edge vs Chrome: Speed, Battery Life & Stability
Speed is at the heart of any browser experience. The best browser for you might have a few features that you like, but you care more about web pages loading quickly and without issue. Microsoft Edge and Google Chrome have battled each other in speed contests and stability for a long time now.
To let Microsoft tell it, Google Chrome is slightly slower than Microsoft Edge. It points to Edge's 31427 Octane 2.0 score. Chrome scored a 28466 in that same Google-made Octane benchmark. Speed isn't everything, though. It's also Microsoft's assertion that some normal activities in Microsoft Edge take longer to kill your battery than in Google Chrome. It takes the Surface Book streaming through Edge almost 9 hours to die while streaming 1080P video. Chrome dies at around 6 hours.
What this speed test doesn't show is just how unpredictable Microsoft Edge can be. Perhaps because of the new technologies behind the scenes, Microsoft Edge sometimes can't load web pages that every other browser can. Either the entire window locks or the browser keeps trying to refresh the page until it declares it uses older web technology. When this happens, it surfaces a button that opens the page in Internet Explorer. Microsoft Edge isn't a big fan of web pages covered with ads. It sometimes takes issue with web apps too.
Google Chrome handles every web page that you can throw at it well. The browser never invites you to use another browser or fails to load a web page. It is known to become unstable the more tabs that you keep open, though. It's not exactly battery-life friendly either.
Edge vs Chrome: Extensions and Features
Chrome has the best Extensions library of any browser. Developers can and have created thousands of different feature additions to the browser.
Chrome Extensions can help you keep your accounts safe by integrating with lots of password management apps, LastPass being the most well-known of them. Google makes feature additions of its own, like Google Keep and Hangouts for video chatting. PushBullet will let you check your messages and track alerts from your Android smartphone on your PC. Chrome Apps lets developers create entire experiences directly in Chrome.
Read: Microsoft Edge Tips & Tricks: Better Browsing in Windows 10
Because it's younger, Microsoft Edge doesn't have a huge library of Extensions. There are just 25 available in the Windows Store today, making Chrome better than Edge for those that want to add features to their browser. AdBlock, Evernote, LastPass, Pocket and Amazon are the only notable Microsoft Edge extensions.
Microsoft tries to make up for the lack of extensions with a huge number of features it thinks will improve your browsing experience. Cortana, the company's personal assistant will automatically surface to offer you coupons and discounts as you shop. A Reading List feature makes it easy to save reading material for later.
Read: Passwords in Windows 10: Edge, Password Managers & More
There's a built-in PDF viewer, and Microsoft plans to add eBook support to Edge when the Windows 10 Creators Update arrives for free. Sharing is baked into the app. Sending links to your friends through email or Twitter takes a few taps or clicks. The Windows 10 Creators Update will introduce tab management features so that you can save important windows for later without having them clog up your browser and drag down performance.
Both Chrome and Edge default to their own search engines, but you can easily add more. In Windows 10, you can use other browsers but using the search area in the taskbar will always open a window into Edge for some reason.
Read: How to Change the Search Engine in Windows 10 to Google
Edge vs Chrome: Chromecast & Cast Media
The Google Chromecast Ultra allows any laptop, desktop or tablet equipped with Chrome to send video footage directly to a television set or audio to a speaker system. Say that you don't want to continue watching your favorite program on your Surface Pro 4. You can tell Google Chrome to forward the video to a television equipped with a Chromecast device. The feature is very useful for less tech-savvy households that don't have lots of set-top boxes at the ready. It's only available in Chrome.
Edge tries to mimic Chromecast with a Cast Media option of its own. Unfortunately, the feature can be temperamental. Finding compatible hardware to plug into your television isn't as straight forward as it as with Chromecast.
Edge vs Chrome: Which Should You Use?
If you value any of the additional features that are baked into Microsoft Edge, it's the browser that you should use. Syncing web history is effortless and you'll always have your favorites with you. The positive impact that streaming video with the browser can have on battery life is important too.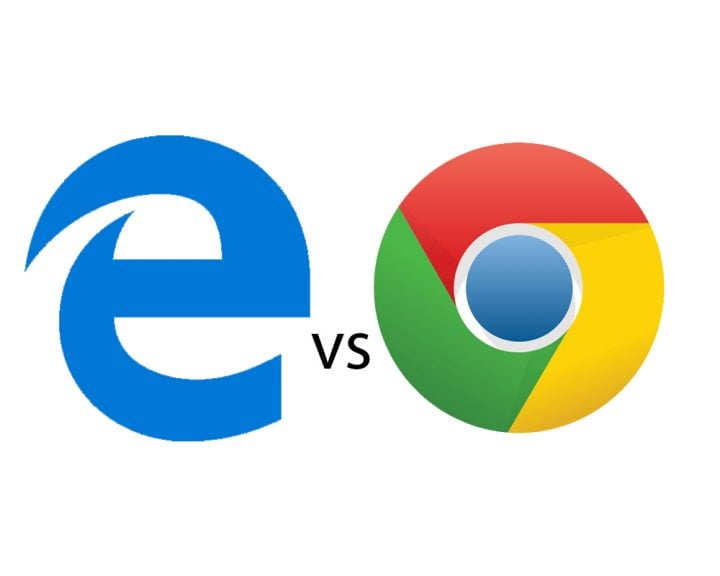 That being said, Google Chrome is the right browser for almost everyone. The companion apps for iPhone and Android make it easy to track your web history regardless of device. Its Extensions library is the best that exists today, with thousands of features just waiting to be added to your experience. More important than all of that, Google Chrome loads pages quickly and works on any website. It doesn't make excuses for what's going on and recommend you open another browser instead. The ease of Chromecast pushes it over the top.
If you're trying to decide between Microsoft Edge and Google Chrome, chances are you'll be in better hands with Chrome, even though you're using Windows 10.

As an Amazon Associate I earn from qualifying purchases.