Waterfield Designs Air Porter Review: Your New Carry-On
The Waterfield Designs Air Porter is a smart carry on bag that solves one of the biggest problems with flying. In most cases you need to choose between legroom and a personal item like a laptop bag. Traditional laptop bags take up a lot of the room under the seat in front of you, but the Air Porter sits upright to one side so you can carry on your essentials and still have legroom on your flight.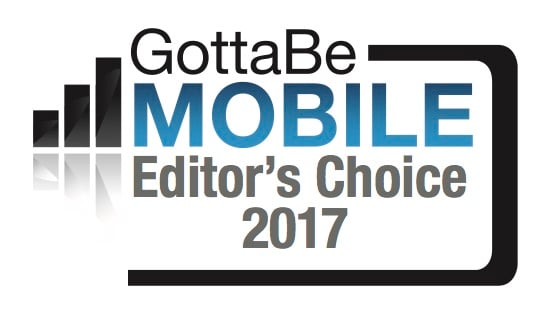 Waterfield designed this with feedback from people who spend more time on planes in a year than most of us do in a lifetime. As a result, the Air Porter is magical in it's simplicity, and the stunning craftsmanship and design will make you wonder how you ever lived without this carry-on bag. The Waterfield Designs Air Porter earns a Gotta Be Mobile Editor's Choice Award for simplifying air travel.
[letsreview]
With a style similar to a briefcase, the Air Porter is smaller than some of the massive bags we're used to carrying, but you can still fit a lot in it. This is designed to go along with a traditional carry-on where you would store most of your clothes and other items. This is designed to replace a backpack or similar laptop bag. The Waterfield Designs Air Porter is $359 and if you add on the Air Caddy when you purchase it, it's just $20 more. The price is high, but these bags last forever.
Unlike many laptop bags that occupy so much of the space under the seat, the Air Porter is designed to stand upright, slide under the seat and only take up a little bit of the space so you can still stretch your legs out. At least as much as you can on flights these days. The bag is 10 inches tall and 4.5 inches wide. It will fit under most airline seats and also many train seats.
Inside of the bag there is plenty of room for up to a 15-inch MacBook Pro in a special laptop sleeve that includes padding on the sides. The laptop storage area is suspended slightly to protect your laptop. There are two large pockets in this section that work great for holding a power adapter or other items. It zips completely open so you can leave your laptop in the bag while going through security.Thew inside of the bag is lined in a bright gold, which looks nice and makes it easier to find stuff inside your bag.
The opposite side offers a large open storage area where you can carry one change of clothes or a jacket. It's also a handy place to store the optional Air Caddy, which we'll get to in a second. There are three medium pockets and three small pockets on this side. the smaller pockets are perfect for your headphones and business cards, while the larger pockets are great for dongles and adapters. There is a key attachment area in here that is perfect for keeping track of your keys while flying.
A magnetic storage flap on the outside offers a very large pocket and hides a second medium size zippered pocket. The magnets hold well and the sizes are perfect for a small book or notebook. In the smaller zippered pocket you can stash your phone and wallet while going through security. On the backside is a loop of fabric that allows you to stick this on top of a roller carry-on for easy transport through the airport. Two small pockets on the ends button up when not in use, but when you need to carry bottled water or a small umbrella they open up.
The zippers all throughout are top notch. They don't snag on anything, smoothly pull and are quiet too. There is a weatherproof portion the comes together when you zip the bag to keep rain and liquid out.  The shoulder strap is adjustable, swivels nicely at each end point and you can disconnect it if you prefer to carry by the comfortable handles. the bag is available in waxed canvas or black ballistic.
The optional Air Caddy is a small organizer that is just $20 when purchased with the Air Porter. This slides into the front pocket perfectly and it can hold all the things you will need during your flight. Stick an iPad or Kindle in the big pocket and use the medium size pockets for a snack, headphones and cables to charge. When you get to your seat, you can pull out everything you need for the flight and drop it into the seat pocket. Since it is in a small carrier you don't need to worry about leaving one of your things behind when you leave.
20 Best MacBook Pro Cases and Covers in 2020
Incase Compact Sleeve with BIONIC
The Incase Compact Sleeve with BIONIC is available for the 13-inch MacBook Pro or 16-inch MacBook Pro. This case is made with BIONIC yarn that is a material made from recovered plastic pollution in the marine and coastal environments.
This case looks amazing and offers the right amount of padding to keep your MacBook Pro safe, without adding much bulk. The sleeve zippers work very well and included pull tabs for easy use. A zipper on the outer edge opens to a small space to store chargers and adapters.
I like this case as a standalone option, or as something that I can put in a bag, like the Incase Commuter Backpack with Bionic.

As an Amazon Associate I earn from qualifying purchases.