What Galaxy S8 Color to Buy: Black, Blue, Gray or Silver?
This guide will help you decide what Galaxy S8 or Galaxy S8+ color to buy. You'll be happy to learn there are four different colors to choose from, at least in the United States. If you're asking yourself, "which Galaxy S8 color should I buy?" These are your options and what you need to know.
Over the years we've seen a lot of great color options for Samsung's smartphones, but they did things different for the Galaxy S8. Every model is Black on the front, with different colors on the sides and the back. That's because the huge 5.8 and 6.2-inch Infinity screens take up almost all the space.
Read: Galaxy S8 Release Date Breakdown
With tiny bezels and tons of sensors up front, different colors don't look that great on the Galaxy S8. Not to mention all black makes the screen look bigger and better. That said, you can choose between Midnight Black, Orchid Gray, Arctic Silver or a new Coral Blue color option.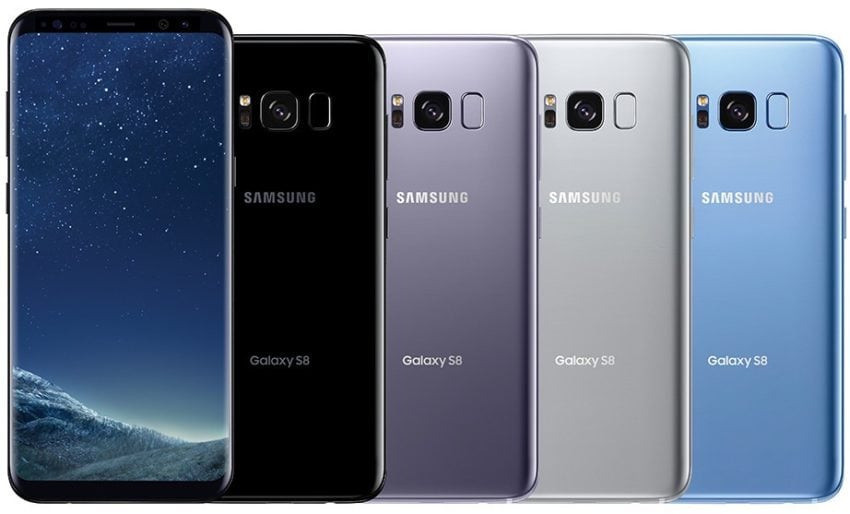 In past years Samsung's announced phones in a myriad of different colors, but they're never available in the United States. The same thing is happening this year. We only have Black, Gray and Silver to choose from. There is a Gold and Blue variant for regions outside of the United States.
A few months after the May release date, Samsung released a new Coral Blue color similar to the Galaxy Note 7 from 2016.
Galaxy S8 Colors: Entertainment
While this is all about personal preference, black is probably the best choice. It will show fewer fingerprints, less scuff marks, and be the best for entertainment. Black bezels on the front mean the huge 5.8 or 6.2-inch display blends in with the body, making it look bigger than it really is.
This may seem like a silly thing to think about, but it makes a big difference. From certain colors being fingerprint magnets to black looking extremely sleek and sexy.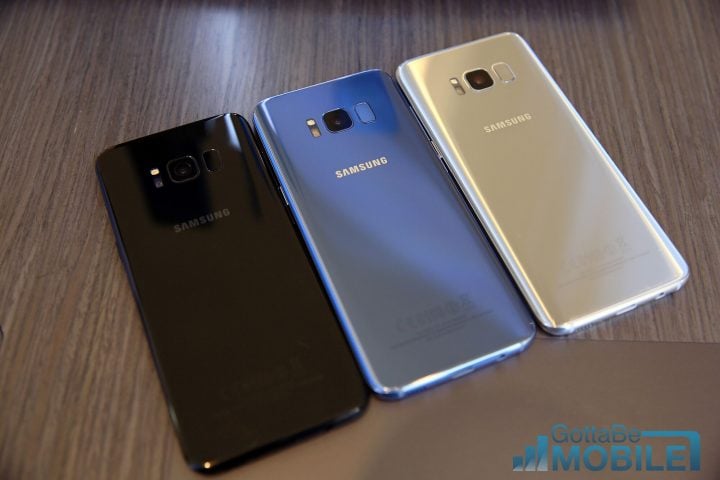 Additionally, Black lets you see the LED notification light on the front easier. Having the front all black makes it look amazing at first glance, and thankfully Samsung spruced up the back too.
Read: Best Samsung Galaxy S8 Deals
The two silver models will be great, and easy to deal with, but we recommend heading to a store to see them yourself. The Orchid Gray has a slightly bluish purple tint in certain light.
Galaxy S8 Colors: Scratches and Discoloration
The two biggest concerns about the buying the right Galaxy S8 color are, "Will it scratch easily? and "Will the color wear or discolor after use?"
Samsung's design has the colors under a durable Gorilla Glass panel, so they'll never scratch, fade, or start to look weathered. Also, this is what makes the colors so beautiful and eye-popping. That said, the screen or back glass could scratch and make them more noticeable. Black will be the easiest to see in terms of scratches, while Silver will probably show the least. For what it's worth.
A good middle ground in terms of overall colors and for scratches or wear and tear might be the Orchid Gray. It's similar to the Space Gray iPhone and is a nice look. It's not too light or dark, and many will love it. Additionally, the new Coral Blue looks wonderful but might be too bright for some.
All said and done it comes down to personal preference or style. Sadly the Gold color isn't coming to the US.
Galaxy S8 Color: Fingerprints
Due to the nature of the design, fingerprints and smudges are inevitable. The glass on front and back shows every single print. The Gold Galaxy S6 was the worst for this, and personally, I like Black the most. It hides them decently well. The silver model will probably mask this best, but try it yourself at Best Buy or carrier stores to know for sure, before you buy.
Many users loved the Coral Blue and Gold trim on the Galaxy Note 7, which eventually came to the Galaxy S7 Edge. The Coral Blue Galaxy S8 is all blue, with no gold accents.
Galaxy S8 Cases
Another thing to think about when buying the Galaxy S8 is cases. Will you use a case, and if so, what color. There are plenty of options from Speck, Spigen, Tech21, CM4, Silk, VRS Design, Incipio, Otterbox and a slew of others.
If you're interested in a case here is our list of the 25 Best Galaxy S8 cases.
Our case roundups offer plenty of different styles and colors, including clear cases. Many choose clear so they don't hide the beautiful design and color of the Galaxy S8.
Read: 20 Best Galaxy S8+ Cases
Additionally, Samsung has a slew of different accessories themselves. Most of those come in all four colors. Which again, are Black, Gray, Silver, and Blue.
Which Galaxy S8 Color Should I Buy?
When it comes down to it, the Galaxy S8 color option a user chooses is completely up to them. Honestly, does it really matter though? They all look great. In a survey of nearly 30,000 iPhone buyers from 2015, the black option was the most popular. The rest all ended in a tie. Here's the bottom line on picking a Galaxy S8 or S8+ color.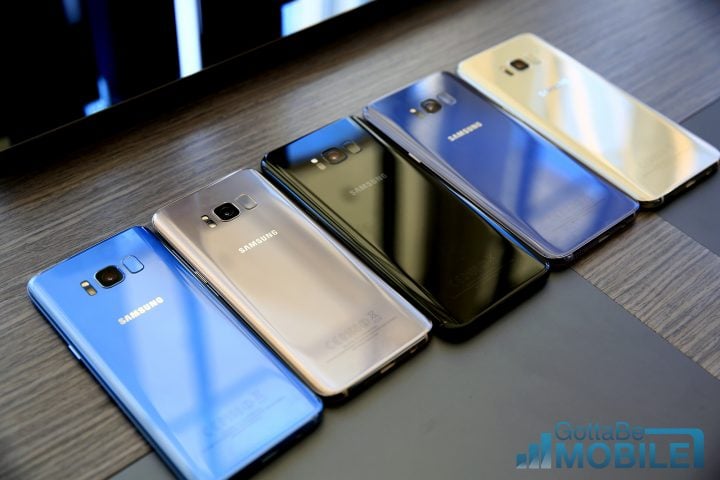 Midnight Black – You'll be watching a lot of movies, you don't like white phone fronts, and just love the sleek look and finish.
Orchid Gray – A good middle ground that is fancy and flashy, but not too bright or shows every single fingerprint. You won't use a case.
Arctic Silver – You want a bright, vivid and crisp color that stands out from the rest. In certain light and angles, it may even look gold. You probably won't use a case.
Coral Blue – You want a uniquely beautiful and noticeable Galaxy S8. Coral Blue is bright, eye-popping and looks great outdoors with the sun shining on it.
Let us know which Galaxy S8 or S8+ color you plan on buying, or if it really even matters. At the end of the day, a large majority of owners will simply opt to use a case. This covers up the color but protects the curved glass screen. For any other details check out our Galaxy S8 Portal.

As an Amazon Associate I earn from qualifying purchases.