6 Things the Galaxy S8 Tells Us About the Galaxy Note 8
The Galaxy S8 is readily available, but that doesn't mean we can't start looking ahead to what's next. Which is the Galaxy Note 8. When we combine the recent launch of the Galaxy S8 with early Note 8 rumors, it gives us some insight on what Samsung could deliver next. Even if the Galaxy Note 8 release date is still months away.
After a short delay following the Note 7 recall, Samsung announced and debuted the Galaxy S8 at the end of March. Both phones have a beautiful design with stunning Infinity Screens. By shrinking the bezels and ditching the home button we have tons of room for a screen bigger than the Note, without making the phone too big.
Read: Everything You Need to Know About the Galaxy S8
The Galaxy S8+ is Samsung's best smartphone to date. Similar to past models yet bigger, better and faster in every way. Something we expect to continue right into the Galaxy Note 8 release. Considering the Note 7 was almost identical to the Galaxy S7 Edge, we could see something similar later this year for the next Note. Read on for more details.
In 2016 the Galaxy Note 7 arrived earlier than anyone expected, with an early August announcement and release date. This was faster than the Note 5, and almost two months ahead of the Note 4 the prior year. Yes, Samsung skilled the Galaxy Note 6 for those wondering.
So what does it all mean for the Galaxy Note 8 this fall? Well, if the Galaxy S8 release date is any indication the Note 8 could be Samsung's biggest and most ambitious smartphone yet. We're talking about a 6.4-inch Quad or 4K display and much more.
Here's what we could see based on leaks, rumors, plausible upgrades, and what we're seeing from Samsung in the Galaxy S8.
Galaxy Note 8 Release Date
Considering the Note 5 and Note 7 both arrived in August, it's safe to assume something similar will ring true in 2017. That said, the Note 7 recall could have Samsung being a little more cautious, ending with a delayed release similar to the Galaxy S8.
Based on past releases and Samsung's upgrade cycle the Galaxy Note 8 will be announced and released in August, or very early September. If it follows the S8 and S8+, we could be waiting until September. However, a new iPhone or two will debut in September, and Samsung will surely want to beat them to the market. Keep that in mind.
Bigger Quad or 4K Infinity Display
No one expected the Galaxy S8 or S8+ to be bigger than the Galaxy Note lineup, but that's exactly what happened. This year the S8 has a massive 5.8-inch Quad-HD Infinity Display with almost no bezels. The front is nearly all screen and bends off the edge with stunning clarity. It has a curved screen.
Then we have a larger 6.2-inch Galaxy S8+ with a bigger battery and more screen real estate. However, the phones aren't much bigger physically. Samsung removed the home button and slimmed down the bezels to make room. Both devices are .7-inches bigger.
When you consider those numbers, it's quite reasonable to believe the Galaxy Note 8 will have a 6.3 or 6.4-inch 4K Infinity display. Samsung's first 4K screen in a smartphone. The Note line is always on the cutting edge with the latest tech, so that makes perfect sense.
It's still far too early for reports and rumors, but rest assured they are coming soon. Shown above is a recently leaked image that is NOT the Galaxy S8. It could be an early S8+ prototype with dual cameras, or it could be our first look at the Galaxy Note 8. So far all rumors suggest it will indeed have two cameras on the back.
We know Samsung put the fingerprint scanner on back, but wanted an optical sensor in the glass up front. If they manage to do that later this year the Galaxy Note 8 will have a fingerprint scanner in the screen which leaves room for two 12 DualPixel cameras on the back. Would you buy a phone with a 6.4-inch display if it was about the same size as the Galaxy Note 7 from 2016?
Similar Design and Approach as Galaxy S8
In case you didn't know, the Galaxy Note 7 was almost identical to the Galaxy S7 Edge from early 2016. Samsung added a bigger screen, made it slightly wider, and tossed in their popular S-Pen stylus. There weren't too many upgrades overall, but it was still a great phone before it was inevitably recalled.
Most likely Samsung will do the exact same thing this year. And while they may be facing pressure from a new iPhone 8 (or iPhone X) we're expecting the Galaxy Note 8 to look extremely similar to the Galaxy S8+ that's available right now.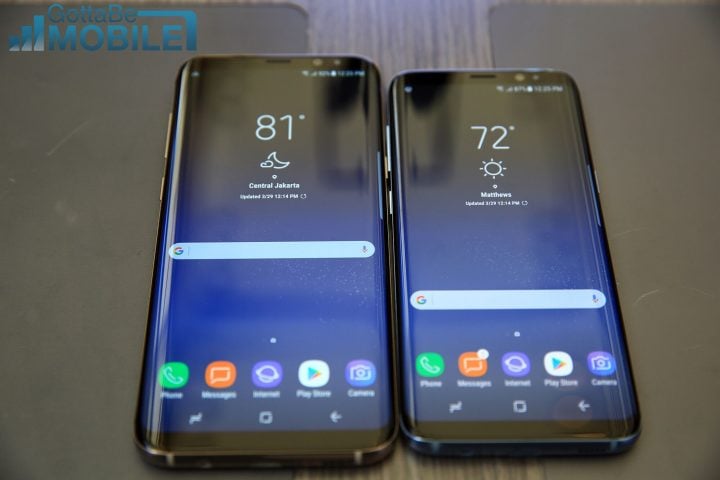 Meaning the screen will be bigger and curved, there will be no bezels, and users will enjoy a premium metal and glass design. There will be an S-Pen stylus built-in, water-resistance, a microSD slot and more. Potentially having no visual changes aside from the bigger screen or dual cameras. It's a design everyone loves so far, so why change it? Instead, expect them to refine everything a little bit and continue their dominance.
There will only be one Galaxy Note 8, and it will have a curved display. We don't think Samsung will be going back to flat screens anytime soon. Get used to it.
Note 8 Specs & Camera
The Galaxy Note lineup always has the latest and greatest technology. Because it's released later in the year and there is more time to prepare. While it's far too early for any spec sheets, below is what we could see from the Galaxy Note 8 based on previous phones and upgrade cycles, what's available now, rumors, and what we'd like to see.
Galaxy Note 8 Specs (Speculation)
6.4-inch 2960 x 1440 Quad-HD Infinity Display – or a 4K Display
Samsung Exynos 8-core Processor with 6GB of RAM
64 or 128GB Storage with micro-SD support to expand storage
Android 8.0 "Oreo" or the latest software
Two 12 DualPixel Cameras with IOS, similar to the Galaxy S8
8 MP Front Camera with f/1.7 aperture
Premium all metal design
In-Glass Optical Fingerprint Sensor, Iris Scanner, Samsung Pay, USB Type-C
S-Pen stylus (Could have a fold out design that doubles as a kickstand)
3,400 mAh Battery with Fast Charge (QC4.0), Fast Wireless Charging
IP68 dust and water resistant
more
It's quite the list, but everything mentioned above is highly possible for the Galaxy Note 8. Samsung typically uses its own processors, adds more RAM, the latest cutting edge features, and slightly more than the Galaxy S line from earlier in the year.
Early Note 7 rumors last year suggested the S-Pen would fold out and double as a kickstand, which was neat but never happened. Could it finally come with the Galaxy Note 8? Giving Samsung one more feature, and more room for a bigger and safe battery.
The image earlier could just be a Galaxy S8 prototype before the fingerprint scanner had to be moved to the back. Or it's the Galaxy Note 8. Either way, it appears that Samsung is toying with the idea of dual cameras to compete with the iPhone Plus.
Latest Android Software
Samsung typically tries to release their phones with the absolute latest version of Android. Just like the Note 7 came with Nougat, and the Galaxy S8. And while they aren't on the latest 7.1.2 release, it's already running Google's new software.
Considering Android O is already being tested and set for a "fall release" we could see the Galaxy Note 8 be one of the first to launch with Android 8.0 "Oreo". Or whatever it will be called.
Again, it's far too early to speculate on most things. However, just know that Samsung's Galaxy Note 8 will have up-to-date software. Whether that's Android 7.1.3 Nougat or Android O.
Safe & Better Battery Life
It's no secret that Samsung had a stressful and trying end to 2016. The Galaxy Note 7 had to be recalled due to exploding battery cells. It's a bad situation that the company wants to put behind them.
Samsung now has a market-leading 8-point battery check for all new devices, and tons of advisory boards in place. This ensured the Galaxy S8 was safe but also didn't get an upgrade in the battery department. They have the same 3,000 mAh battery as the Galaxy S7, and the new Galaxy S8+ is actually 3,500 mAh. A hair smaller than the battery in the Galaxy S7 Edge. This was to be on the safe side, and we can't blame them for it.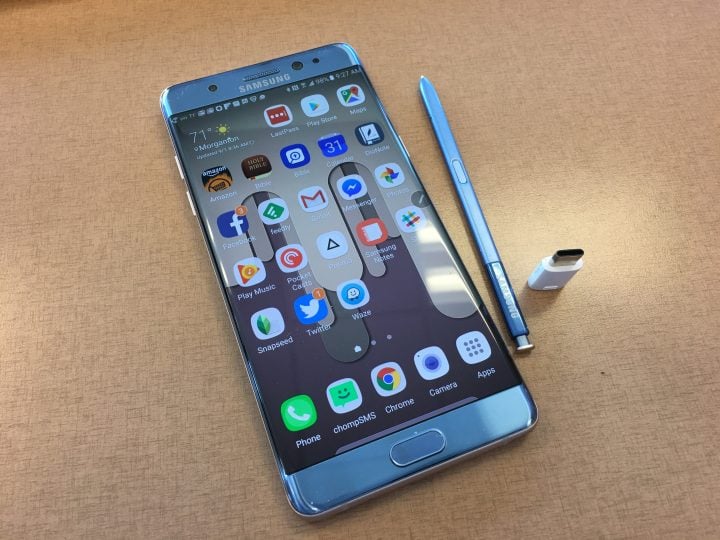 However, the Galaxy Note 8 will be a year-removed from the situation. Having a huge screen means even more room for a bigger 3,700 or 4,000 mAh battery (like the S7 Active) and other improvements in this area. As a result, we're expecting truly great battery life, and anything else Samsung can do to win back the hearts and minds of users.
With the Galaxy S8 Samsung found a way to cut down on battery degrading. After 1-year of daily recharges it can retain 95% of a full charge. Most devices only can use about 80%, because batteries simply degrade over time. Expect further advancements with this, bigger safe batteries, and more for the Galaxy Note 8.
Final Thoughts
In closing, just know that we already have a very good idea of what to expect from Samsung in late 2017. A phone that's similar to the Galaxy S8 but bigger and better will likely complete the Galaxy Note 8.
Using the same beautiful new Infinity Display with smaller bezels, upgrades across the board, and other refinements. This could be the year they deliver a new 4K display, but dual cameras make more sense for most users. Who knows. They could surprise everyone completely, but only time will tell. Stay tuned for more details as they become available.
Galaxy Note 8: 5 Reasons to Wait & 4 Reasons Not To
Wait If You Want the Best Display
If you want the biggest and best smartphone display on the market, Samsung's Galaxy Note 8 will be the phone to buy. In fact, we're hearing it will have a huge 6.3-inch Infinity Display that looks great. Earlier this year the company debuted the Galaxy S8 and Galaxy S8+. Both of those phones have bigger screens than any prior year, and tiny bezels or black bars around the screen.
The Galaxy S8 release tells us a lot about the upcoming Galaxy Note 8. Samsung will likely offer a similar screen where there are no physical button or a fingerprint scanner. It's all screen on the front. The sides will curve off the phone, and the black bars of bezel at the top and bottom are very minimal. Which gives it an edge-to-edge look Samsung calls an Infinity Display.
Samsung went from 5.5-inches in the Galaxy S7 Edge to 6.2-inches with the Galaxy S8+. The company offered the same big jump from the Galaxy S7 to the Galaxy S8, and we anticipate the same for the Galaxy Note 8.
If you want a big 6.3-inch 2560 x 1440 Quad-HD Infinity Display with tons of space for apps, games or business, the Galaxy Note 8 will be worth waiting for. Recent leaks suggest the bezels could be smaller than what we see with the Galaxy S8 too, making it feel like the entire phone is all screen on the front.

As an Amazon Associate I earn from qualifying purchases.