Which iPad Air 3 Color to Buy?
You can buy the iPad Air 3 in three colors. Apple offers the standard Silver, the Apple identifying Space Gray and Gold. We'll help you decide which iPad Air color is best, and cover the important things you need to know about before you choose your color. Ultimately the choice is yours, but there are a few things to consider outside of just the overall look of your new iPad.
The all new iPad Air 3 uses two of the standard colors we've seen on the iPad Air before, and a new version of gold that matches the new iPhone models. You can see the iPad Air 3 colors on Apple or you can stop into a local store that stocks the iPhones or iPads and check out the colors. Once you pick a color, here's our guide on how much iPad Air 3 storage you need.
Space Gray is the most popular iPad Air color with Gotta Be Mobile readers and Gold came in a close second during a survey of nearly 6,000 readers. We saw similar results with iPhone models.
| | | |
| --- | --- | --- |
| | | |
| Silver | Space Gray | Gold |
| Buy the Silver iPad Air 3 if you want a clean look that works with any case. The silver iPad Air 3 is a classic color and it's going to hold up well over time. The white bezels can be distracting while watching movies. | Buy the Space Gray if you want a standout color and black bezels that are great for watching a lot of movies. You don't need to worry about a lot of scratches, but this darker color will show wear more than the others. | Buy the Gold iPad Air 3 if you aren't going to use a case and want a color that draws attention. The Gold iPad color holds up well to wear and offers a nice alternative to Silver. |
| | | |
Bezels Before All Else
The most important thing to think about when you pick an iPad Air 3 color isn't the color choice Apple lists online — it's the color of the front bezel. The options here are white and black.
This is the part of the iPad Air that you will see all the time when using the iPad and it can make a big difference when watching movies and TV shows on the iPad Air 3.
There is a reason that most TVs use a black bezel. It fades into the background better and lets you immerse yourself into the movie more. A white bezel is going to catch your attention more, like a great frame on a pretty painting.
Buy the Silver or Gold iPad Air if you want a white bezel that catches your eye and makes itself known.
Buy the Space Gray iPad Air if you plan to watch loads of TV and movies and want the bezel to fade into the background.
Scratches, Wear and Tear Oh My
Ultimately you will want to think about how your color choice will hold up over time. The good news is that you don't need to worry about it that much. Here's what you do need to know.
Apple's expertise in using anodizing to color tech products is proven, but you can still see scratches and other wear on darker colors like Space Gray more than on Gold or Silver. That's due to the color and partially the anodization process. It's not a big enough issue to make us think twice about Space Gray, but you may not want to see even the smallest scratch after a year of use.
The bezels on iPhones and iPads don't fade or turn yellow with UV exposure. We've tested this with our own iPhones and iPads for years, and it's not something you need to worry about.
One issues that we've experienced with the older gold color option on the iPhone is discoloration from a build-up of seat and dirt between the iPhone and a case. This hasn't been an issue with the new glass back iPhones, but you may want to keep it in mind as you pick a color. The solution is simple though. Take your iPad out of the case every month or two and clean it, especially if you let a kid use it.
Just In Case
Are you planning to put your iPad Air 3 in a case? If so, you'll want to consider how the color looks with a case. You can see these color options from the official Apple cases and the Smart Keyboard to get an idea. You can also buy a lot of clear iPad Air 3 cases that allow you to show the color you chose from Apple.
If you use a case, the biggest part you will see is the bezel, which takes us back to the first section of this guide, and puts your choice between white and black instead of Silver, Space Gray and Gold.
You can also check out skins that allow you to change the color of your iPad Air 3 back and even the bezel, which is a nice option if you don't see a color that strikes your fancy.
2 Reasons to Pre-Order the iPad Air 3 & 4 Reasons to Wait
Pre-Order If You Want the 2019 iPad Air ASAP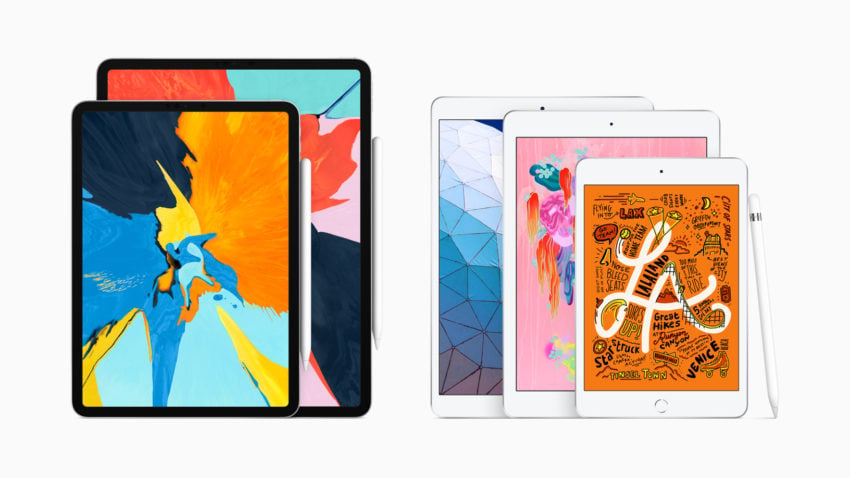 If you've been waiting for Apple to deliver a new iPad Air and you're sold on the iPad Air 3 and want it as soon as possible for yourself or your business, you should pre-order.
We don't expect every single iPad Air 3 model to sell out ahead of its official release next week, but we could see some shipping times pushed back as we approach the release next week.
If you've got your heart set on a very specific color in a very specific storage configuration, you might want to put in a pre-order now to ensure that you get release date delivery.
If you pre-order the iPad Air 3 today you should get guaranteed delivery for March 29th-April 2nd. And if you pre-order through Apple, shipping is free.