1 Reason to Use iPhone Automatic Updates in iOS 12 & 4 Reasons Not To
With iOS 12 you can turn on automatic updates for your iPhone or iPad. This new option will automatically download and install new iOS updates as they arrive later this year and beyond.
While this sounds like a great way to save time, stay secure and be up to date — it's a feature that we recommend turning off.
The Automatic Updates are off by default, but when you install iOS 12 you get prompted to turn them on, and many users may have already enabled them on that screen.
This is separate from the automatic app updates that Apple added several iOS updates ago.
Here's a look at the reasons to use the iPhone automatic updates and the reasons most users should skip this new option on iOS 12.
Use It If You Always Want to Be Up To Date
Do you always want to be up to date with your iPhone? If you do, and you don't like taking the time to install updates this is the option for you.
It's something that I'm tempted to turn on for my iPad Pro, which is a device I like, but isn't an essential part of my every day kit.
With automatic updates turned on, the iPhone or iPad will automatically download the update when connected to power and WiFi, and then install it -overnight.
You will get a notification before the update takes place. It will likely look like the reminder iOS devices show if you don't install an iOS update for several weeks.
Don't Use It If You Hate Problems
The biggest reason you should make sure automatic updates are turned off on your iPhone is if you don't like problems.
There are always errors, issues and problems with new iOS updates. This can be a very small problem that is annoying, or it can be a bug that breaks the experience and leaves you without a feature or option you need every day.
We recommend users explore the iOS 12 problems and read more about the reasons to install and reasons not to install iOS 12 before updating.
If waking up to a fresh iOS 12 update and the problems that go with it sounds annoying, make sure this feature is off. We've seen an iOS update break screens and even one knock out service.
Go to Settings -> General -> Software Update -> Automatic Updates -> Off.
Don't Use It if You Travel All the Time
We regularly caution users not to install iOS updates while traveling due to the potential for problems, busier schedules and being away from your home base where a backup might be.
If you travel all the time for business or pleasure, we recommend leaving automatic updates off. This will prevent an update from installing when you don't expect it and leaving you with problems, or potentially with apps that no longer work right when you need them the most.
Don't Use It If You Don't Backup Regularly
If you aren't using iCloud to backup your iPhone every time you plug it in and it's connected to WiFi you definitely shouldn't automatically install updates.
In most cases you can install iOS updates without any problems, but sometimes there are iOS installation problems that cause you to lose the data on your iPhone or iPad.
When you have a backup this isn't a huge problem, but if you are without a current backup, you'll be mad.
If you don't automatically backup, you shouldn't be automatically updating your iPhone or iPad.
Don't Use If You Have a Work Phone
In most cases your IT manager may already have a way to prevent automatic updates, but at smaller businesses this might not be the case.
If you have a work iPhone, you may not want to install iOS updates as soon as they come out. There is a chance that an app you use for work, will no longer work with a new update. This is pretty rare with apps from the app store, but if your employer has a custom app it may not get updated as frequently.
Either leave this off and check with IT before you update, or see if they have a preference about using the new automatic updates feature on iOS 12.
iOS 12 vs iOS 11: What's New in iOS 12.4.1
iOS 12.4.1 Features and Fixes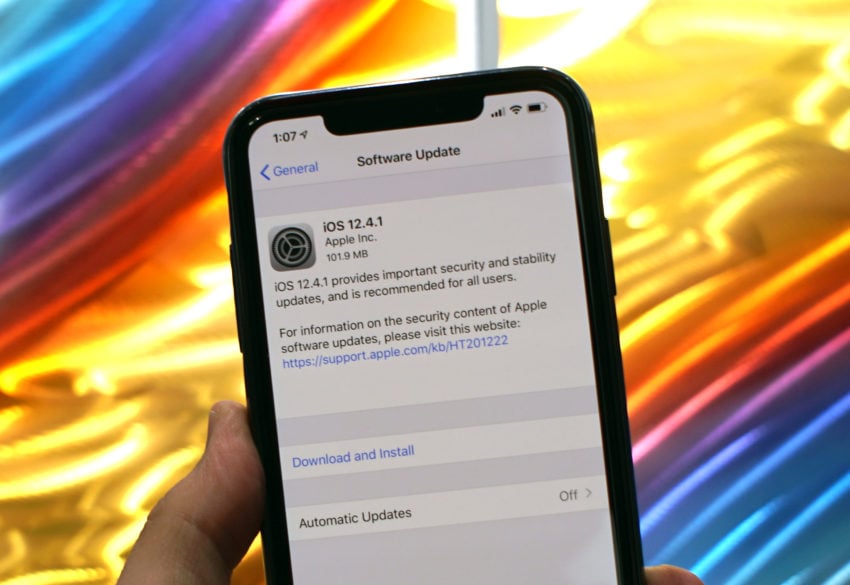 The iOS 12.4.1 update focuses on security fixes for a major bug that Apple fixed once before, but that is back in iOS 12.4. This security issue would allow an app to essentially gain full control over your phone.

Available for: iPhone 5s and later, iPad Air and later, and iPod touch 6th generation
Impact: A malicious application may be able to execute arbitrary code with system privileges
Description: A use after free issue was addressed with improved memory management
This is what allows people to jailbreak iOS 12.4, which is a plus for some users, but most users will want the security that comes from iOS 12.4.1.