Xbox One Black Ops 3 Beta Problems Frustrate Users (Update)
The Xbox One Black Ops 3 beta is finally working after a nearly 24 hour delay that included a series of problems related to the game's download codes.
As expected, it looks like the Xbox One Black Ops 3 beta is now functioning. We were able to redeem our tokens both online and on the Xbox itself.
We successfully downloaded the Xbox One Black Ops 3 beta in about 30 minutes or so. We downloaded the 13.7GB file over a wired high-speed Wi-Fi internet connection.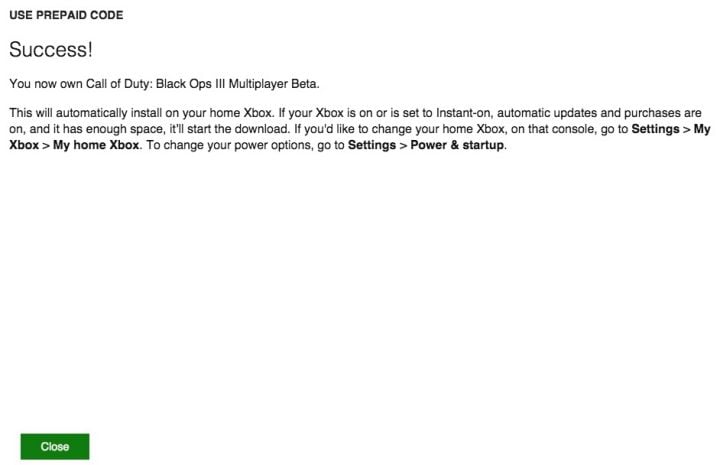 If you're not at home, you can redeem your code online through Xbox.com and it will start automatically if you have that setting turned on.
—
The Xbox One Black Ops 3 beta has begun only users have been unable to redeem their beta tokens. These initial Black Ops 3 Beta problems are frustrating those who have been waiting for weeks to play the game.
A short time ago, Treyarch released the Xbox One Black Ops 3 beta tokens to those who pre-ordered the game and entered their promo code on the Call of Duty website. These tokens are supposed to allow Xbox One users access to the highly anticipated Xbox One Black Ops 3 beta. Problem is, the beta tokens aren't working.
Two hours ago, Treyarch announced the start of the Xbox One and PC Black Ops 3 beta. The announcement coincided with the release of the beta tokens necessary to download the Xbox One Black Ops 3 beta. A short time later, after a barrage of messages, Treyarch confirmed that its dealing with issues with beta codes.
We're tracking an issue regarding #BO3Beta codes. We are currently investigating and will let you know more when we can…stand by.

— Treyarch Studios (@Treyarch) August 25, 2015
While the company has acknowledged that there is a problem with the Xbox One Black Ops beta codes, it hasn't detailed when Xbox One users can expect a fix. We've been trying to input our Beta Token and our Friends Beta Tokens for the past hour and none of them are working. The Xbox One Black Ops 3 error code looks just like the one below.
@Treyarch I got this error with all three codes. pic.twitter.com/8QFQGmY3ze

— Little B books (@Mutinybooks) August 26, 2015
It appears that others are in the same boat and Xbox One Black Ops 3 beta users have taken to social media to blast Treyarch for these initial Black Ops 3 beta problems.
@Treyarch Yes please, I keep getting an error from microsoft saying the code can't be found :/ — OverAbsorb™ Designs (@OverAbsorb) August 26, 2015
@Treyarch i just want to play this aint cool — cody nance (@wildcoot) August 26, 2015
@Treyarch weres my code ughhhhhhhhhhhhhhhhhhhh — Eklipse Troony (@TroonyEG) August 26, 2015
@Treyarch good job guys way to drop the ball, I cancelled my order. Get your junk together not like this is the first COD game to come out. — IAmASigEpMan (@HazedRagedSigEp) August 26, 2015
While some Xbox One users are unable to access the beta, it appears that some have had limited success with one user claiming that his download is going to take approximately two hours to complete.
@Treyarch it took my codes and now I can't find them again — Børíçüå #YPN (@Astral_Boricua) August 26, 2015
@Treyarch ITS TAKING 2HOURS TO DOWNLOAD — Shav (@notShav) August 26, 2015
At this point, there doesn't appear to be a workaround for these frustrating Black Ops 3 problems. In other words, it looks like Xbox One users who took off work to play are going to have to remain patient at Treyarch works through these initial problems with the beta.
Treyarch does say that Microsoft is looking into the Black Ops 3 beta problems but neither company has provided a timeframe for Xbox One users. Those interested in playing tonight will want to keep an eye on Microsoft's Xbox Status page for real time updates.
We're aware of the issues you might be seeing with your Black Ops 3 beta codes. We're looking into it now: https://t.co/PzAdjUFMJj

— Xbox Support (1-5) (@XboxSupport) August 26, 2015
Installation problems aren't the only Xbox One Black Ops 3 problems. Others are running into issues finding their Black Ops 3 beta tokens. If you are unable to find your token, check your spam folder in mail.
If you're still unable to find your token, take a look at our guide that will run you through the steps to take to download the Xbox One Black Ops 3 beta. If none of that helps, contact the retailer that sold you the game.
We also expect to see issues with the game itself. PS4 users dealt with a number of beta issues and we could see some of the same problems hamper the Xbox One beta. Hopefully, they take this guy's advice and extend the Black Ops 3 beta like they did with the PS4 beta.
@Treyarch make the Beta Longer for this

— ️ALBY (@AlbyPlays) August 25, 2015
Xbox One Black Ops 3 Beta: 10 Things to Try
Try Out Each Specialist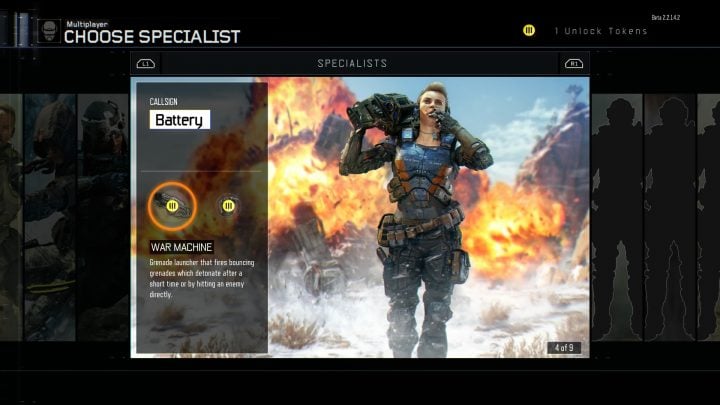 Black Ops 3 is going to be introducing several new elements to the Call of Duty franchise. One of the biggest is the addition of Specialists. Specialists come with their own look but more importantly, they come with unique weapons and abilities.
Here's the breakdown of the Specialist classes that you'll most likely encounter during the Xbox One Black Ops 3 beta:
Battery: Battery operates ahead of the front lines. Her War Machine fires salvos of bouncing grenades, while her Kinetic Armor can deflect enemy bullets when active… though she remains vulnerable to headshots and non-bullet damage.
Ruin: A reckless infantry soldier who prefers to surprise his enemies. He rushes into battle with his Overdrive ability, and can deliver a devastating shockwave with his Gravity Spikes.
Outrider: A hunter-tracker who stalks her prey from afar before moving in for the kill. Use her Vision Pulse ability to reveal the location of nearby enemies or her Sparrow compound bow with its deadly explosive bolts.
Prophet: Prefers to disrupt opponents' tactics before moving in for the kill. His Tempest is a charge-shot weapon that delivers chain electricity to all nearby enemies. He can confuse enemies with his Glitch ability, which flashes him back to a previous position.
Seraph: Known for extreme focus and discipline in combat. Her high-caliber Annihilator revolver fires powerful rounds with increased bullet penetration taking out enemies with one shot. She's also able to earn Scorestreaks more quickly using her Combat Focus ability, which triggers a brief bonus multiplier.
Nomad: Prefers to turn the environment against his enemies. Case in point: His H.I.V.E. weapon, which deploys trap pods filled with deadly nano-drones. When near death, Nomad can recover using his Rejack ability.
You'll want to try out each Specialist so that you develop a comfort level with one or more of them. There's a good chance that one will fit your style better than the other so you'll want to use the beta to do a bit of experimentation.
In order to really dig in though you'll need to play as each one. As you level up, you'll gain unlock tokens that allow you to access new weapons and abilities. So, give each a shot and that way, you'll be better prepared for the public release in November.

This article may contain affiliate links. Click here for more details.