Xbox One Black Ops 3 Beta Release Details
The Xbox One Call of Duty: Black Ops 3 beta starts on August 26th, but there is some hope that it will come a day early. After spending time with the first Black Ops 3 beta, here is a look at what Xbox One users can expect from the new Call of Duty beta.
You need to pre-order Call of Duty: Black Ops 3 to play in the beta at the start, but there may be a chance to join up later even if you didn't put cash down.
Read: Xbox One Black Ops 3 Beta Problems Frustrate Users
From when you can start downloading the Xbox One Black Ops 3 beta to important things you need to know, here is a fast look at what PC and Xbox One owners need to know about the Call of Duty 2015 beta.
[contextly_sidebar id="xKn332UdapXRjuiO1WYOXYKh6kLxbrC8″]
Xbox One Black Ops 3 Beta Start Time
Officially the Xbox One Black Ops 3 beta start time is on August 26th, but after Treyarch and Activision delivered an early start to downloads on the PS4 there is a good chance Xbox owners will get the same treatment.
There is no confirmation of the early start, but we are hopeful that Activision will send out the download codes early again so users can start to play today, or at least start the download.
Xbox One Black Ops 3 Beta Token Delivery Time
Assuming you already registered for the Call of Duty: Black Ops 3 beta you just need to get your Xbox One Black Ops 3 beta token to download the game. This is a Xbox code that you will enter on your console or online on Xbox.com to claim your download.
Read: How to Download the Xbox One Black Ops 3 Beta
If this is anything like the PS4 beta, you should get three codes. This includes one for yourself and two to share with friends.
Update: There is a problem with Xbox One beta codes that Treyarch is working to fix. 
Look for an email from Call of Duty <[email protected]> in early evening Eastern with the subject, "Your Black Ops 3 Beta Token Is Inside" and be sure to check your spam folder. The PS4 version arrived at 7 PM Eastern. 
Prepare for the Xbox One Black Ops 3 Beta
The Xbox One Call of Duty: Black Ops 3 beta is between 12-15GB in size, so make sure you have free room on your console. You should also make sure that you have a fast connection at home. If possible run an Ethernet cable to your console for the download as it will be faster.
There is not any type of pre-load for the Xbox One Black Ops 3 beta, so you will need to wait for your token to arrive before you can install the beta on your Xbox One.
Use this guide to prepare for the Xbox One Black Ops 3 beta with details on specialists, new movements, and other important details like making sure your Xbox Live subscription is up to date.
Update 2: If you are still waiting on the code to register with Call of Duty and you pre-ordered at Best Buy, use this guide to get your Xbox One BO3 beta code. 
Expect Xbox One Black Ops 3 Beta Problems
There will be problems during the Xbox One Black Ops 3 beta. This is, by definition, a place for Treyarch and Activision to test the servers and the multiplayer component of the game.
Count on some downtime as you try to connect to matches and there is a good chance you will see some errors as you attempt to play games. During the PS4 beta, there were multiple times where matchmaking went down for some users as Treyarch pushed out new updates locally and online.
Follow Treyarch on Twitter for updates and information about any problems. Here are some of the common Call of Duty: Black Ops 3 beta problems.
Free Xbox One Black Ops 3 Beta Access
During the final hours of the PS4 beta, David Vonderhaar reportedly told players to expect the same cycle as on the PS4. This likely means that on Saturday or sometime this coming weekend the Xbox One Black Ops 3 beta will open to anyone, even if they didn't pre-order the game or get a beta token from a friend.
On the PS4 this happened Saturday August 22nd, so expect something similar on the Xbox One on August 29th.
Extended Xbox One Black Ops 3 Beta
Based on the information that the Xbox One beta will follow the same play cycle we can count on new modes coming to the game and a level cap increase as the beta continues.
There is also hope that the Xbox One Call of Duty: Black Ops 3 beta will last an extra day like the PS4 version did. There is no confirmation of this yet. Even though Sony and Call of Duty are now in a partnership there is good chance that Treyarch and Activision will show Xbox players the same courtesy.
Xbox One Black Ops 3 Beta: 10 Things to Try
Try Out Each Specialist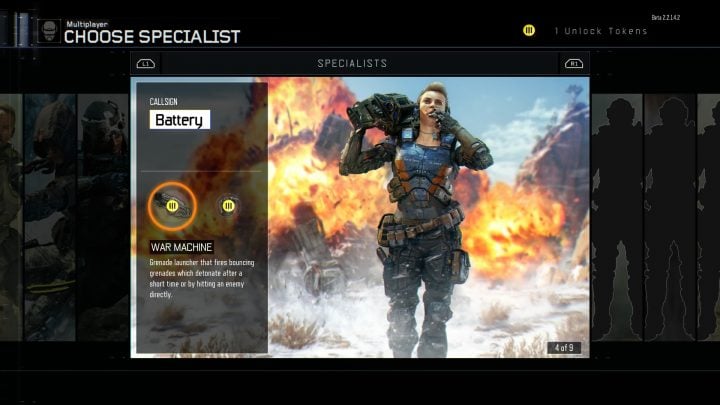 Black Ops 3 is going to be introducing several new elements to the Call of Duty franchise. One of the biggest is the addition of Specialists. Specialists come with their own look but more importantly, they come with unique weapons and abilities.
Here's the breakdown of the Specialist classes that you'll most likely encounter during the Xbox One Black Ops 3 beta:
Battery: Battery operates ahead of the front lines. Her War Machine fires salvos of bouncing grenades, while her Kinetic Armor can deflect enemy bullets when active… though she remains vulnerable to headshots and non-bullet damage.
Ruin: A reckless infantry soldier who prefers to surprise his enemies. He rushes into battle with his Overdrive ability, and can deliver a devastating shockwave with his Gravity Spikes.
Outrider: A hunter-tracker who stalks her prey from afar before moving in for the kill. Use her Vision Pulse ability to reveal the location of nearby enemies or her Sparrow compound bow with its deadly explosive bolts.
Prophet: Prefers to disrupt opponents' tactics before moving in for the kill. His Tempest is a charge-shot weapon that delivers chain electricity to all nearby enemies. He can confuse enemies with his Glitch ability, which flashes him back to a previous position.
Seraph: Known for extreme focus and discipline in combat. Her high-caliber Annihilator revolver fires powerful rounds with increased bullet penetration taking out enemies with one shot. She's also able to earn Scorestreaks more quickly using her Combat Focus ability, which triggers a brief bonus multiplier.
Nomad: Prefers to turn the environment against his enemies. Case in point: His H.I.V.E. weapon, which deploys trap pods filled with deadly nano-drones. When near death, Nomad can recover using his Rejack ability.
You'll want to try out each Specialist so that you develop a comfort level with one or more of them. There's a good chance that one will fit your style better than the other so you'll want to use the beta to do a bit of experimentation.
In order to really dig in though you'll need to play as each one. As you level up, you'll gain unlock tokens that allow you to access new weapons and abilities. So, give each a shot and that way, you'll be better prepared for the public release in November.

As an Amazon Associate I earn from qualifying purchases.