Xbox Scorpio vs. PS4 Pro: 3 Key Differences
The balance of power in the video game space is about to shift again thanks to Xbox Scorpio. At least, Microsoft is hoping that a shift is on the way. For years the company has taken a beating for the Xbox One not being more powerful than Sony's PS4. Some even contribute the difference in performance – and price – to sales of the Xbox One not eclipsing the PS4 on a regular basis. Sony pushed even further ahead of Microsoft with last year's PS4 Pro release. Microsoft is fighting back with an all new console that'll decimate Sony's lead in the horsepower race.
Whereas the Xbox One and Xbox One S offered less power than even the regular PS4, the Xbox Scorpio will take the hardware fight directly to Sony. More memory will let the Xbox Scorpio deliver games that look much better than they did on its predecessors.
The Xbox Scorpio and PS4 Pro are aimed at the same group of people. Both are fighting for the hearts and wallets of gamers that love the ease of using a video game console. These gamers also want better visuals than the consoles released in 2013 can provide today.
Read: Xbox One S vs PlayStation 4 Pro
Here's how Xbox Scorpio compares to PS4 Pro.
Xbox Scorpio vs PS4 Pro: Hardware & Performance
Microsoft announced the Xbox Scorpio back at E3 2016. Even today, we've yet to see what the console actually looks like. We don't even know its real name. Microsoft has been pretty clear on the 'Scorpio" moniker being a placeholder until it's ready to reveal the console's real designation.
Thanks to a new profile in Digital Foundry, we do know what's inside the Xbox Scorpio. The console has eight 2.3Ghz processor cores in its CPU. Its graphics processor was designed by Microsoft and offers "40 compute units," according to the profile on the site. There's 12GB of GDDR5 RAM and enough storage memory to make 326GB/s of memory bandwidth possible. Storage is handled by a 1 TB 2.5-inch hard drive.
Read: PS4 Pro Everything That You Need t Know About PS4 Pro 4
Compare that to the PS4 Pro and the upgrades are clear. The PS4 Pro offers eight 2.1GHz processor cores and 36 compute units in its graphics processor. It has 8GB of GDDR5 RAM. The storage amount is the same.
Xbox Scorpio vs PS4 Pro: 4K UHD Blu-ray Support
Sony is betting that high-definition video streams over the internet will mean no one will care about physical media. Despite the company creating Blu-ray technology, the PS4 Pro doesn't have a 4K UHD Blu-ray drive for the best visuals possible when watching movies. The Xbox One S is one of the most affordable 4K Blu-ray players available. The Xbox Scorpio will have a 4K UHD Blu-ray drive too.
Xbox Scorpio vs PS4 Pro: Games & Support for Older Titles
Of course, hardware alone doesn't make a great console. It's how developers use it. PS4 Pro games offer better visuals than Xbox One games today because of the hardware the console has inside. Developers can use the extra RAM, processing power and resources to improve textures of environments and support higher resolutions with a free update. The higher resolution a game has, the crisper it looks on today's 4K televisions.
PS4 Pro games are PS4 games that take advantage of the PS4 Pro hardware to offer improved graphics. Games that support PS4 Pro have better visuals and higher resolutions. At first, games couldn't take advantage of PS4 Pro unless they had been updated specifically for the console. These games are the only titles that fully support  4K television sets. A recent PS4 update includes a Boost Mode that allows games originally released on the PS4 to take advantage of the PS4 Pro's new hardware. According to a statement sent to Polygon, the feature can result in improved frame rates and shorter loading times.
Read: Xbox Scorpio Games: 4 Things You Need to Know
Dozens of games already have PS4 Pro updates that improve graphic fidelity. More are on the way.
Xbox Scorpio will boost the performance of all games when it launches. That is, every game made for the Xbox One and Xbox One S will be able to take advantage of the console's extra power. Microsoft says that gamers can expect smoother performance, faster loading and less screen-tearing. Games with dynamic resolution scaling will look their best. The Witcher 3, Battlefield 1, Call of Duty: Infinite Warfare and The Division all use this technology.
"With the additional performance of the Scorpio Engine, we expect to see those titles hit the maximum resolution that those titles support," Microsoft's Andrew Goossen told Digital Foundry. Improved texture filtering should help too. It'll be up to Microsoft to decide which games get to take advantage of these features. The company will test games on its end to make sure they don't break and enable whatever each game supports.
Read: Xbox One S vs PlayStation 4 Slim: Which is Better for 4K & HDR Video
Sony has been hard at work building out a stable of PS4 Pro compatible games, but Microsoft is only just getting started. The company hasn't revealed a single Xbox Scorpio game that supports all the new hardware features natively. A Forza technical demo running at 60 frames per second on a 4K television natively was shown to Digital Foundry, but Microsoft hasn't confirmed there's a new edition of the game in the works.
Sony doesn't allow developers to create games only for the PS4 Pro. They also have to make versions on the standard PS4. Developers can't make Xbox Scorpio games without that same game being available on Xbox One and Xbox One S with the exception of VR games. Xbox Scorpio games that use VR technology won't work on the Xbox One or Xbox One S. Microsoft's Aaron Greenberg confirmed this to Engadget. PlayStation VR games work on the PS4 and PS4 Pro.
Xbox Scorpio vs PS4 Pro: What We're Waiting to Learn
We can't make hard judgments about which of these consoles you should by right now because we're waiting on other details for Xbox Scorpio.
Chief among these things is the Xbox Scorpio price. We still have no idea how much the Xbox Scorpio will cost. The PS4 Pro is $399.99 new.
It still remains to be seen how many games will launch with full support for Project Scorpio's hardware. Remember, older games will run better and load faster, but developers will need to build in specific support for 4K visuals.
Until we learn more about the Project Scorpio, one thing is clear. It's certainly more powerful that PS4 Pro. Microsoft will just need the games to back it up and a price that's competitive.
8 Best Free Xbox Games: January 2018
Warframe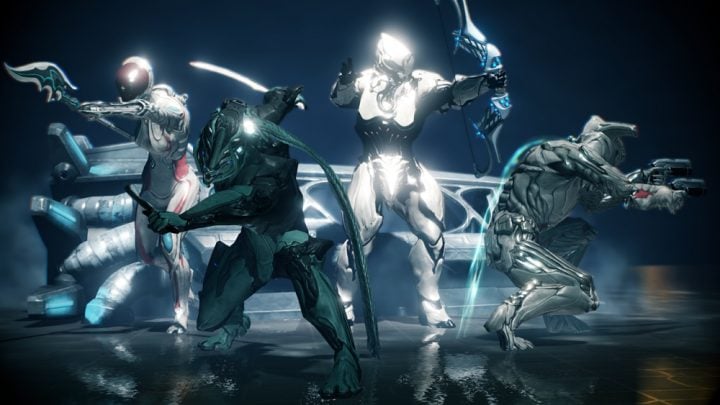 Many free-to-play games revolve around strategy or civilization building. Warframe is one of the free Xbox games that you can download now that doesn't. It's a third-person shooter.
The Tenno have just awoken after centuries of sleeping in stasis. Warframe takes its name from the suits that the Tenno use to do battle with the game's other races. There's the Greiner, who are clones of humans. The Corpus belong to a technology company with lots of robotic innovation at their disposal. Sentients consist of an alien race that's back to do battle.
Warframe features both player-vs-player combat and a single player experience.


As an Amazon Associate I earn from qualifying purchases.