2018 Dodge Challenger GT Review
The 2018 Dodge Challenger GT is an an-wheel drive (AWD) muscle car that hits all the right notes even if you only have a V6 under the hood. The Challenger GT can be your daily driver even if, like me, you live in Ohio and need to deal with snow and ice regularly. The modern muscle look of the Challenger hasn't changed much in the last decade, but it pulls off the muscle look with curves where they are needed and a beastly look that commands attention.
Destroyer Grey is an epic color choice for the large and in charge Challenger GT. This is a big car, so you get plenty of room for front seat passengers and a massive trunk. It's easy to learn where the corners are, so parking isn't much of a challenge. Despite the big size and weight, the car handles well on corners with a little body roll and it does a decent job of handling pot holes and uneven pavement — though you will definitely feel the potholes Waze warns you about more than you're used to.
Combine all that with Apple Carplay, Android Auto, Dodge Performance Pages and convenience features like adaptive cruise control and blind spot monitoring and the 2018 Challenger GT is easily a daily driver and, as I discovered, a great companion for a road trip across the state. I tested the 2018 Challenger GT which starts at $33,495 and came equipped at $41,155 with destination.
[letsreview]
2018 Dodge Challenger GT Driving & Performance
You cannot buy a Dodge Challenger GT V8 model, likely due to there not being enough room to handle the V8 and the AWD setup. While there is a part of me that longs for the sound of a V8 and the power you find in a Hellcat or the Demon, the 3.6L V6 is plenty of power for many drivers and in the GT it's at a sweet spot with the AWD.
The 2018 Dodge Challenger GT 0-60 time is officially 6.3 seconds. With launch control and manual shifting I was able to go 0-60 in 6.7 seconds without much practice. While the Hellcat and Demon are faster, the Challenger GT is more affordable and is actually a muscle car you can daily drive where it snows and rains for half of the year.
I wasn't able to drive the Challenger GT in snow, where the AWD would shine, but I tested it on ice and in plenty of rain and it handled extremely well. The Challenger GT AWD is on when you need it and then the car switches to RWD when you don't. It's good about switching and you can see this at a glance in the center instrument cluster. I felt confident and in control while driving through nasty rain even on curvy roads on the outskirts of Akron. The car automatically enables AWD when it's cold enough or when it detects wheelspin. You can still get a little bit of a slide into a corner with the GT, so you don't have to give everything up to get that daily driver control.
On one of the few dry days I tested out the Performance Pages, including the Launch Control and timers that let you test your 0-60, quarter mile and other times. Even in Sport mode Launch Control isn't that impressive on the Challenger GT. If I didn't need AWD, i'd take the Challenger Shaker with 392 HEMI in it in a heartbeat, but I wouldn't be driving it in the winter.
At 21MPG combined the Challenger GT isn't sipping fuel, but it's not that bad. We saw 21 MPG combined spot on through our time with the Challenger and highway efficiency was right around 27 MPG.
2018 Dodge Challenger GT Design and Interior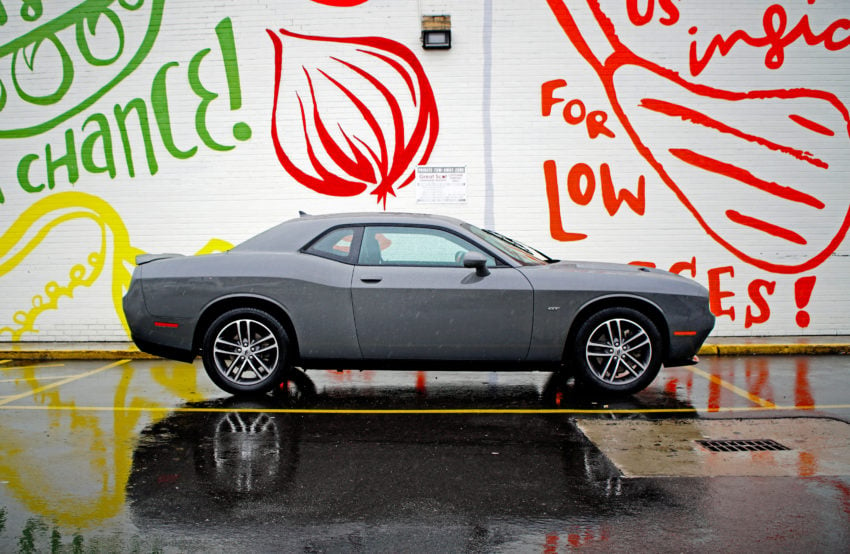 The Challenger GT design isn't dramatically different from the other Challenger models and it is very similar to the styling for the last few years. This distinctly modern muscle look pulls off stylish power well, embracing the distinct Challenger style while offering an up to date look.
It's a big car and that definitely takes some getting used to as you maneuver through tight spaces, but it's easy to see where the corners of the car are so you know where you are in relation to other cars.
Inside the GT Interior package upgrades you to Nappa and Alcantara premium seats, which came in a delicious deep red that carried over to accent stitching on the trim and seats. The center console is wrapped in a silver trim and there is plenty of room for a few drinks and small cubbies to stash the other items you accumulate on a road trip or while driving to and from work and school every day.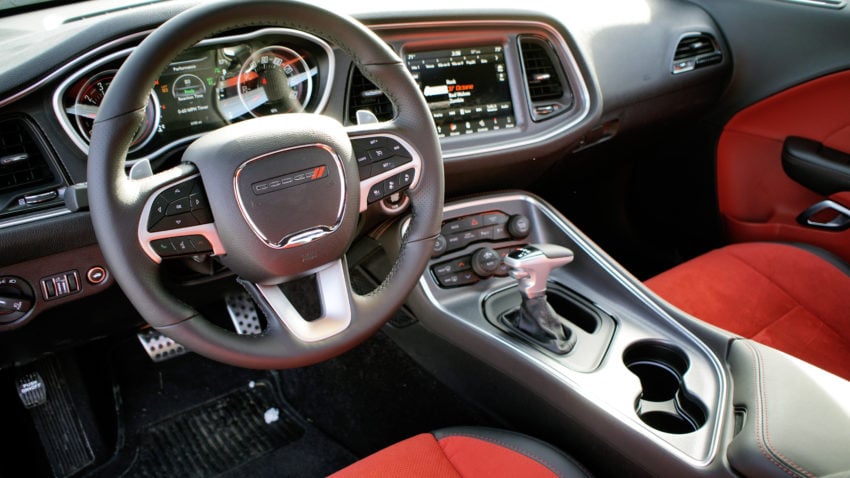 While I was testing the Challenger I was watching a my neighbor kid who is obsessed with cars and he loved the interior on the Challenger, in fact when we took friends' kids for a ride they loved the red and black interior. The backseat can hold at least one adult with the front passenger moving the seat up very far, but this is a car for two adults, not three or four. Young kids fit well in the back seat with booster seats, but I wouldn't want to be removing a car seat on a regular basis.
The trunk is huge, so you can fit plenty of luggage, groceries or the gear that your hobbies demand in there.












2018 Challenger GT Tech & Safety
While the exterior looks very familiar, the technology has changed dramatically over the years. The 2018 Challenger GT comes with a 8.4-inch UConnect infotainment system standard. This includes Sirius XM, Apple CarPlay and Android Auto support. You can connect your phone with Bluetooth for calls and music or plug in for a full featured experience with your apps, maps and music that you are used to on your phone. This is an awesome feature and it makes road trips and even the daily commute better. There are two USB connections, an Aux connection and a 12V power point that you can use to plug in a fast car charger if you need to. The Challenger's tech game is on point and I love that the screen is big enough to show the standard car controls for climate and other options without the need to first exit CarPlay or Android Auto.
The Harmon Kardon Premium Sound package is $895 and delivers great sound over 18 speakers. If you love blasting music in the car, this is an upgrade to consider adding to your build. This model came with the Navigation equipped Uconnect package, which works and is useful, but if you plan to use Apple Maps, Waze or Google Maps through CarPlay or Android Auto it's an option you can skip.
Press the Super Track Pak button and you'll open up Dodge Performance Pages which allow you to see engine stats, use timers and even countdowns to test that car and keep track of your speeds and stats. It's a cool feature, but it's one that is of more use on the V8 model or one you will take to the track.




The $1,095 Driver Convenience Group is a must have upgrade. This brings HID headlights, Blind Spot Monitoring with rear cross traffic alerts and Remote Start. The blind spot monitoring is a huge help on the highway and an essential car feature. The $1,195 Technology Group adds Automatic high beams, rain sensitive wipers, adaptive cruise and forward collision warning. It's worth it just for the adaptive cruise control alone, which allows you to set a cruise speed and the car will automatically slow you own and keep space with a car in front of you if they are going slower. It's an epic feature on any roadtrip or commute longer than 10 minutes.
You Need These 10 Must Have Car Features: Find Out Why
Smart Cruise Control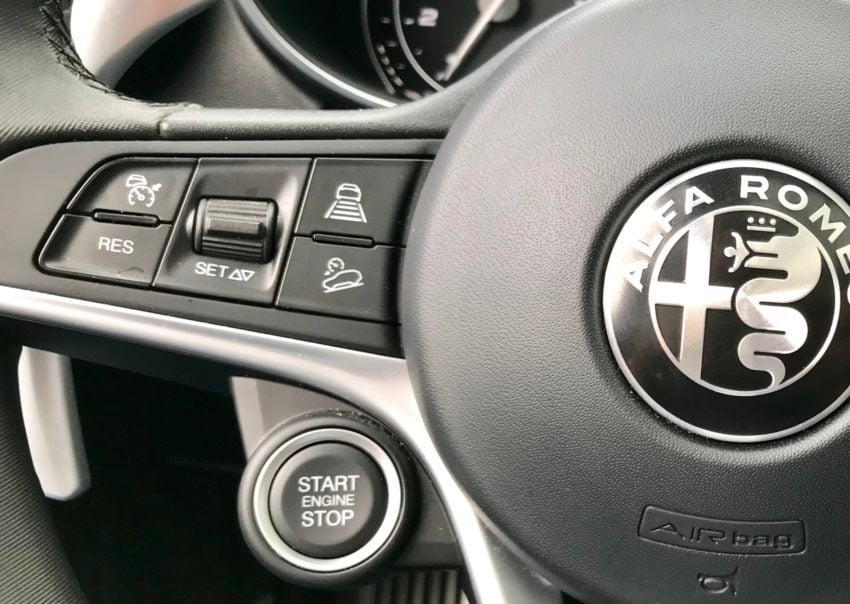 Do you hate constantly adjusting your cruise control, or giving up on cruise control because of traffic or due to a driver in front of you who keeps changing speed? You need a smart cruise control system.
Smart cruise control goes by many different names. You may see it listed as Radar Cruise, Adaptive Cruise or Intelligent Cruise control. Whatever it is called, it will allow you to set your cruise control and then stay with the flow of slower traffic.
Here's why we love it and why you need it. You get on the highway and set the cruise at 76 miles per hour. You also set the distance you want kept between you and the car in front of you. There are typically three or four settings so you can be close or keep a lot of space. Now you simply steer and your car will go 76 mile per hour when traffic allows it or there is no one in front of you. When someone is in front of you going 73 mph, the car automatically slows down to keep you the distance you choose from that car. This is indispensable in traffic and on long road trips.
Not all smart cruise control systems are the same. Some of work at all speeds, while others only work above a specific limit. Some systems can bring you to a complete stop in traffic and then restart without you needing to touch a pedal.
You can find adaptive cruise control on cars as cheap as $18,500 like the Toyota Corolla, and as an option on many cars below $30,000. Even on pricier cars you may need a higher trim level or special package to get this feature.