2018 Hyundai Elantra GT: 5 Things You Need to Know
The 2018 Hyundai Elantra GT is all new with loads of tech features that you'll love, a great driving experience and the Elantra GT Sport with a turbocharged engine and upgraded suspension. If you're looking for a compact hatchback that is loads of fun to drive, has the room you need to haul your friends and your stuff around, and you're looking to spend about $20,000 the Elantra GT and Elantra GT Sport need to be on your short list.
We put the 2018 Elantra GT Sport to the test with the standard manual transmission and this is what we learned. Hyundai offers both the Elantra GT and the Elantra GT Sport with a standard manual transmission which is refreshing. You can also get the Elantra GT with a six speed automatic transmission and the 2018 Elantra GT Sport with a 7 speed dual clutch system.
How Does the 2018 Elantra GT Sport Drive?
After testing the 2018 Hyundai Elantra GT Sport on a twisty course around Ann Arbor, on several unforgiving roads, we came away impressed with the suspension's ability to absorb bumps while . still offering a connected driving experience. The GT Sport suspension is different than the standard Elantra GT, and it performs well.
We are impressed with the Turbocharged 1.6L engine and the manual transmission which was very easy to find the right shift points on. if you want, it's easy enough to squeal the tires and have some noisy fun, but you can also drive with more restraint when situations call for it. There's a good amount of power here with 201 horsepower and 195 lb-ft. of torque, but there's not a lot of engine noise in the cabin. Outside you get a good exhaust note, but we'd love to hear a little more of this while driving.
If you're looking for a fun hatchback with a manual transmission and plenty of power, the Honda Civic and Mazda 3 aren't the only contenders you need to look at.
2018 Hyundai Elantra GT Tech
The 2018 Hyundai Elantra GT is packed full of awesome technology features. Hyundai's built-in infotainment system is good, but we love that you also get support for Android Auto and Apple CarPlay. With this support, you can use your smartphone apps for navigation, music and communication easily on the car's screen. Android Auto includes Waze support that will alert you to traffic jams, police activity and road hazards.
There's also a built-in Qi wireless charger so you can place your iPhone 8, iPhone X or many Android phones on a pad to charge while you are driving without the need to plug in a cord. There is no wireless CarPlay or Android Auto support, but you can stream music via Bluetooth and take calls on Bluetooth while wirelessly charging.
Hyundai includes Blue Link support complimentary for three years. This allows you to remotely control your car using your iPhone, Android, smartwatch or even Amazon Alexa. You can remote start the Elantra GT, lock, unlock and even set climate control options to control the temperature or turn on defrost. If you are in an accident Blue Link can also request help through emergency numbers.
2018 Hyundai Elantra GT Safety
Hyundai packs a lot of safety and convenience into the 2018 Elantra GT as well. Driver Blind Spot mirror alerts are standard on the Elantra GT and you get Blind Spot Detection with Cross traffic alert standard on the Elantra GT Sport. This lets you know if someone is in your blind spot, and we prefer this system to the camera setup in the Honda Civic. A rear view camera is also standard, allowing you to easily back out of a parking spot or parallel park easier.
Optional safety features on the Elantra GT Sport include smart cruise control that can keep you a set distance from the car in front of you, bring you to a complete stop and start back up. This is only available with the Tech Package on the Elantra GT Sport with the Dual Clutch option. This tech package also includes automatic emergency braking with pedestrian detection, lane keel assist, high beam assist and  driver attention alert that can warn you when your driving habits indicate you need to take a break.
2018 Hyundai Elantra GT Interior
Hyundai is quick to point out that the 2018 Elantra GT offers more cargo space than the Civic Hatchback, Cruze Hatchback, Mazda 3 Hatchback, Focus Hatchback and the Golf. The spacious hatch looks well suited for hauling a lot of gear and the 60/40 split backseat allows you to pack in even more when you don't need passengers.
The Elantra GT Sport seats are comfortable and the interior looks pleasantly modern and up to date. Controls are easily within reach and there are a good number of steering wheel controls to handle common actions. The driver and passenger both have plenty of room and the backseat also offers a good deal of space for your passengers. The GT Sport includes red accent trim throughout the cabin.
You can get the Elantra GT with dual temperature control and with heated and ventilated seats. We don't typically find ventilated seats in this price range and style. If you're in a hot climate, you will love that option.







2018 Hyundai Elantra GT Price
The 2018 Hyundai Elantra GT starts at $19,350 for the base GT and $203,250 for the entry level Elantra GT Sport. The table below outlines the pricing without a $885 destination charge.
| | | | |
| --- | --- | --- | --- |
| Model | Engine | Transmission | MSRP |
| Elantra GT | 2.0L 4-cylinder | 6-speed Manual Transmission | $19,350 |
| Elantra GT | 2.0L 4-cylinder | 6-speed Automatic Transmission w/ SHIFTRONIC® | $20,350 |
| Elantra GT Sport | 1.6L Turbo GDI 4-cylinder | 6-speed Manual Transmission | $23,250 |
| Elantra GT Sport | 1.6L Turbo GDI 4-cylinder | 7-speed EcoShift® Dual Clutch Transmission w/ SHIFTRONIC® | $24,350 |
There are two packages on the Elantra GT, a Style package and a Technology package that add $1,800 and $4,300 respectively. The Technology package includes the Style package. The 2018 Elantra GT Sport includes a tech package that adds, $3,850 to the price and packs in a lot of technology and safety features.
You Need These 10 Must Have Car Features: Find Out Why
Smart Cruise Control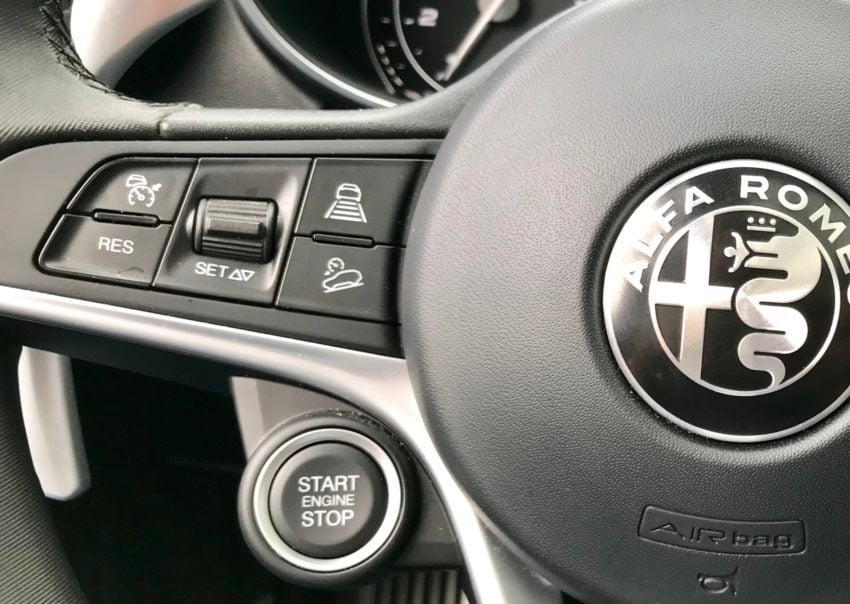 Do you hate constantly adjusting your cruise control, or giving up on cruise control because of traffic or due to a driver in front of you who keeps changing speed? You need a smart cruise control system.
Smart cruise control goes by many different names. You may see it listed as Radar Cruise, Adaptive Cruise or Intelligent Cruise control. Whatever it is called, it will allow you to set your cruise control and then stay with the flow of slower traffic.
Here's why we love it and why you need it. You get on the highway and set the cruise at 76 miles per hour. You also set the distance you want kept between you and the car in front of you. There are typically three or four settings so you can be close or keep a lot of space. Now you simply steer and your car will go 76 mile per hour when traffic allows it or there is no one in front of you. When someone is in front of you going 73 mph, the car automatically slows down to keep you the distance you choose from that car. This is indispensable in traffic and on long road trips.
Not all smart cruise control systems are the same. Some of work at all speeds, while others only work above a specific limit. Some systems can bring you to a complete stop in traffic and then restart without you needing to touch a pedal.
You can find adaptive cruise control on cars as cheap as $18,500 like the Toyota Corolla, and as an option on many cars below $30,000. Even on pricier cars you may need a higher trim level or special package to get this feature.

As an Amazon Associate I earn from qualifying purchases.