2019 Toyota Camry XSE Review
The 2019 Toyota Camry XSE with the V6 offers an impressive set of features including Apple CarPlay and Alexa support, a stylish design and nice interior plus plenty of room. It's easy to drive with great gas mileage and many of the best driver convenience and safety features are standard.
You miss out on Android Auto support with all the Camry models, so that's definitely something to keep in mind as you shop. Toyota is adding Android Auto to some 2020 models, but it's not clear if we will see any retrofit upgrades.
Toyota offers the 2019 Camry XSE with a V6 that offers more power than the standard engine and you still get good fuel economy. If you want the extra power under the hood and are willing to trade about six miles per gallon, it's an upgrade worth your money.
Is the 2019 Toyota Camry XSE a Good Car?
The 2019 Toyota Camry XSE is a great car, and arguably one of the best midsize cars that you can buy in 2019. While you should definitely check out the Mazda6 if you want something with a little bit more driver focus, the all round impressive Accord and it's worth checking out the Kia Optima's interior, the Camry offers strong value.
With the inclusion of Apple CarPlay and Alexa, plus Toyota Safety Sense+ and a sharp design Toyota delivers a four door sedan that's fun, tech ready and easy to drive. Add in the good fuel economy on the V6 model and excellent economy on the standard engine and it's a really well-rounded car. There's still some room to grow, but it's definitely a car worth buying in 2019.
[letsreview]
Driving the 2019 Toyota Camry XSE with V6
Toyota's upped the fun factor of the Camry with the latest generation. The XSE in particular comes with a sport tuned suspension and an optional 3.5L V6 engine. I'm as impressed with the 2019 model as I was with the 2018 Camry which first introduced this change.
With more power under the hood and the upgraded suspension, the 2019 Camry XSE is fun to drive, yet still very easy to handle and control if you just need to drop your kid off, get groceries and head to and from work. The eight speed automatic transmission is well-mannered and there are paddle shifters when you want more control over the experience. Sport mode adjusts the shift points and it's enjoyable to slip into and take the XSE around a twisty country road.
Whether you need to get to and from work, or to and from your next adventure, the 2019 Camry fills the role nicely. The 2019 Camry V6 XSE is rated for 22 mpg city, 32 mpg highway and a combined 26 mpg.
2019 Toyota Camry XSE Tech
When I reviewed the all new Camry last year I said the only thing missing was Apple CarPlay and Android Auto support, and Toyota listened to this — meeting us halfway with Apple CarPlay standard on the 2019 Camry. I wish there was Android Auto support, but they are at least working towards that with future models.
With CarPlay, you can plug your phone in and use the touch screen to use your apps, phone, navigation, music and use Siri to send and hear text messages. It's a very easy way to stay in touch while on the go. CarPlay lets you use Apple Maps, Google Maps or Waze to get directions, so you have choice and the maps are always up to date. This also makes it easy to plan trips in advance instead of typing them in when you are in your car. With Waze, you get re-routed around traffic and even get a heads up to speed traps and road hazards.
There is a 10-inch color Head-Up Display that is easy to see even with polarized sunglasses on. The addition of colors makes it easy to separate information and even more useful.
While you can still simply use Bluetooth for calls and streaming music, CarPlay is way better and it's nicer than the standard Toyota infotainment system. The stock system isn't bad compared to most in-car systems, but the integration level of CarPlay is just that much better. If you have Android, you can rely on Alexa to control music, get directions and more. It's a nice option, but not as good as full on Android Auto. There are USB ports up front to charge up phones and an optional Qi wireless charger. The XSE trim level tested did not have a power point in the backseat.
The included stereo system is above average and sounds nice with a variety of music styles and spoken word in podcasts and audiobooks. Our XSE came with the upgraded stereo with a subwoofer amplifier, Navigation and with a Verizon LTE connection in the car. With the car's internet connection you can use your phone to lock and unlock the car, remote start and use your car as a personal hotspot.
2019 Toyota Camry XSE Design & Interior
The 2019 Camry XSE is a sharp-looking sedan with nice lines and a sporty, but still sensible grille. From the front, back and side, Toyota really delivers a great style that makes this affordable car look great. The headlight design is just aggressive enough and the 19-inch black on silver wheels complement the sporty style nicely.
You can get an optional black roof with a rear spoiler that takes the looks up another notch and looks really nice with the white color. On the rear, the dual exhaust with quad chrome tips completes the look of the Camry XSE.
Inside there is a lot of room for the driver and front passenger. While the rear seat is smaller than on the 2017 and earlier models it is still comfortable for adults on trips around town. The leather interior feels and looks very nice, and there is an optional red interior that really stands out.
The trunk is quite spacious on the XSE and most trim levels, but it is smaller on the base L trim, so that's one more reason to look at the LE or the XSE.
2019 Toyota Camry XSE Safety
When it comes to safety and driver convenience, the Camry has a full plate and there is a handy option that you can add for even more. Every Camry comes with Toyota Safety Sense+, which includes many of our favorite safety and convenience features. These include;
Pre-collision system with Pedestrian Detection
Lane Departure Alert with Steering Assist
Automatic High Beams
Full Speed Dynamic Radar Cruise Control
The XSE V6 also includes Blind Spot Monitoring and you can get this on other trim levels. Additionally, our vehicle was equipped with the Driver Assist Package for $1,550 which includes a Bird's Eye View camera setup so that you can see all around the car and Intelligent Clearance Sonar with rear cross traffic braking. If the car detects a potential collision, it will alert you and can even apply brakes to prevent a crash. In addition to these must have features, the 2019 Camry received a five-star crash rating.
The dynamic cruise control worked very well on the 2019 Camry and the Bird's Eye view was helpful while navigating crowded parking lots. The headlights are good, and it's handy to have automatic high beams when traveling on country roads at night.
You Need These 10 Must Have Car Features: Find Out Why
Smart Cruise Control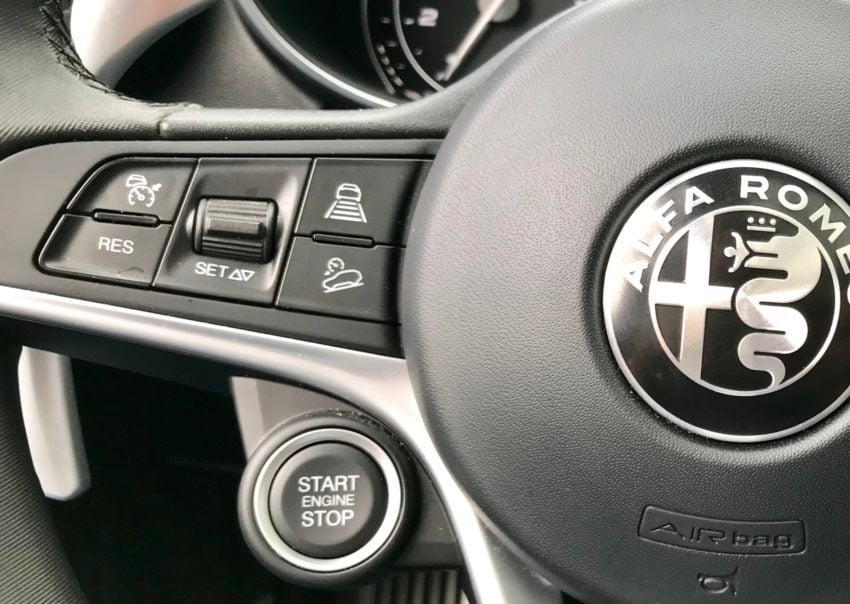 Do you hate constantly adjusting your cruise control, or giving up on cruise control because of traffic or due to a driver in front of you who keeps changing speed? You need a smart cruise control system.
Smart cruise control goes by many different names. You may see it listed as Radar Cruise, Adaptive Cruise or Intelligent Cruise control. Whatever it is called, it will allow you to set your cruise control and then stay with the flow of slower traffic.
Here's why we love it and why you need it. You get on the highway and set the cruise at 76 miles per hour. You also set the distance you want kept between you and the car in front of you. There are typically three or four settings so you can be close or keep a lot of space. Now you simply steer and your car will go 76 mile per hour when traffic allows it or there is no one in front of you. When someone is in front of you going 73 mph, the car automatically slows down to keep you the distance you choose from that car. This is indispensable in traffic and on long road trips.
Not all smart cruise control systems are the same. Some of work at all speeds, while others only work above a specific limit. Some systems can bring you to a complete stop in traffic and then restart without you needing to touch a pedal.
You can find adaptive cruise control on cars as cheap as $18,500 like the Toyota Corolla, and as an option on many cars below $30,000. Even on pricier cars you may need a higher trim level or special package to get this feature.