The 2018 Mazda 6 is a great sports sedan that is fun to drive, packed with tech including Apple CarPlay and a good deal of safety features that round out the experience.
In 2018 the Mazda 6 stands out even among strong competition from the Toyota Camry, Ford Fusion, Honda Accord and Kia Optima.
The Mazda 6 is roomier than the Mazda 3, and it's a great fit for many drivers who are still looking for a car. If you need more room and are looking at Mazda, check out the CX-5 or CX-9.
Is the 2018 Mazda 6 a Good Car?
The 2018 Mazda 6 is an excellent mid-size sedan. Mazda delivers a fun driving experience with great handling and the upgraded 2.5L engine.
With the addition of Apple CarPlay and upgraded features Mazda rounds out the offering and addresses one of the main complaints we've had with earlier models.
With the new Signature trim interior upgrades and a better overall package the 2018 Mazda 6 is a top pick for car shoppers in 2018.
[letsreview]
What's New for 2018?
The 2018 Mazda 6 is completely upgraded for 2018 with new looks, an optional turbocharged 2.5l engine that comes over from the Mazda CX-9 and upgraded infotainment and safety features.
This year the larger infotainment screen adds in support for Apple CarPlay. The adaptive cruise system supports a complete stop and then can resume up to full speed.
Mazda's new Signature trim level upgrades the interior with soft touch materials including brown leather trimmed seats and Japanese Sen wood interior trim details.
2018 Mazda 6 Interior & Design
The interior of the Mazda 6 varies based on the trim level. Across the product line you'll find a well laid out interior with a driver centric front seat.
With the Signature trim level, the Mazda 6 interior steps up the game dramatically. The seats are very comfortable with a new wider base and they are wrapped in Nappa leather on the Signature trim level. Throughout the cabin there are loads of soft touch materials.
The back seat offers enough legroom and headroom for most adults as long as the driver isn't super tall. I like the fold down arm rest in the back that hides two USB ports that will keep passengers or kids charged up without stringing cables down to the center console.
While everything may not be clad in leather or Alcantara like on luxury sedans, the Mazda 6 interior is clearly better than the sum of its parts, allowing it to punch above its weight class. With beautiful accents, the Japanese Sen wood inlay and very good overall placement
Outside, the Mazda 6's new looks are sporty and sharp-looking. This design hits all the right notes to keep things sporty, yet refined and ultimately it's a winning combination.
2018 Mazda 6 CarPlay Android Auto, Tech
After holding out for years, Mazda finally delivers a major upgrade to the infotainment system. The 2018 Mazda 6 includes a larger touch screen and support for Android Auto and Apple CarPlay.
This works with the existing Mazda Connect system, so it's a little different to use while you are driving than in other cars. Mazda disables the touch screen while the car is in motion, so you need to use your voice or the joystick/dial on the center console. It takes a little getting used to, but it's an upgrade I loved using on the Mazda 6. If we can get this on the Mazda MX-5 Miata I'm going to need to have a conversation with my wife about adding on to our garage.
Mazda is adding in CarPlay and Android support, so if you picked up an early model and don't have it, you can bring it into the dealer for a free upgrade. If you are shopping for a new one, make sure it's already installed.
Connecting a phone to listen to music or take calls is as easy as plugging into use CarPlay or Android Auto, or just pairing with Bluetooth. Call quality is good, and you can use voice controls to easily start a call.
The stereo is above average, delivering good sound for most music and audiobooks, but I'd love a little more oomph on the low-end.
2018 Mazda 6 Safety
The Mazda 6 comes with a 5-star overall safety rating and individual scores of 4 or 5-stars. In addition to safe design, you get a nice mix of safety and convenience features that actively help you as you drive.
Standard safety features include Blind Spot Monitoring with Rear Cross Traffic Alert and Smart City Brake Support. These help you avoid accidents when switching lanes, backing up, and by automatically braking the car and reducing engine power if an obstacle is in front of you and you don't show signs of stopping at 20 mph or less.
On the Touring and up, you get Lane Departure Warning, Lane Keep Assist and Mazda Radar Cruise Control with Stop and Go. The lane keeping features do a good job of warning you, and ultimately helping keep you in your lane so you don't go into traffic or off the road. This isn't semi-autonomous driving, but it is an aid that will help keep you safe.
Tha Radar Cruise control is very good on the Mazda 6, and with Stop & Go support you can come to a full stop using the system and resume your speed without using the brake or the gas. On any car this system takes some getting used to, but once you do it makes commutes and long trips with traffic much more enjoyable.
2018 Mazda 6 Driving & Performance
The Mazda 6 is a car for people who love to drive, but need something practical. Yes, this is a mid-size sedan, but it's more like a sports sedan with the available 250 horsepower 2.5T engine.
Mazda knows how to tune both the engine and the driving dynamics of the Mazda 6 to deliver a fun, sporty ride. This comes from the G-Vectoring Control and the turbocharged engine.
In the Mazda 6 you'll find yourself seeking out the scenic route on your trip more often. Yes, this seems like a cliché, but the handling is perfectly suited to turning off when you see a curvy roads ahead sign and enjoying the drive.
Sport mode delivers a more engaging drive with slight tweaks to shift points to give you more access to power. There is a little more engine noise when you're in sport mode.
Ride quality is also good, and while road noise is evident, it's not at a level that impedes conversation or cuts into your road trip in a meaningful way.
The 2018 Mazda 6 Signature with the 2.5L Turbocharged is rated at 26 MPG combined, with 23 MPG city and 31 MPG highway. That's in line with what I observed during my week with the car.
You Need These 10 Must Have Car Features: Find Out Why
Smart Cruise Control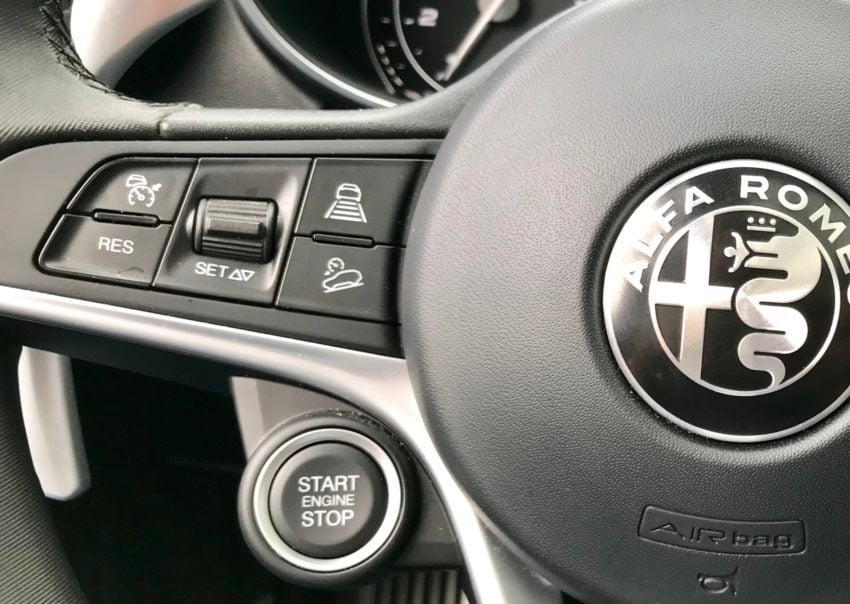 Do you hate constantly adjusting your cruise control, or giving up on cruise control because of traffic or due to a driver in front of you who keeps changing speed? You need a smart cruise control system.
Smart cruise control goes by many different names. You may see it listed as Radar Cruise, Adaptive Cruise or Intelligent Cruise control. Whatever it is called, it will allow you to set your cruise control and then stay with the flow of slower traffic.
Here's why we love it and why you need it. You get on the highway and set the cruise at 76 miles per hour. You also set the distance you want kept between you and the car in front of you. There are typically three or four settings so you can be close or keep a lot of space. Now you simply steer and your car will go 76 mile per hour when traffic allows it or there is no one in front of you. When someone is in front of you going 73 mph, the car automatically slows down to keep you the distance you choose from that car. This is indispensable in traffic and on long road trips.
Not all smart cruise control systems are the same. Some of work at all speeds, while others only work above a specific limit. Some systems can bring you to a complete stop in traffic and then restart without you needing to touch a pedal.
You can find adaptive cruise control on cars as cheap as $18,500 like the Toyota Corolla, and as an option on many cars below $30,000. Even on pricier cars you may need a higher trim level or special package to get this feature.