The 2019 Kia Sorento is an excellent mid-size SUV. With two roomy rows and a kid-friendly third row, the Sorento checks the boxes for many SUV buyers. Combine this with stylish looks inside and out and the ability to tack on luxury level upgrade options and you have a SUV that manages to stand out in 2019.
Kia's Sorento is much roomier than the Niro and still sportier than the Kia Sedona, but you don't get the epic back seat that the minivan delivers. If you're torn with the need for a third row and you want to stick with Kia, check out the Sportage. If you are looking for a similar size SUV that is more fun to drive, you'll want to explore the Mazda CX-9.
Is the 2019 Kia Sorento a Good SUV?
[letsreview]
The 2019 Kia Sorento delivers an upgraded look inside and out with interior upgrades. A facelift for the front and an upgraded rear bring a modern look to the Sorento. With support for Android Auto and Apple CarPlay, plus good sound and plenty of charging ports the 2019 Sorento is tech-ready. The Dynamic Bending Lights dramatically upgrade the night driving experience, and are an upgrade you should consider.
On the road, the 2019 Sorento offers a comfortable ride without much road noise. Handling and power are OK, but the Sorento lacks the sporty nature that you'll find in a Mazda. The interior is sharp, especially on the higher trim levels, but the third row is small. So keep that in mind and bring the kids along for a test drive.
The Sorento starts at $25,990 and up to $44,690 with the SX Limited. All-Wheel Drive is available on all but the base trim level. This is a SUV that fits nearly any budget and does a great job of offering features the differentiate the trim levels. I tested the $47,480 SX Limited V6 with AWD.
2019 Kia Sorento Design & Interior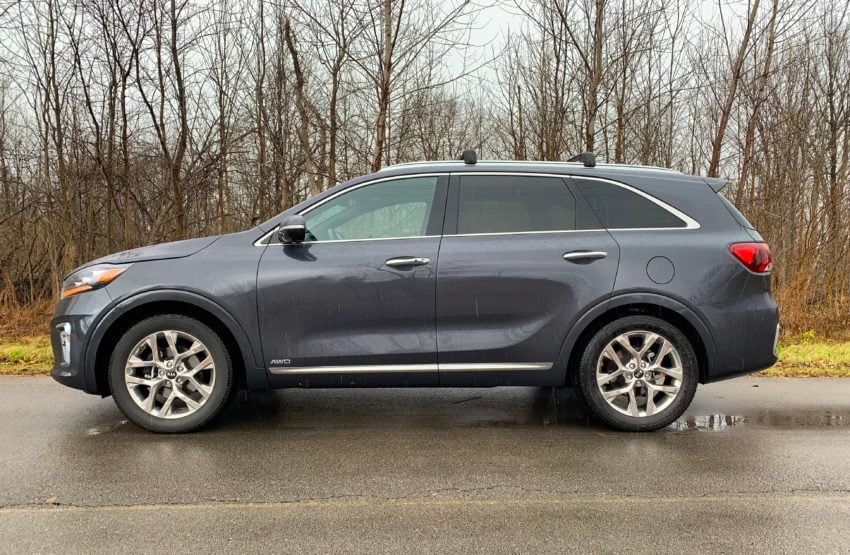 The first thing that struck me in the 2019 Sorento SXL is the upscale interior. The dash looks great looking with stylish accents, and there are soft touch materials all throughout the cabin. It's not going to fool you into thinking you've stepped into a $90,000 SUV, but it definitely delivers good looks and quality materials. The controls on the dash are easy to reach and the buttons and knobs are placed perfectly so you can just reach and the button you land on does what you expect it to.
On the outside the Sorento looks good, especially with the upgraded front and rear. Even with the facelift it's not as aggressively styled as the competition. I'd prefer a bolder look, but there's nothing bad about the styling.
Kia aims to fill a gap in the market by offering a mid-size SUV that isn't as big as the competition with a third row. That translates into a third row that is not very spacious and that will cramp the second row if you need room for adults in the back-end. There is plenty of room for the driver and front row passenger, and the second row is very usable when you have small kids or no one in the third row.
When you need to use the third row, it is a climb and a twist to get in and the second row will need to scoot seats forward for adults. For a short ride this will work, but it's not going to be ready for an all adult road trip.
There is an good amount of cargo space with the third row folded and there is also a decent amount of space with the third row in use thanks to the deep space that opens up when you pull the seats out.
Driving the 2019 Kia Sorento
The 2019 Kia Sorento is available with two engine options, including the V6 that is standard on the LX and higher trim levels. This is the configuration tested with the SX Limited trim level. The new eight speed transmission delivers a 1-2 mpg fuel economy boost depending on if you choose front wheel drive or all-wheel drive, the later of which our Sorento SXL was equipped with.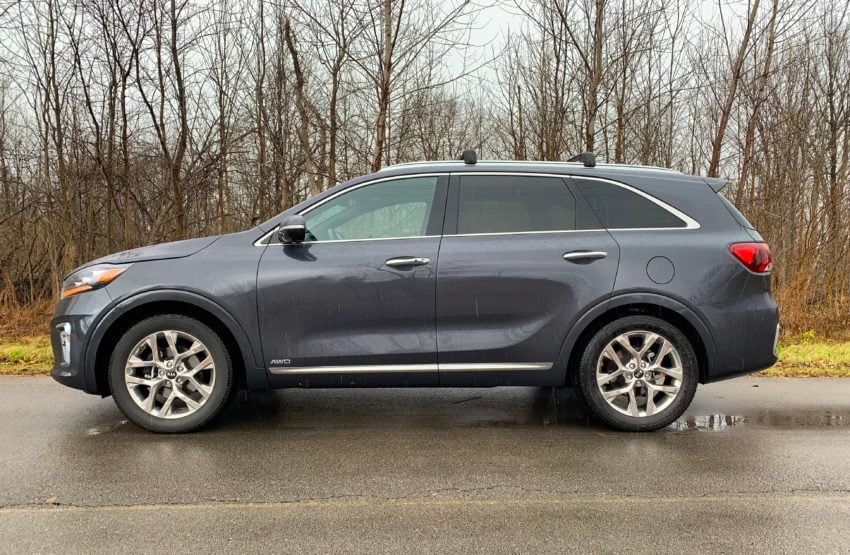 Kia does a good job of delivering a comfortable ride. It's not as sporty and fun to drive as the Mazda CX-9, but the handling and overall experience isn't going to put you to sleep either. The V6 doesn't accelerate as fast as we'd like to see, and downshifts are a bit slow.
Steering and handling are good, and even while driving a SUV with a third-row it is easy to get into and out of tight parking spaces downtown and in a crowded parking lot.
2019 Kia Sorento Tech and Safety
Kia packs in a lot of tech and safety features into the Sorento, lane keeping assist, which is new for 2019. Android Auto and Apple CarPlay are standard in the 2019 Sorento and they look great on the 7-inch touch screen. These features make it easy to listen to music, take calls, respond to messages and get directions using your favorite apps instead of using a built-in navigation system. You can still get navigation on the Sorento, but this connectivity is much more useful.
Connect your phone with a USB cable or Bluetooth to take calls or listen to music. The Harmon Kardon sound system sounds very good over Bluetooth and when connected with a cable. The Cabin is very quiet so it became my mobile office for several calls and when they ended I could relieve my stress with the perfect Spotify playlist. One annoyance with the tech is that the song information shows up in the center of the speedometer area, which constantly had me glancing down thinking there was a very important message.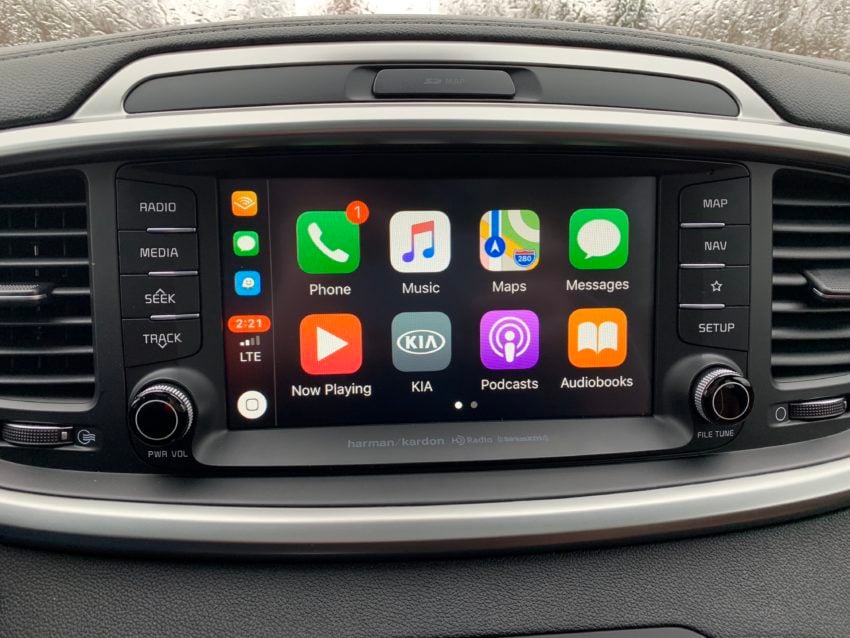 With the UVO app you can set curfew limits and even get alerts when your kid takes the Sorento outside a specific area. This is a handy feature if you plan on handing the keys off to a younger driver.
There are a lot of charging options in the Sorento. There are two USB ports up front, 2 12V chargers up front and an available wireless charger. In the second row there is an available 110 outlet as well as a USB port and another 12V outlet. In the third row there is a 12V outlet. No one is going to be left out charging up in this car.
Kia is impressively packing in a lot of safety and convenience features into the Sorento. Blind spot monitoring with rear cross traffic alert is included on all but the base model. You On the EX and higher trim levels you get Forward Collision Avoidance with pedestrian detection, smart cruise control with stop and go, lane departure warning, lane keeping assist and driver attention warning. These features work well and help to build confidence while driving in traffic. While driving home from the airport and while dealing with the start of holiday crowds at the store, I really appreciated these features, many of which are on our list of must have features on your new car.
You Need These 10 Must Have Car Features: Find Out Why
Smart Cruise Control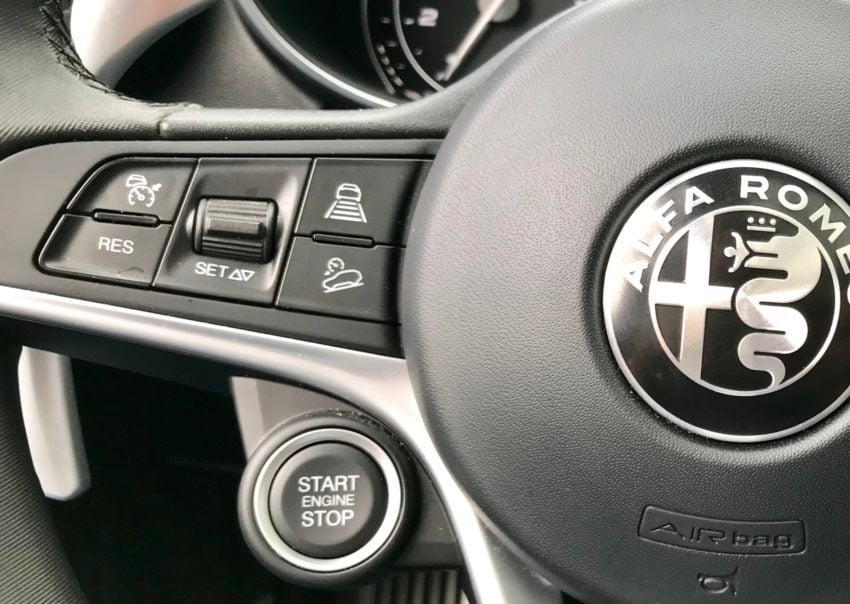 Do you hate constantly adjusting your cruise control, or giving up on cruise control because of traffic or due to a driver in front of you who keeps changing speed? You need a smart cruise control system.
Smart cruise control goes by many different names. You may see it listed as Radar Cruise, Adaptive Cruise or Intelligent Cruise control. Whatever it is called, it will allow you to set your cruise control and then stay with the flow of slower traffic.
Here's why we love it and why you need it. You get on the highway and set the cruise at 76 miles per hour. You also set the distance you want kept between you and the car in front of you. There are typically three or four settings so you can be close or keep a lot of space. Now you simply steer and your car will go 76 mile per hour when traffic allows it or there is no one in front of you. When someone is in front of you going 73 mph, the car automatically slows down to keep you the distance you choose from that car. This is indispensable in traffic and on long road trips.
Not all smart cruise control systems are the same. Some of work at all speeds, while others only work above a specific limit. Some systems can bring you to a complete stop in traffic and then restart without you needing to touch a pedal.
You can find adaptive cruise control on cars as cheap as $18,500 like the Toyota Corolla, and as an option on many cars below $30,000. Even on pricier cars you may need a higher trim level or special package to get this feature.