5 Things to Know About the iOS 12 Beta
Apple's released an early version of iOS 12 to developers and the general public. In this guide we're going to walk prospective, and current, iOS 12 beta users through the most important things to know, right now, about Apple's next operating system.
In June, Apple confirmed iOS 11's successor. The iOS 12 update is official and the company plans to launch it later this year alongside new iPhones and new iPad Pros.
Ahead of the official release date, Apple's offering an iOS 12 beta. The beta gives iPhone, iPad, and iPod touch users a chance to stress test the software for bugs and use some of the update's new features which include Memoji, upgrades to Notifications, and tweaks to the popular Do Not Disturb mode.
The company recently pushed the twelfth beta to developers and Apple could release one or two more iterations of the update before the final version arrives for millions of customers around the world this fall.
With interest in the iOS 12 update rising, we want to guide you through some essential things to know about the early version of iOS 12.
iOS 12 Beta
There are two ways to get the iOS 12 beta. The first is with an Apple developer account.
An Apple developer account requires a yearly membership fee which means most people should try the iOS 12 beta via Apple's Beta Software Program.
Apple's also pushed the iOS 12 beta into its Beta Software Program. The Beta Software Program is a free service and requires an Apple ID and a little bit of patience.
If you want to signup and become a developer, here's how to get the developer iOS 12 beta on your phone or tablet right now. If you'd prefer to install the public iOS 12 beta for free, here's how to signup.
Before you decide to move off iOS 11 (or whatever you're currently running), you'll want to do some prep work and research. The iOS 12 beta is tempting, but most people are better off staying on iOS 12.
Here are a few steps to take before installing iOS 12 beta on your iPhone, iPad, or iPod touch.
You'll also need a device that's compatible with iOS 12. Fortunately, Apple decided to upgrade all devices capable of running its iOS 11 update including the iPhone 5s.
iPhone X
iPhone 8
iPhone 8 Plus
iPhone 7
iPhone 7 Plus
iPhone 6s
iPhone 6s Plus
iPhone 6
iPhone 6 Plus
iPhone SE
iPhone 5s
12.9-inch iPad Pro (2nd generation)
12.9-inch iPad Pro (1st generation)
10.5-inch iPad Pro
9.7-inch iPad Pro
9.7-inch iPad (2018)
iPad Air 2
iPad Air
iPad (5th generation)
iPad mini 4
iPad mini 3
iPad mini 2
If you do decide to download the iOS 12 beta on a phone or tablet, here's how long you can expect the download and installation to take. Those installing beta software for the first time can expect the entire process to take 30 minutes, or longer, to complete.
iOS 12 Beta Problems
The iOS 12 beta is pre-release software which means it's unfinished. The purpose of the beta is to weed out bugs and performance issues before the software drops for millions of iPhones and iPad around the globe.
The iOS 12 beta is causing problems for many beta testers. Apple's acknowledged several issues it's working on and beta testers have discovered a long list of additional bugs.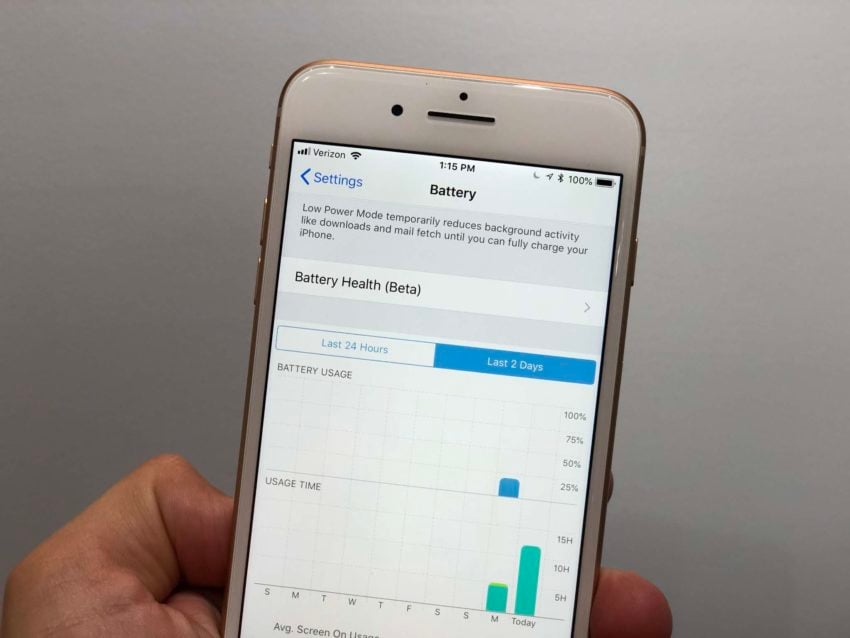 The current list of problems includes some of the usual suspects: Severe battery drain, issues with various apps, connectivity problems, and UI lag. There are also some other broken items features and services:
Maps: Traffic data might not be displayed.
HomeKit: Inviting iOS 11 users who have multiple email addresses associated with their Apple ID to a home might not succeed.
Screen Time: The start and stop times for Downtime might change unexpectedly if they were configured prior to installing iOS 12 beta 9.
Wi-Fi calls might end unexpectedly when transitioning from Wi-Fi to cellular while on the T-Mobile network.
After updating to iOS 12 beta 7 or later, parents should change the Screen Time passcode to prevent children from signing out of iCloud or changing the system time.
Maps: Traffic data might not be displayed.
These are just a few examples. There are plenty of other bugs and issues plaguing the current version of the iOS 12 beta. Future releases will be more polished, but you can expect bugs and performance issues to linger throughout Apple's testing period.
If you depend on your apps to get you through the day or simply can't handle dealing with major problems, you'll probably want to avoid the iOS 12 beta.
You Can Downgrade to iOS 11.4.1
If you do decide to try the iOS 12 beta on your phone or tablet, note that you'll only be able to return to iOS 11.4.1
Apple's stopped signing on iOS 11.4 and below which means you're stuck with iOS 11.4.1 once you move your device to iOS 12 beta. This is something you need to weigh if you're having a great experience on iOS 11.4 or an older version of iOS 11.
Unfortunately, it looks like downgrading to iOS 11.4.1 may reset Notification settings and could cause blank app icons.
For more on the iOS 12 beta downgrade process, please take a look at our guide.
iOS 12 Release Date
The iOS 12 beta is going to stay in beta until September.
Apple hasn't confirmed an official iOS 12 release date, but the company has provided us with an official release window.
The iOS 12 release date lands sometime this fall and it'll probably arrive a few days after Apple announces new iPhones  and new iPad Pros on September 12th.
Apple typically confirms iOS release dates on stage alongside new hardware and releases the software a few days before the new hardware arrives on shelves.
iPhone pre-orders are expected on September 14th which means the iOS 12 release should happen during the third week of September.
iOS 12 Beta Jailbreak
If you still jailbreak your devices, and you're interested in jailbreaking iOS 12 beta, don't hold your breath.
Jailbreak developers still haven't released a public jailbreak for iOS 11.2, iOS 11.2.1, iOS 11.2.5, iOS 11.2.6, iOS 11.3, iOS 11.3.1, iOS 11.4, or iOS 11.4.1.
The only way you can jailbreak a device running iOS 11 is if it's running iOS 11.0-iOS 11.1.2. Unfortunately, there's no way to downgrade to any of those updates.
If jailbreak developers do release a new public jailbreak, it'll likely be for a newer version of iOS 11 and not iOS 12 beta.
For more on jailbreak, take a look at our roundup.
5 Reasons Not to Install iOS 12.4 Beta & 3 Reasons You Should
Install the iOS 12.4 Beta to Help Improve iOS 12.4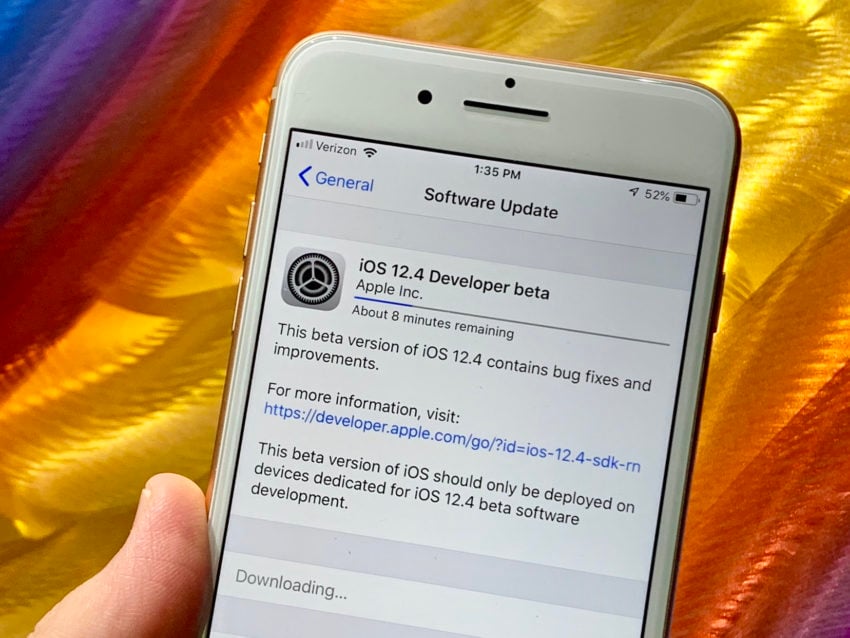 Your testing could help Apple improve the final version of iOS 12.4.
Using pre-release software on your device could lead to problems, but your testing could Apple squash bugs and deliver better all-around performance.
If you decide to download the beta and you find an issue on board, make sure you report it to Apple. This way, its engineers can get to work on a fix.
Apple will likely release several more betas before the official release and there's a chance your efforts will lead to a fix in a future release.
If you're sick and tired of dealing with iOS bugs and performance issues on your mobile devices, give the iOS 12.4 beta a try.

As an Amazon Associate I earn from qualifying purchases.