6 Things To Do Before Installing watchOS 5.3.1
Installing the watchOS 5.3.1 update might be on your to do list. Apple just released iOS 12.4.1 and with it, watchOS 5.3.1. You can start preparing now. If you haven't completed these important steps, you should hold off on upgrading your Apple Watch. This is a lengthy process and one you can't step back from.
WatchOS 5 brought a lot of important features and this update is focused on security fixes, but even without new features, this is an important update and one you should prep for.
Here are the steps we take before upgrading our Apple Watch, which will smooth your upgrade to watchOS 5.2.1.
Make Sure Your Apple Watch is Backed Up
Learn About watchOS 5.3.1
Learn About and Install iOS 12.4.1
Read How watchOS 5 Works on Your Model
Learn About Fixes for watchOS 5 Problems
Read watchOS 5.3.1 Reviews
For most users, this upgrade is from watchOS 5 or from watchOS 5.3. In either case, this upgrade will be significant but not as shocking as upgrading from older versions.
When it comes to installing watchOS 5.3.1 the right way, you will want to prepare before you install this upgrade. We've seen several watchOS 5 problems that even led to a fast watchOS 5.1.1 release to fix issues. You cannot downgrade your Apple Watch software as you can do for the iPhone.
We've put together a plan that you can use to make sure you go into the watchOS 5.3.1 upgrade process with your best foot forward. These tips will help you avoid issues and keep the transition to watchOS 5.3.1 smooth.
Make Sure Your Apple Watch is Backed Up
The Apple Watch backup process isn't the same as backing up your iPhone or iPad, but it's not difficult. Thanks to iCloud even your Health and Fitness data is backed up so you don't need to worry about losing your achievements or streaks.
To backup your Apple Watch, you just need to backup your iPhone. This is something you should do before you install iOS 12.4.1, so it should already be done. If not, double-check that you make a backup.
To keep your health and fitness data, you need to back up to iCloud or make an encrypted iTunes backup of your iPhone.
The Apple Watch backup includes the following items;
App-specific data (for built-in apps) and settings (for built-in and third-party apps). For example, Maps, distance, units, and your settings for Mail, Calendar, Stocks and weather.
App layout on the Home screen
Clock face settings, including your current watch face, customizations, and order
Dock settings, including the order, whether you sort by favorites or recents, and available apps
General system settings, such as your watch face, brightness, sound, and haptic settings
Health and Fitness data, such as history, achievements, Workout and Activity calibration data from your Apple Watch, and user-entered data (To back up Health and Fitness data, you need to use iCloud or an encrypted iTunes backup.)
Notification settings
Playlists, albums, and mixes that are synced to your Apple Watch and your Music settings
The Siri Voice Feedback setting for Apple Watch Series 3 that controls when Siri speaks
Synced photo album (To see which album syncs, open the Apple Watch app, tap the My Watch tab, then tap Photos > Synced Album.)
Time Zone
It does not include Bluetooth connections, credit or debit cards in Apple Pay or the Passcode for your Apple Watch.
Learn About watchOS 5.3.1
The watchOS 5 update is a major upgrade from watchOS 4 and it's packed full of new features, but if you are already on watchOS 5, this is a minor update that focuses on adding in some of the best Apple Watch 4 features in more countries and fixing some issues with watch faces. You can check out the new watchOS 5 features that you will get when you upgrade to get started.
This is totally focused on security, so there isn't a ton to learn about. Apple normally publishes specific fixes, but does not list them for this update.
You will also want to learn more about the reasons to install watchOS 5.3.1 and the reasons you should wait. For many users, there are plenty of reasons to install the upgrade ASAP, but for some users, it is better to wait a week or two.
Learn About and Install iOS 12.4.1
You need iOS 12.4.1 installed on your iPhone to install watchOS 5.3.1 on your Apple Watch.
Take a few minutes to learn about all the new iOS 12.4 features and learn about other iOS 12.4 problems. We also have a guide on what to do before you install iOS 12.4.1 if you need help in that arena.
Once you've learned about the iOS 12.4,1 update, read our reasons you should install iOS 12.4.1, and reasons you shouldn't to figure out if now is the right time for you to upgrade.
Read How watchOS 5.3.1 Works on Your Model
The watchOS 5.3.1 update is coming to all Apple Watch models except for the original one. Typically upgrades run better on newer devices, so if you have an older Apple Watch, like the Series 1, you should do some research into the performance.
Let other users upgrade their Apple Watch Series 1 to watchOS 5.3.1 first and then see if performance, battery life, and apps are all working right. This will let you upgrade without worrying about these major issues.
Learn About Fixes for watchOS 5.3.1 Problems
Even if you let others lead the way, you can count on running into some watchOS 5 problems when this update lands. The Apple Watch seems to have more issues with updates, including some bricked models with a recent update.
Read watchOS 5.3.1 Reviews
If you wait a few days, you will be able to read watchOS 5.3.1 reviews from your friends on social media, from Gotta Be Mobile and from other tech reviewers.
Read these watchOS 5.3.1 reviews and check out how the new features work, as well as if they are experiencing any major issues or if anything is missing.
3 Reasons Not to Install watchOS 5.3.2 & 9 Reasons You Should
Install for Security Upgrades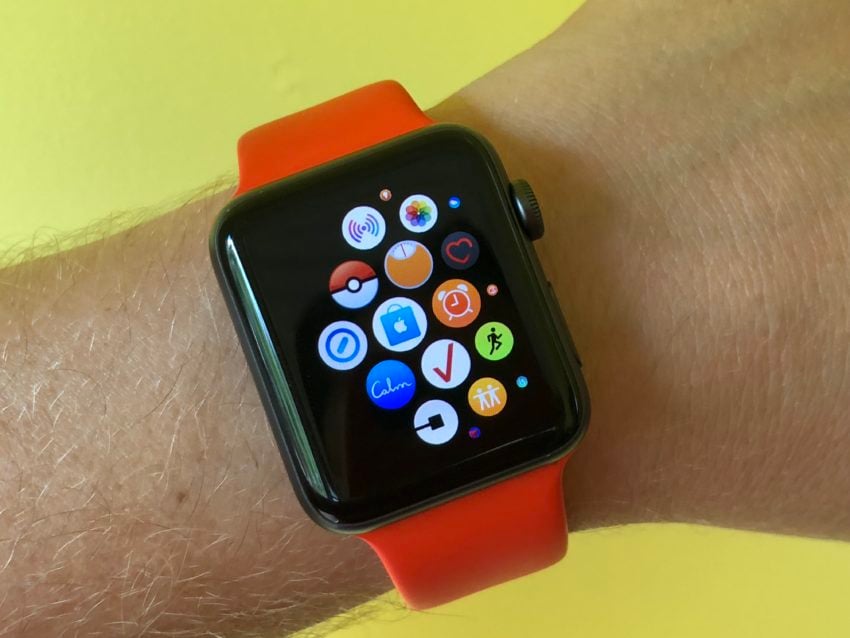 Every time Apple delivers a watchOS update they include a ton of security fixes and upgrades that help keep your data safe and secure.
The watchOS 5.3.2 update is all about security fixes. Apple specifically mentions one fix that fixes the problem where"A remote attacker may be able to cause unexpected application termination or arbitrary code execution." It arrived alongside very important iOS and macOS security fixes, so they may be related.
If you can't install watchOS 6, this is a food update to install on the Apple Watch 1 and Apple Watch 2, while you wait.
Visit this page for a full list of the Apple security updates for the Apple Watch and other devices.

As an Amazon Associate I earn from qualifying purchases.