7 Common watchOS 5.2.1 Problems & How to Fix Them
The watchOS 5.2.1 update is here with new features and bug fixes for the Apple Watch. This small update fixes an annoying problem with the Apple Watch 3 with LTE and includes other fixes. Our guide will show you how to fix common watchOS 5 problems and watchOS 5.2.1 issues so that you can start using your Apple Watch again after the update and take advantage of all the new features.
While this has been a relatively smooth update, there are reports from users who cannot download the watchOS 5.2.1 update, connectivity issues and most notably problems with the new watchOS 5 features. This update adds the ECG feature to the Apple Watch 4 in five new countries and irregular heart rhythm detection, so make sure you check out how to use the ECG feature.
You might need to go to an Apple Store for help with some of these issues, but you can fix many watchOS 5 problems on your own in just a few minutes. If you don't see your issue here, check out our full guide on how to fix Apple Watch problems.
In this guide, you will find instructions on how to fix the most common watchOS 5 problems. This will explain how to fix new watchOS 5 features that aren't working, bugs and other problems so you don't need to go to an Apple Store for help.
How to Fix watchOS 5 Installation Problems
The two most common watchOS 5 installation problems are not being able to see the update, and the process taking forever due to slow downloads or a slow installation.
If you can't see the watchOS 5 update, you may need to delete both of the beta profiles off your iPhone and Apple Watch. Go to Settings -> General -> Profiles and then delete the beta profiles.
In cases where that doesn't work, you should restart the iPhone and Apple Watch and try again. This should fix that issue.
Slow Apple Watch updates are a reality that you can't get around. The only way to speed it up is to wait and try when Apple's server's aren't as overloaded. This problem should go away for most users today, but you can still expect at least a 30-60 minute watchOS 5 installation time.
How to Fix Connection Problems on watchOS 5
Although not widespread there are some users who are complaining that their Apple Watch will not connect to the iPhone or sync data back and forth correctly with watchOS 5.2.1 and iOS 12.3 installed.
If this happens to you, often times restarting both the iPhone and Apple Watch will fix the problem. For users who see this issue persist, you may need to unpair the Apple Watch and re-pair it, which will take a while.
How to Fix Walkie Talkie Problems
The new Walkie Talkie app is an exciting new Apple Watch feature in this update, but it's not working perfectly for everyone.
Users who don't see the Walkie Talkie app need to grab their iPhone, open the App Store and redownload FaceTime. That should install the app on your Apple Watch.
If you see a connecting error in the Walkie Talkie app, you should swipe up from the bottom of your Apple Watch and then tap on Airplane mode, wait a few seconds and tap again to turn it off.
How to Fix Apple Watch Podcasts Problems
The new Podcasts Apple Watch app is something that many users have been waiting for. It's a nice addition, but it's not perfect.
The biggest complaint from users is that their podcasts aren't syncing. This is because these sync only when the Apple Watch is on the charger.
New episodes will be able to stream over LTE or WiFi, but older ones will need to sync.
How to Fix Raise To Talk Problems
The Apple Watch Series 3, and the new Series 4, allow you to raise your Apple Watch and start talking to Siri without saying Hey Siri, but it's a trick to get it to work.
This is on by default if you already use Siri on your Apple Watch. The catch is that it doesn't work for everyone. To fix this you just need to adjust how you use the feature.
Instead of just lighting the screen up with a flick of the wrist, you need to make a more deliberate action to bring the watch up towards your face. Experiment with bringing your watch up and closer to your mouth and it should work.
How to Fix Auto Workout Detection Not Working
The Apple Watch supports automatic workout detection in watchOS 5. This is on by default and it will in most cases detect if you start a workout and prompt you to start tracking it. It will also suggest an end to the workout.
If this isn't happening, you may not be meeting the workout requirements, likely your heart rate isn't going high enough. Try starting a workout harder to see if it picks up. If it doesn't you may need to rely on starting workouts until Apple fine tunes this feature.
How to Fix Missing Activity Achievements on Apple Watch
Some users report that they are missing limited time Activity Achievements earned by working out during special events and days after installing watchOS 5.
If this is happening to you, restart both the iPhone and Apple Watch and this should fix the issue.
In cases where the awards are still missing you will need to contact Apple.
65 Exciting Things You Can Do With the Apple Watch
Answer Calls on the Apple Watch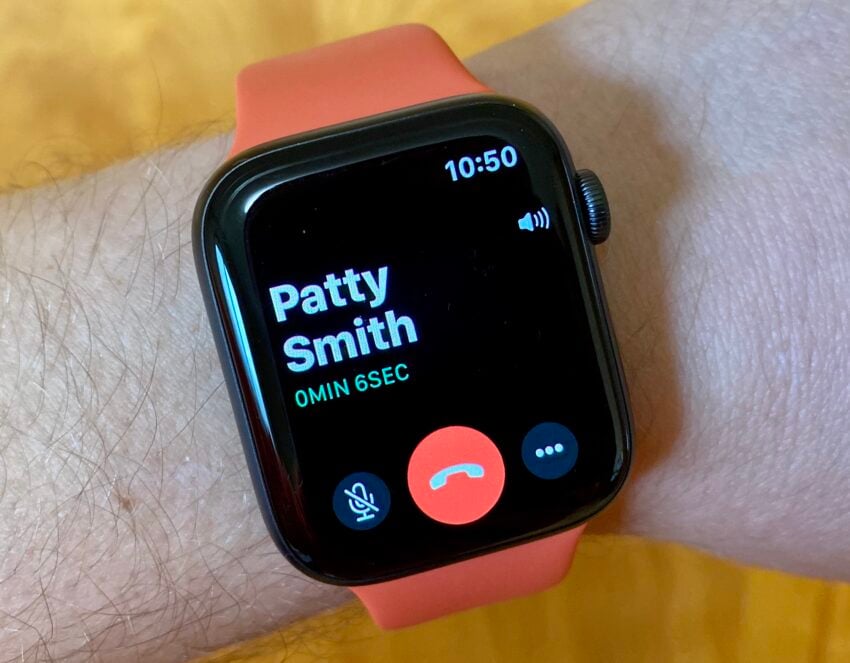 You can answer a call on your Apple Watch using it as a small Bluetooth speakerphone. You only want to use this for shorter calls because the audio quality isn't as good as when you are talking on speakerphone on your iPhone.
The Apple Watch only allows you to answer your calls on Speakerphone, so you won't want to use this all the time. It is very handy when you are working on a project or busy with your hands. Definitely be conscious of where you are taking calls. If you wouldn't talk on speakerphone, you shouldn't talk on your Apple Watch.
If you buy the new Apple Watch with LTE, you can even make calls on the Apple Watch without your iPhone nearby. This requires adding the watch to your plan for $10 a month. You cannot answer a FaceTime video call on the Apple Watch.